** This article talks about the best adult dirt bike gear for adults for 2023
Dirt biking is a great way to get out and have a ton of fun. Let's face it its one of the best ways to have fun…
However, dirt biking can be dangerous so it's crucial that you set yourself up for success by getting the best safety gear for your body.
If you ride dirt bikes a lot, it's only a matter of time before you tip over or crash.
That's perfectly normal and in most cases, with the right gear, you can stay injury-free.
In this article we discuss which dirt gear is the best, from the best dirt gear brands. Beside my own testing we have test riders and gear experts that go through the highly competitive safety equipments and accessories for dirt bikes.
BUY THE BEST DIRT BIKE GEAR YOU CAN AFFORD!
Why?
Dirt biking gear has all sorts of different levels of safety. Typically the better and safer the dirt bike gear, the more expensive it gets.
While this isn't always the case its important not to go cheap.
It's NOT worth risking your health by buying a cheap dirt bike gear!
What types of dirt bike gear do you need?
Below is the essential dirt bike gear that every rider must have, but you can also click each link that would lead you to a separate page where we discuss each gear and find one for you:
However there are 3 pieces of dirt bike riding gear that ARE THE MOST IMPORTANT
Dirt Bike Helmet
Dirt Bike Riding Boots
Dirt Bike Chest Protector
The above list is the dirt bike gear you need in order to make sure that you are safe as possible while dirt bike riding.
For this article, we are only going to mention the best gear for adults in 2021. That doesn't mean that there aren't other great options when it comes to choosing the best dirt bike gear.
The best dirt bike helmet comes down to fit and finish but more importantly the safety features it offers. The best dirt bike helmet must but stuffed with all the best tech and safety. Protecting your head from damage is the MOST IMPORTANT piece you need in your dirt bike riding gear. DO NOT buy a helmet that doesn't come with quality protection. It's not worth risking the damage to your brain and skull.
Best Dirt Bike Helmet: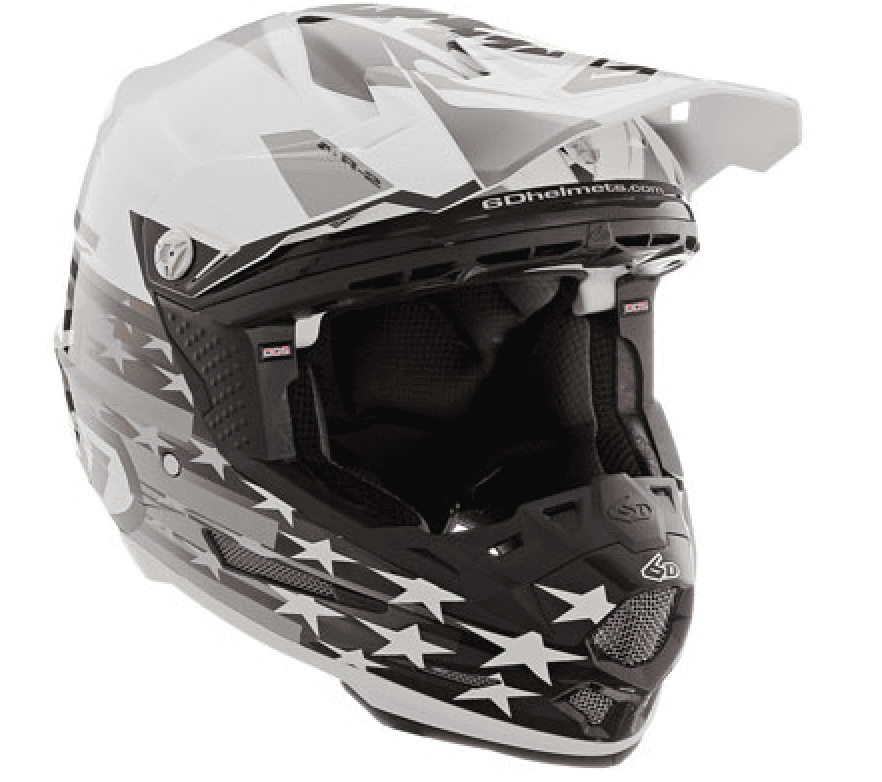 6D ATR-2 Patriot LE Helmet
Rebuildable Advanced ODS System

Most advanced energy management system

Progressive EEP Damping Towers

Tri-Composite Shell –

Exceeds DOT, ECE, AC and ASTM standards
Right now, 6D helmets are the best and safest dirt bike helmet on the market. With the most advanced energy management device ever manufactured into a dirt bike helmet. The 6D has been heavily influenced by the NFL's head health challenge.
Advanced ODS will provide performance in linear and angular acceleration mitigation. The 6 ATR-2 helmet system can be rebuild. This is an industry first.
6D dirt bike helmet Specs:
Rebuildable Advanced ODS System:
– Replaceable inner EPS liner.
– Multi-Impact outer EPP liner.
– Progressive EPP Damping Towers.
– Low-friction disks.
– Isolation dampers.
– Increased ODS Displacement Travel (+30%).
– Improved Linear and Angular acceleration mitigation.
Shell:
– Optimized lightweight Tri-Composite Shell.
– Cervical protection zone at the lower rear shell area.
– Brow rib increases shell integrity above the eye-port.
– Clavicle cut-away.
– 9 intake ports and 6 exhaust ports work in unison with the Air Gap Ventilation System. Helmet Features:
– Removable, washable comfort liner features Genuine Dri-Lex anti-bacterial fabric.
– Emergency Quick-Release Cheek Pads.
– PU-over molded EPP lined chin bar includes 6D's exclusive sternum pad.
– Goggle band integrated shell recess at the eye-port area improves goggle fit and seal.
– Shear-away visor screws.
– Nose guard provides improved roost protection.
– Titanium D-rings.
– Lighter overall weight.
– Exceeds DOT, ECE, AC, and ASTM standards.
– 3-year limited warranty.
For proper fit and size measure the circumference of your head 1″ above your eyebrows and around the largest portion of the back of your head.
20 7/8″ – 21 1/4″ ——— X-Small
21 5/8″ – 22″ ————- Small
22 1/2″ – 22 3/4″ ——— Medium
22 3/8″ – 23 1/4″ ——— Large
23 5/8″ – 24″ ————- X-Large
24 7/16″ – 24 3/4″ ——– XX-Large
Best Dirt Bike Boots for 2023
High-quality dirt bike boots are also a must-have when it comes to dirt bike gear. Do not skimp on dirt bike riding boots. Riding boots protect you from all sorts of rocks, sticks, logs, heat burns, and ankle issues.
Best Dirt Bike Riding Boots for 2023:
Gaerne SG-12 Dirt Bike Boots
Shock absorbing Heel Cup

Anti Shock dual compound sole

Memory foam inner lining

Supportive Razorback strut
The Gaerne SG-12 is the benchmark when it comes to building the safest and highest quality dirt bike on the market. This dirt bike riding boot comes with the best protection for racing, motocross, enduro, and even trail riding.
Adjustable shin plate to allow for bigger calves and knee braces. The opening is sealed with stretchable acronos fabric.  The TPU is an impact resistant layout that connects with the razorback strut.
This Razorback piece is the supporting backbone of the whole dirt bike riding boot. The SG-12's have a dual pivot for excellent motion with joints that will glide and shift. This allows for your ankle to stay in a natural orientation when bending.
The Dual stage pivot System is exclusive to Gaerne and is the best system on the dirt bike boot market for resisting the bottom out and shock that comes from over jumping or casing your dirt bike.
Comfort
Stretchable Acronos fabric gaiter.
Shock-absorbing heel cup.
Adjustable size opening shin-plate.
Set of four robust alloy buckles.
Anti-shock, dual-compound sole.
Memory cell foam inner-lining.
Removable dual-density insole.
High wear components are replaceable.
Low profile stitched sole.

Protection

Supportive "Razorback" strut.
Full-length, heat-resistant grip guard.
Dual-pivoting glide plate hinge system.
Redesigned stainless toe cap.
Low profile reinforced toe box.
Supercross Shank: This is the best shank money can buy-lighter, stronger.
Best Chest Protector for 2023
Most dirt bike riders actually wear what is called a roost guard. These provide a little protection mostly from objects being hurled at you when riding behind another dirt bike rider. In recent years there hasn't been all that many really high end best chest protectors out there. 
Best Dirt Biking Chest Protector for 2023:
ALPINESTARS TECH-AIR RACE AIRBAG VEST
Industry-leading airbag vest

Electric Airbag Control Unit

Advanced multi-material main shell incorporates Lycra 2D mesh and Cordura

Deployment system utilizes argon inflator cartridges
Alpinestar spent more than 2 decades developing the first generation racing airbag system. The industry-leading Tech-Air is the best technology that brings full upper body protection that is unmatched by ANY other dirt bike chest protection. When inflated the Alpinestar Tech-Air airbag Vest provides critical protection for the back, shoulders, chest, ribs, collarbones, vital organs, and kidneys. 
Ergonomically profiled, performance fit airbag vest optimized for use with compatible racing/performance riding airbag leather suit.
Electronic Airbag Control Unit (ACU) incorporated within strong, lightweight, ergonomic polymer back protector, optimized for race and track use.
A combination of four electronic sensors is incorporated in the system's chassis (3 accelerometers and 1 gyroscope), meaning the vest is completely self-contained and allows it to be worn interchangeably with compatible garments. There are no tethers, connections to any external sensors on the bike, or GPS of any kind.
The advanced multi-material main shell incorporates Lycra®, 2D mesh, and Cordura.
Interior comprises of perforated Lycra, 3D mesh, and soft-touch edging for high levels of comfort.
Specially designed, race-developed back protector, offering comprehensive inflatable full upper body protection for back, shoulders, collarbones, chest, ribs, kidneys, and vital organs.
Incorporates removable inner mesh and elastic Velcro® waistband to position airbag system and ensure a custom fit and improve adjustability.
The deployment system utilizes argon inflator cartridges which are CE certified to ISO 14451 standard.
The system's firmware is upgradable and can be configured to run the Tech-Air Street airbag settings for non-racing use in road and light off-road situations.
Race mode allows for two separate deployments in sizes small to XL.
2XL vest only has one deployment in race and street mode.
ACU is seal-protected within vest to ensure its all-weather performance and the vest and componentry are certified to function in all weather conditions between -10?C and +50?C.
ACU has been homologated to ECE R10 04, which ensures the electromagnetic integrity and stability of the unit.
The system uses an integrated, certified lithium-ion battery, with a battery life of 25 hours and a recharge time of approximately 6 hours. Micro USB charger allows convenient recharging of system, with one hour of charging time giving four hours of riding coverage.
System vest incorporates a convenient connection system, allowing the system to be connected to race suit quickly and easily for peace-of-mind activation of the airbag and LED display.
Color-coded front YKK zippers allow for the vest to be easily and securely attached to the outer jacket.
Category II CE Certified to the 686/89/EEC European PPE Directive, using a version of EN1621-4:2013, which guarantees impact protection performance between 45 milliseconds to 5 seconds.
Design and manufacture CE certified to the 2007/23/EC pyrotechnic directive.
Above are the best dirt biking gear you can get. Read more about the best motocross riding gear and best dirt bike gear for kids. A high-quality helmet and boots are a must-have.
Gloves, riding pants/jerseys, knee/elbow pads, knee braces are important and you should look into getting some but making sure that you get a quality helmet with quality dirt bike boots are the most important dirt bike you should look into getting.