In this article, we talk about the best dirt bike pants and jerseys.
Look good ride good!
All the pro-offroad and motocross racers are decked out from head to two in dirt bike riding gear. Yes, they get paid to wear the gear but even those that are not sponsored choose to suit up with riding pants and a jersey. You get protection from the sun, dirt, and elements when wearing riding gear. 
Riding jerseys and pants are actually something I recommend having when dirt biking. Yes, can you ride in jeans and a T-Shirt. However, jerseys keep you cooler and also help prevent cuts from the brush. Riding pants are created with the seams in the right place to keep your butt and legs from getting rashes and rubbed raw!
Riding for a long time in jeans is not a good idea and all the seams are in the wrong places and personally, I want to avoid rubbing everything raw.
Luckily there are lots and lots of different options when it comes to quality dirt bike pants and Jersey. You can buy the matching jersey and pants or you can mix and match. 
 Generally there are lots of different colors to choose from so don't worry you can find the look you like. 
What does Dirt Bike Riding Pants and Jersey Look Like?
Which Dirt Bike Pants and Shirts are the Best?
That decision is up to you. However, there are lots of things to consider like how much wear and tear the gear can take. Making sure the pants and jersey fit properly is also important. I also prefer to ride with vented gear in the warm months. 
What to consider when choosing Dirt Bike Gear
Quality
Vented or not Vented
Can a Knee brace fit under the pants
How do they fit (Too Tight or Too Loose)
Top Dirt Bike Jersey and Pant Brands
Not listing in any real order, below is a list of the top dirt bike pants and jersey manufacturers you can get here in the USA.
Alpinestars
Answer Racing
FastHouse
Fly Racing
Fox Racing
FXR Racing
Klim
Leatt
Moose Racing
MSR 
O'Neal Racing
Seven
Shift
Thor
Troy Lee
** BELOW IS A LIST OF ALL THE BEST DIRT BIKE PANTS AND JERSEYS FOR 2021
Top Alpinestars Jersey and Pants
ALPINESTARS SUPERTECH BLAZE PANTS AND JERSEY
This is the best gear you can get from Alpinestar. The Supertech blaze is built for those who want ultra-lightweight fitted dirt biking gear. Open Strech mesh allows for airflow on hot days and built for optimal movement while dirt biking. The Supertech Blaze pants also come with built-in cooling features and have TPU reinforced knee area to prevent abrasion. The pants come with a ratchet waist.
TOP ANSWER RACING DIRT BIKE JERSEYS AND PANTS
ANSWER RACING ARKON BOLD JERSEY AND PANT
Answer Racing created the Arkon Bold riding gear for those dirt bike riders that want a modernized, high-flow, and lightweight fit.
You can mix and match with other Answer Racing gear sets to give the perfect look. Made from interlock polyester and has a V-Neck construction for the Answer Jersey. The Answer Racing pants have been optimized for a great fit and have flexible knee, fly and yoke patches. 
TOP FASTHOUSE JERSEY AND PANTS
FASTHOUSE GRINDHOUSE BEREMAN JERSEY AND PANT
Fasthouse has built really popular gear with the hardcore freeriders/freestyle. The grindhouse Bereman jersey and pants are come with an athletic fit and made from the highest quality materials to help wick away sweat and keep you cool while riding. The pants come with a silky soft knee brace compatible lining. Tough and built for the desert and the track. 
TOP FLY RACING JERSEY AND PANTS
FLY RACING EVOLUTION DST PANTS AND JERSEY
Fly Racing built the EVO DST gear set for total performance and excellent comfort. If you want tough and flexible that's exactly what Fly Racing is going for. Key ventilation with mesh in the front and back for the key areas. Ergonomic fit with seamless designs to prevent rubbing. The EVO DST pants come with a Boa system for ultimate adjustability. Pre-shaped knee area for those who wear knee braces. 
TOP FOX RACING JERSEY AND PANTS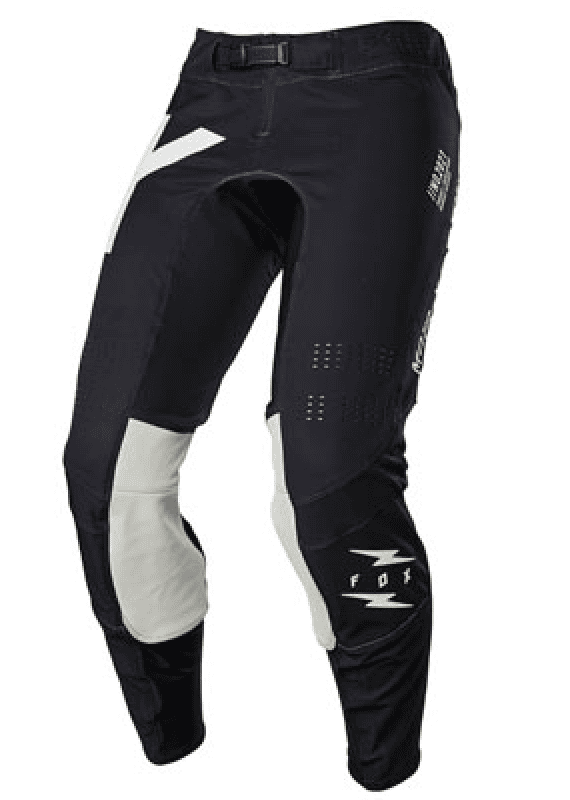 FOX RACING FLEXAIR JERSEY AND PANT
Fox Racing is well known in the motocross and offroad racing world. Many of the top riders are sponsored by Fox Racing. Lots of rider feedback has gone into creating the Fox Racing Flexair gear set. Lightweight but tough material the Flexair has built for a slim fit but with complete freedom to move. Venting and airflow are the name of the game with the Flexair and have been designed to keep you cool as possible. Collar and seams are created to avoid any chaffing.
TOP FXR RACING JERSEY AND PANTS
FXR RACING REVO PANT AND JERSEY
FXR Racing is more of a newcomer on the riding gear scene. Don't be fooled as they make some really high-quality dirt bike gear. The FXR Racing Revo gear is a lightweight gear set that comes with a slim fit design and optimal airflow to keep you cool. A drop tail jersey insures your protecting your midriff area. Built for performance and fit the FXR Racing gear is high-quality well-built dirt bike gear. 
TOP KLIM RACING JERSEY AND PANTS
KLIM DAKAR JERSEY AND PANT
If you know anything about the company Klim they tend to overbuild their dirt bike gear. Well known for being some of the most durable dirt bike gear on the market you cannot go wrong with the Klim Dakar riding gear. With the Dakar gear, you get tons of airflow with durability. This gives you an air-cooled gear set that gives you a great range of motion and room to wear the proper riding protection. The Klim Dakar pant also comes with a zipper pocket which is really nice for those who ride long distances. 
TOP LEATT RACING JERSEY AND PANTS
Leatt is well known for its dirt bike protection gear but they also make quality gear sets. The Leatt Moto 5.5 Ultraweld is Leatt's top-of-line jersey and pant set. Slim fit for that ultra light and race tight fit. The pants and Jersey come with moisture cool stretch air channels. You can wear body armour and knee braces with the Leatt Moto gear. 
TOP MOOSE RACING JERSEY AND PANTS
MOOSE RACING AGROID PANTS AND JERSEY
Moose Racing is a well-known brand in the hard enduro and offroad dirt biking world. They make durable and tough gear that is also breathable. The Moose Racing Agroid Pant and Jersey set is built for the serious offroad dirt bike racer. Lightweight and quick-drying will keep you riding longer in the heat. While the Agroid gear set is slim fit you can also wear armour or knee braces. 
TOP MSR RACING JERSEY AND PANTS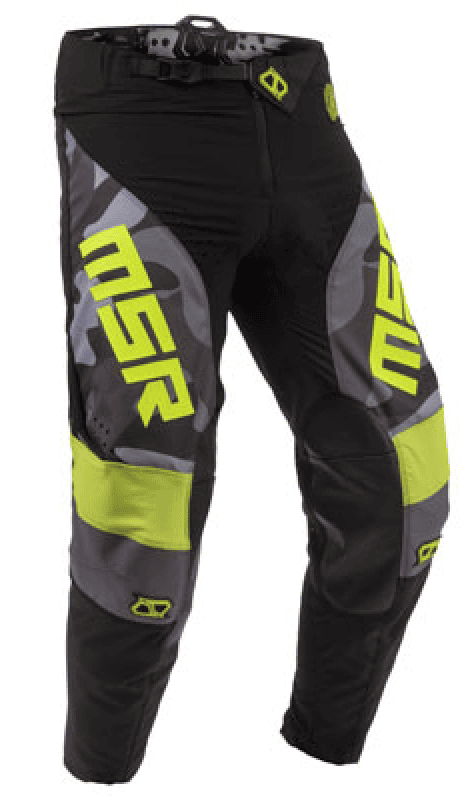 MSR NXT INFILTRATE JERSEY AND PANT
MSR NXT gear lines the best gear set you can buy from MSR RACING. Geared for the offroad racing community the NXT gear ling from MSR Racing will not only come with a slim fit it will also provide you with a lightweight breathable pant and jersey. The NXT Jersey and Pant come with laser-cut vent holes.  The pants are stretchable in the right places for the best fit while using riding protective gear. 
TOP O'NEAL RACING JERSEY AND PANTS
O'NEAL RACING AIRWEAR FREEZ JERSEY AND PANT
O'Neal Racing has been making motocross and offroad dirt bike gear for a long time. The O'NEAL Racing Airwear Freez is the most technical gear set from O'NEAL. Built for the warmest of weather the Airwear gear set is super lightweight and extremely breathable. O'NEAL builds an extra-long "tail" that helps keep your jersey tucked into your pants (Unless you are going for the Jason Anderson Look).  The O'Neal Racing Airwear pants come with crash resistance protection. 
TOP SEVEN JERSEY AND PANTS
SEVEN RIVAL BIOCHEMICAL JERSEY AND PANT
SEVEN dirt bike racing gear is a gear company owned by one of the greatest motocross/supercross riders to ever swing a leg over a dirt bike. The Seven MX Rival Biochemical jersey set comes with a tailored fit and is lightweight with all the venting you need. Built by the rider for the rider. The Rival Biochemical is a high-quality lightweight gear set meant to be punished and keeping cool while looking good. 
TOP SHIFT RACING JERSEY AND PANTS
SHIFT 3LACK LABEL KING JERSEY AND PANT
SHIFT Racing gear is also owned by FOX Racing gear. Combine these two companies and you get decades of dirt bike gear R&D. The SHIFT 3lack Label King gear set is the best gear seat that SHIFT offers. This is a pro-level race jersey that gives you quality and a great fit and finish. Lightweight and breathable SHIFT aims to keep your gear smelling fresh and comfortable. 
TOP THOR RACING JERSEY AND PANTS
THOR TERRAIN PANT AND JERSEY
THOR Racing is one of the original gear manufactures. The Thor Terrain gear set is set for the serious offroad racer and hard enduro rider. Built to take the abuse that comes from offroad racing the Thor Terrain pants come with zip pockets for extra on-the-body storage. Vented to make sure you stay cool you also will have your sweat wicked away.
TOP TROY LEE RACING JERSEY AND PANTS
TROY LEE SE ULTRA PODIUM PANT AND JERSEY
Troy Lee is a legend in the dirt bike world when it comes to design. Troy Lee personally has created 1000's custom helmet designs. That same custom design is built into his gear. Troy Lee is also partnered with KTM for their own supercross racing team. The Troy Lee SE Ultra Podium Pant and Jersey have direct feedback and input from the pro racers. The Podium gear set comes with precision fit and is ultra-lightweight and breathable. The Troy Lee SE Ultra Podium pant is the highest quality gear set you can get from TLD. 
Lucky for us dirt bike riders, no matter if you ride offroad or race supercross there is plenty of gear sets out there for all different body shapes. I highly recommend that you buy your gear from a company that will allow you to return the gear if it doesn't fit correctly. 
You want to be focused on riding instead of uncomfortable gear. I have owned multiple different gear sets and they all have different fits and finishes. I prefer the more fitted type of gear as I don't want the gear to feel like it's flapping around in the air. 
If you wear under the jersey protection or knee braces then sometimes the fitted gear can be too tight which means you can actually size up if needed. 
See you out on the trails.