In this article, we discuss the best dirt bike gloves.
Do you even need gloves for dirt biking?
YES!
Gloves are an important piece of riding equipment when it comes to dirt biking. Your hands are the main thing that keeps your body attached to your dirt bike.
While just like in golf you want to make sure you have a light grip so you can avoid the dreaded arm pump there are lots of reasons to wear dirt bike gloves.
What do dirt bike gloves help with?
Grip
Protection
Blisters
Sunburn
You want to wear gloves while dirt biking to protect your hands from sticks, rocks, trees, and the sun. You also will get less wear and tear on your hands helping you avoid blisters.
Wicking sweat is also important when it comes to maintaining a good grip on your handlebars.
Get your "HANDS" some quality protection by clicking the button below
Why do you use dirt bike-specific riding gloves versus work gloves?
You are probably wondering why you need to get some dirt bike-specific gloves when you probably have a good pair of leather work gloves laying around?
You can use leather work gloves or any glove for that matter but there are a few reasons why using dirt bike specific gloves are a better choice.
Dirt Bike gloves are designed with seams, grip, and fit specifically around dirt biking. When you have a glove that is too loose it can cause your grip to not be correct. This could result in issues like accidental whiskey throttle.
A dirt bike glove should have a more formed or fitted fit around your hand. When you close your hands into a fist you don't have a bunch of glove material bunching up. This bunching up can give you whiskey throttle and arm pump. It also at times is uncomfortable when riding for hours at a time. 
Which dirt bike gloves work the best?
Finding the right dirt bike glove is really not that hard. You want to make sure that the glove fits well and also there isn't lots of material build-up inside your palm area when you close a fist.
So having a fitted but not too tight glove is important.
You should try on a few different gloves to see what fits your hands the best.
Dirt Bike Glove Brands for 2021
There are lots of solid options for dirt bike gloves but it's important to choose a glove that will fit your hands and also will not wear out prematurely. 
Glove Brands:
Fox Racing Gloves
100% Gloves
FastHouse Gloves
Fly Racing Gloves
Klim Gloves
FXR Racing Gloves
Leatt Racing Gloves
MSR Racing Gloves
Moose Racing Gloves
O'Neal Racing Gloves
Shift Racing Gloves
Seven Gloves
Thor Gloves
Troy Lee Gloves
All of the above-mentioned dirt bike gloves have spent lots and lots of time and money developing gloves for dirt biking and motocross. 
Some of the dirt bike glove manufacturers will even design their gloves with specific dirt biking In mind. For example, you have had a hard enduro glove, motocross glove, and even a cold-weather glove. 
Also some of the dirt bike gloves will come with a velcro strap and some without the strap.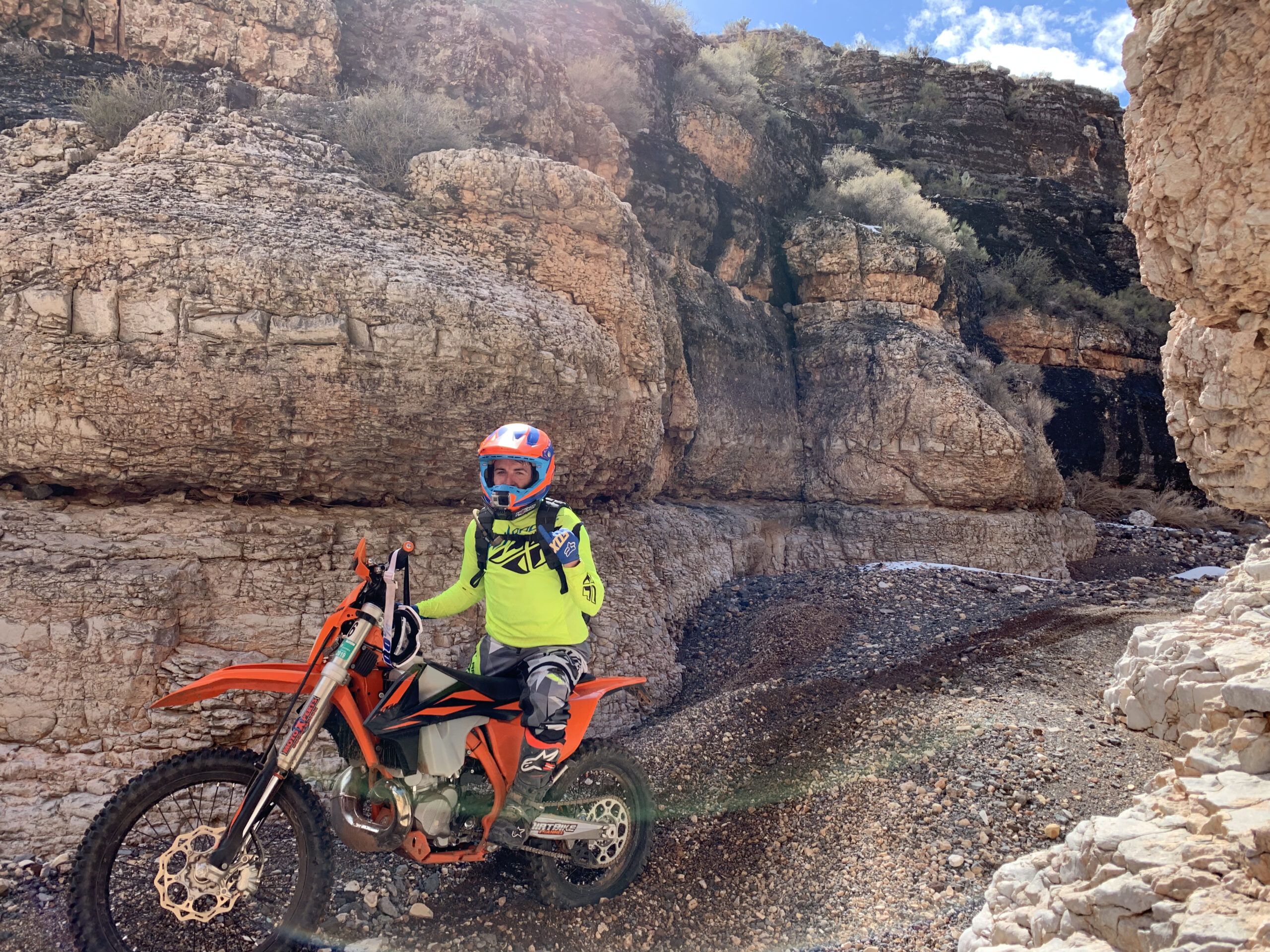 Dirt Bike Glove wear and tear
Most dirt bike gloves tend to have the same wear and tear contact points. This means generally we already kinda know where a glove will start to fail and fall apart. 
Typically the main parts are at the end of the fingers. Other spots are between the index finger and thumb. 
DIRT BIKE SAM'S glove recommendation
I have worn just about every dirt bike brand on the market and I am typically hard on gloves. I admit that sometimes I am using the glove for purposes other than dirt biking but hey….sometimes when the glove fits….you use it.
Straps or No Straps?
My personal preference is having a glove with NO velcro strap. I feel like most straps tend to come loose, catch on things, and generally are annoying.
Thickness?
I generally like a glove that isn't thick and that is fitted and breathes well. A glove that is almost like not having a glove. I DO NOT prefer thicker gloves.
This means generally speaking I have had a hard time finding a glove that stands up to the wear and tear. I wear out the index and middle fingertips on the gloves which allows my fingers to push through the ends of the gloves which I hate.
So far the dirt biking glove I mention fits all my criteria and has held up to abuse better than all the other thin gloves
Fox Racing Airline Gloves
In conclusion, make sure you try on different dirt bike gloves to see how they fit. Don't be afraid to have a few different pairs and try them out when you are riding. This is a great way to find the right dirt bike glove for you and your style of riding.
See you out on the trails!