In this article we will cover the best dirt bike helmets for this year.
Before you start dirt biking you need to make sure you take the proper steps to protect yourself while dirt biking in case of a wreck. Having a Helmet is a MUST have and not optional.
Protecting your head while dirt biking is a requirement in my book and finding the right helmet should be a top priority.
Do you have to wear a helmet?
Minors do have to wear a helmet. Make sure that you check your local state laws.
However, don't be dumb and make sure to wear a helmet even if it's not a requirement.
Not all dirt bike helmets are created equal.
When choosing the right or best dirt bike helmet you need to be aware that not all the dirt bike helmets are the same. There are some baseline protection requirements when it comes to helmet safety that you need to pay attention to.
DOT (Department of Transportation Standard)
SNELL (Snell Memorial Foundation)
ECE (European Standard)
Now I want to be clear…
Just because a helmet will meet the basic DOT or SNELL baseline requirements does not mean that Its quality or the best helmet for protecting your head from damage.
Generally speaking, the better helmets come with higher research and development. The technology will provide you with better protection.
This comes at a price.
Why running out and just buying the most expensive helmet on the market doesn't actually mean you have the safest helmet out there. I will say that it will be much better than the cheaper ones.
My rule of thumb is to buy the best dirt bike helmet you can afford. 
However, this article is about the VERY best dirt bike helmets on the market and there are a few brands that really have spent some time and money into providing us with better protection than the other dirt bike helmets.
These are the very best dirt bike helmets curently available on the market:
Best Dirt Bike Helmets in the $500 – $700 Range
KLIM F5 Koroyd Helmet
Klim built the F5 Helmet to be a do it all lightweight but safe helmet. Klim has completely designed the F5 from the ground up with the best products and designs on the market. Klim also employs test riders and implements that years of feedback into building quality helmets. Klim using cutting edge tech and materials in there KLIM F5 Koroyd MX Helmet.
Low weight, great venting, and the next level safety.
KLIM F5 Koroyd Helmet features:
Klim Carbon Fiber Shell
Koroyd Impact-absorbing tech (outperforms standard EPS materials)
One of the very lightest Helmets on the market
MIPS (Multi-directional Impact Protection System)
Dual Density EPS
Large eye port for best in class visibility.
18 intakes and 8 exhaust vents
MIPS
MIPS (Multi-Directional Impact Protection System) is a specialized helmet safety technology that is now being used in the top tier of off-road helmets in order to greatly lessen the chances of traumatic brain injury.By integrating an engineered low-friction layer into the liner of the helmet, MIPS enables a relative sliding motion between the head and the helmet so angular and rotational impact forces are absorbed and deflected.Since most head impacts occur at oblique and unpredictable angles, helmets with MIPS Technology are able to offer better protection than helmets without.
Koroyd
Koroyd technology uses a series of hollow, dual-polymer, thermally welded tubes to attenuate and absorb the force of traumatic impacts.During a crash, the Koroyd tubes compress and effectively create a crumple zone inside the helmet. This technology outperforms EPS in terms of energy absorption, and drastically reduces the occurrence of brain injury compared to other current materials.The hollow design of Koroyd tubes also dramatically improves air circulation and promotes a lighter-weight helmet overall.
6D ATR-2 Missle Helmet
6D Helmets really changed the dirt bike helmet world. They were the first to really put in some serious new R&D tech into the development of better and safer helmets. This is great for the consumer as dirt biking can be a dangerous sport and the better and safer dirt bike gear the more we can worry about riding instead of getting an injury.
6D ATR-2 Missle LE Helmet Specs:
OMNI-Directional Suspension
Rebuildable Advanced ODS System
Progressive Damping Towers
Multi-Impact outer liner
Low friction disks
isolation dampers
Increased ODS displacement travel
Linear and Angular acceleration mitigation improvement
Fly Racing Formula Carbon Helmet
Fly Racing has been making dirt bike helmets for quite some time. Last year they made some pretty big waves with the introduction of the FLY Racing Formula dirt bike helmet. FLY Racing created a new system called the Adaptive Impact System (AIS) that provides really a high-performance platform for ultimate safety and energy migration. Made from extremely lightweight carbon fiber the Fly Formula helmets are not only one of the safest helmets on the market, but they are also very light.
Impact energy cells built by  RHEON maximize low speed and rotation impacted. This really reduces forces transmitted to a brain. FLY Racing did not stop with RHEON, they also have Conehead EPS technology that gives a much softer liner and helps absorb and impact forces efficiently.
FLY Racing Formula Dirt Bike Helmet Specs:
Adaptive Impact System
Carbon Fiber Shell
Impact Energy Cells
Conehead EPS technology
True Functional Ventilation
The Top 3 Best Dirt Bike Helmets Compared
KLIM F5 Koroyd Helmet
MIPS Helmet
Full Carbon Fibre Shell

MIPS (Multi-Directional Impact Protection)

Koroyd Impact absorbing

Dual Density EPS
6D ATR-2 Missle Helmet
LE Helmet
Progressive EPP Damping

Multi-impact EPP liner

Isolation dampers

ODS Displacement Travel (+30%)
Fly Racing Formula Carbon Helmet
Impact Energy Cells Helmet
12K Carbon Figer Shell

Impact Energy Cells – RHEON impact energy cells

Conehead EPD Tech

Expanded EPS volume
While there are other really high-quality expensive helmets on the market. The Klim F5 Koroyd helmet, 6D ATR-2 Missle Helmet, and the Fly Racing Formula Carbon Helmet provide us with the MOST PROTECTION and new technology for 2020.
If you are looking for the safest and best helmet then these dirt bike helmets are the best.
The best dirt bike helmets under $300
Below are the top 3 best dirt bike helmets for under $300 bucks. These helmets offer great protection and fit and finish. While they do not provide as much protection and technology as the more expensive $600 dollar dirt bike helmets they are still a really great choice when it comes to choosing a dirt bike helmet.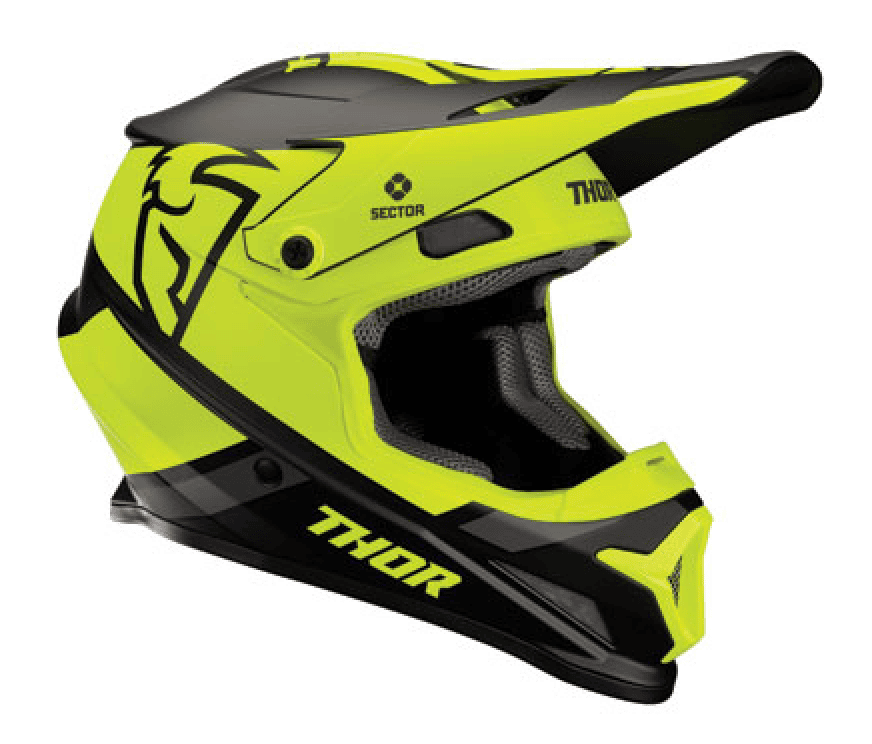 Fly Racing F2 Carbon MIPS
Fox Racing V1 Matte Helmet
THOR Sector Split MIPS Helmet
Fly Racing F2 Carbon MIPS Helmet
The Fly Racing F2 Carbon is a fan favorite in the dirt bike world. For the money, its one of the best value and protection and comes with lots of safety features like the MIPS brain protection system. The one-piece tri composite carbon fiber shell its a lightweight tough helmet. EPS dual-density liner. 
Fly Racing F2 Carbon MIPS Helmet Specs
MIPS Brain Protection System
Dual Density EPS liner
Carbon Matrix Shell
Removable and washable liner
DOT/ECE approved
Quad Vented
Fox Racing V1 Matte Helmet
The Fox Racing V1 – V3 helmets are some of the most popular helmets on the market. The fit and finish makes the Fox Racing V1 helmet one of the best looking helmets on the market. The lightweight ABS injection molded Fox Racing V1 helmet exceeds all the DOT and ECE certification. This is a great dirt bike helmet for the money.
FOX RACING V1 MATTE HELMET SPECS
Great Fit and Finish
Injection Molded ABS shell construction
Magnetic Visor Release system
Removable and washable liner
Tons of intake and exhaust air vents
THOR Sector Split MIPS Helmet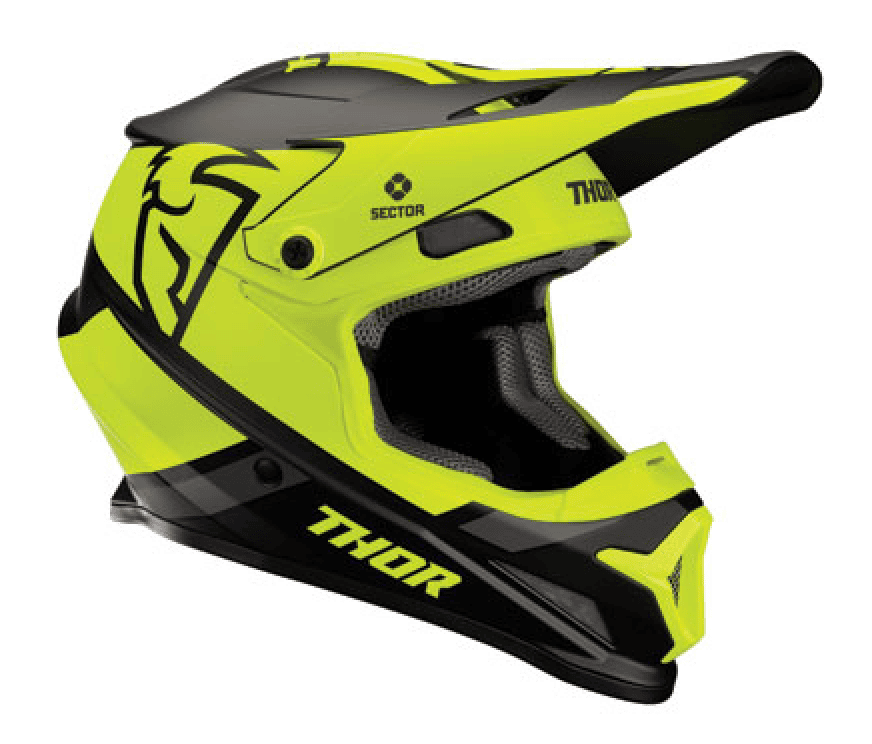 The THOR Sector Split helmet is an affordable helmet that comes with high-quality protection without a large price tag. The Thor Sector Helmet is a good looking helmet to boot. This DOT/ECE Multi-directional impact protection system will make sure you have a safe quality helmet for dirt biking. The liner is a removable liner that can be washed.
THOR Sector Split MIPS Helmet Specs
MIPS – Multi-directional impact protection System
Injection-molded ABS shell
Removable washable liner
Hi-Flow air vents and air exhausts
Adjustable Visor
What Brands Make the Best Dirt Bike Helmets
Like I mentioned earlier in the article we are here to talk about the BEST dirt bike helmets, not the most expensive. What I mean BEST DIRT BIKE helmet I mean safety.
Fit and finish on a dirt bike helmet is really subjective to your head shape. While I recommend trying on many different helmets to find on that fits your head well… I also want to talk about the companies that are providing us with the safest and best technology in helmets for protecting our heads.
This is what I considered to be the best dirt bike helmet brands this year:
 
These are the dirt bike brands that are trying to really update the technology in dirt bike helmets. This is the reason that it made the list. I would love to see all the other brands join the fight when it comes to protecting our heads against dirt bike head injuries.
When it comes to choosing the best dirt bike helmet for you and your head, make sure that you try lots of different helmets on. Just because they are expensive and the safest on the market, it does matter if it isn't comfortable. 
I like the saying that the best helmet is the one that you are wearing. 
While not all the dirt bike helmets are created equal when it comes to fit, finish, design, and safety feature any helmet is better than no helmet.
Personally I have worn a 6D helmet and a Fly Racing and my head prefer the fit and finish of a Fly Racing helmet.