Riding boots…..
Are probably one of the most crucial parts of your riding safety gear while dirt biking. 
I DO NOT RECOMMEND RIDING DIRT BIKES WITHOUT PROPER RIDING BOOTS OR GEAR.
Lots of people out there think that they can skip the riding boots….because hey I have those old leather army hiking boots that are tough..Right?
I cannot tell you how many times my dirt bike riding boots saved my feet, ankles, and shins.
No matter if its motocross or simple trail riding having a quality set of riding boots is a MUST.
Why is it important to have dirt bike riding boots?
Riding dirt bikes exhilarating, and the reason for that is it can be more dangerous than other sports. That doesn't mean you can't take the proper steps to protect yourself.
Dirt Bike Riding boots are an essential piece of the safe pie!
Dirt bike foot and toe protection
Dirt bike riding boots are designed to protect your entire foot, ankle, and lower leg.
What does dirt bike riding boots protect your foot and toes from?
I can tell you that I personally have kicked rocks, trees, tree stumps, and all sorts of things. When riding dirt bikes your feet and lower legs are exposed to all sorts of things. The last thing you want is to bust up your foot.
I once kicked a boulder while riding singletrack that I didn't see as it was hidden under a bush. This resulted in my toenails jamming back and up which my riding boot filled up with blood. While it hurt like hell….if I had been riding "heavy-duty hiking boots" my toes would have been shattered.
Dirt Bike Ankle protection and Support
Dirt bike riding boots have built-in ankle support. In fact, some of the more expensive higher-end dirt bike riding boots even come with an ankle brace.
Why do you need ankle support when riding dirt bikes you ask?
G-OUTS
Bottom outs
Casing
Foot plants
Get-offs
If you have ever experienced a "G-OUT" or "Engine CASE" you will know why you need ankle support.
Basically a G-OUT is when you go from a quick transition from downhill to uphill which results in the entire dirt bikes suspension to bottom out. This puts a ton of pressure on your ankles as you slam into the uphill side. Without a proper dirt bike riding boot, this could result in a sprained or broken ankle.
Engine casing is when you hit a jump and smack into the other side of a jump resulting in compressed suspension like a G-OUT.
This also can result in a broken or sprained ankle.
Motocross riders do not tend to plant their feet as much as the enduro trail riding dirt bikers do. When out riding a technical single track you tend to have to "plant" your feet when doing pivot turns or catching yourself and the dirt bike from falling.
Same story here….dirt bike riding boots help protect your ankle.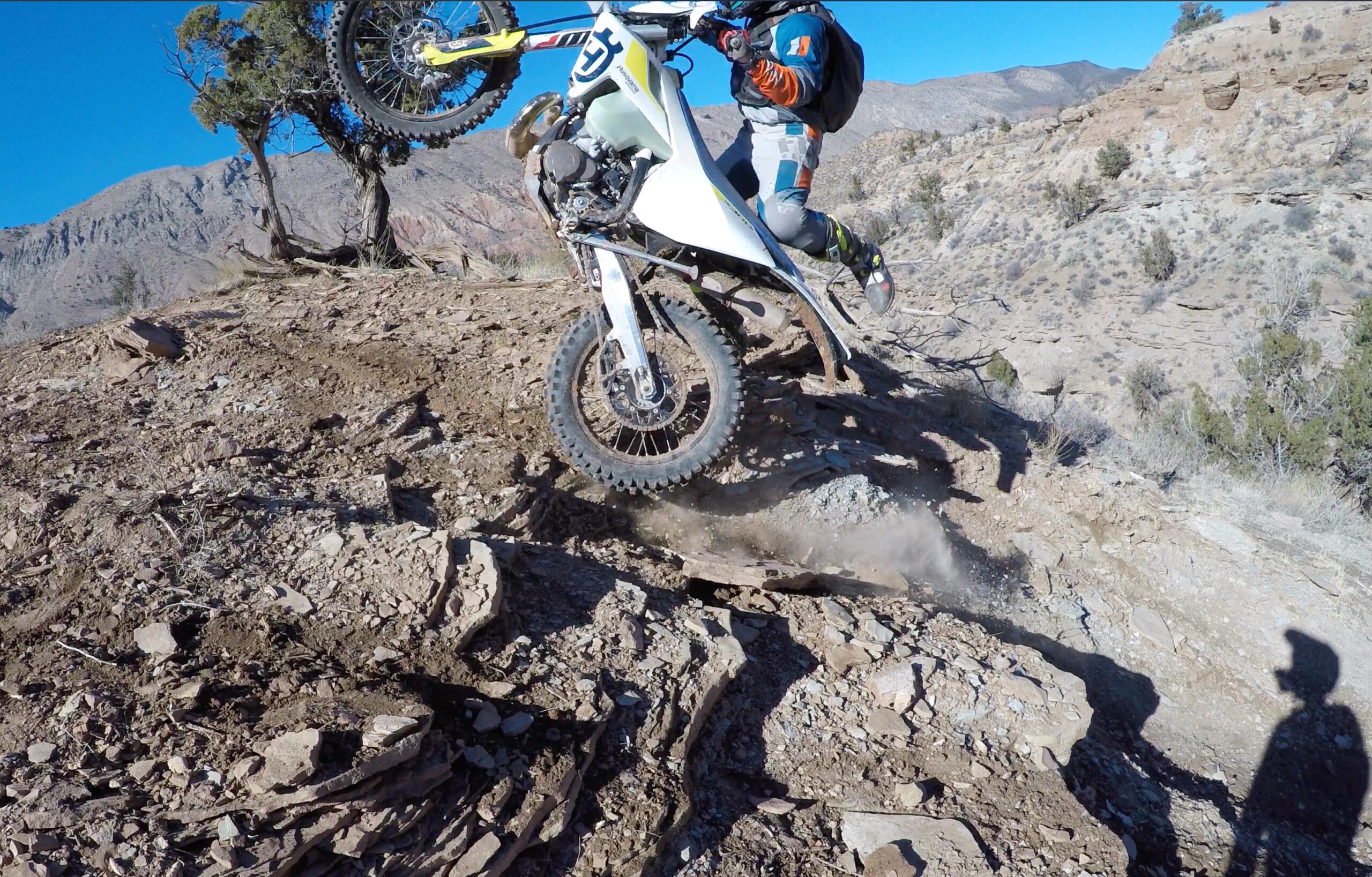 Why do you need dirt bike riding boots to protect your lower leg?
Riding boots also protect your lower leg and shin.
Protect them from what you ask?
Have you seen the teeth on those dirt bike pegs??
Here is a list of what dirt bike riding boots protect you from:
Your Pegs
Heat/burns
Sticks
Rocks
Now that we have discussed why you cannot ride without dirt bike boots…. let's dive into how to select the right dirt bike riding boot for you. 
How to select the right dirt bike riding boot for you
My #1 rule of thumb with it comes to riding boots is to buy the best ones you can afford.
Just like shoes its important to remember that EVERYONE's feet are different. That means a dirt bike riding boot that your buddy has doesn't actually mean it would be a good fit for you.
What does this mean for you?
You need to try on lots of different dirt bike boots to make sure that they fit well. Keep mind most dirt bike boots have some sort of break-in period.  The stiffer the boot the more break in it typically takes.
Who makes the best dirt bike riding boots?
Below is a list of all the major players in the dirt bike riding boot manufacturing. These are the companies that build high-quality dirt bike boots. Some are better than others but for this list its just a list of all the boots.
You can spend anywhere from $100 – $700 on a pair of dirt bike riding boots. They are an investment for sure that's why its important to try on a bunch of different pairs of riding boots. 
List of the dirt bike boot companies:
Alpinestars
SIDI
Fox Racing
Gaerne
Answer Racing
A.R.C
Fly Racing
Forma
Leatt
Moose Racing
O'Neal Racing
Shift
Thor
Next, I am going to list out all the companies that make dirt bike riding boots and this list will have their top dirt bike boots first and go from there. 
ALPINESTARS DIRT BIKE RIDING BOOTS
Alpinestars Tech 10 – $600-$650
Alpinestars Tech 8 RS – $500
Alpinestars Tech 7 Enduro – $400
Alpinestars Tech 7 – $370
Alpinestars Tech 5 – $280
Alpinestars Tech 3 – $200
SIDI DIRT BIKE RIDING BOOTS
Sidi Crossfire 3 SRS – $575
Sidi Crossfire 3 TA – $525
Sidi Crossfire Atojo SR – $525
Sidi Crossfire 2 SRS – $500
Sidi Crossfire 2 TA – $450
Sidi X-3 SRS – $375
Sidi Aqueda – $250
FOX RACING DIRT BIKE RIDING BOOTS
Fox Racing Instinct Boots – $460
Fox Racing Comp R – $220
Fox Racing Comp – $170
GAERNE DIRT BIKE RIDING BOOTS
Gaerne SG-12 – $495
Gaerne SG-10 – $400
Gaerne G All Terrain – $350
Gaerne Fastback – $330
Gaerne GX-1 – $240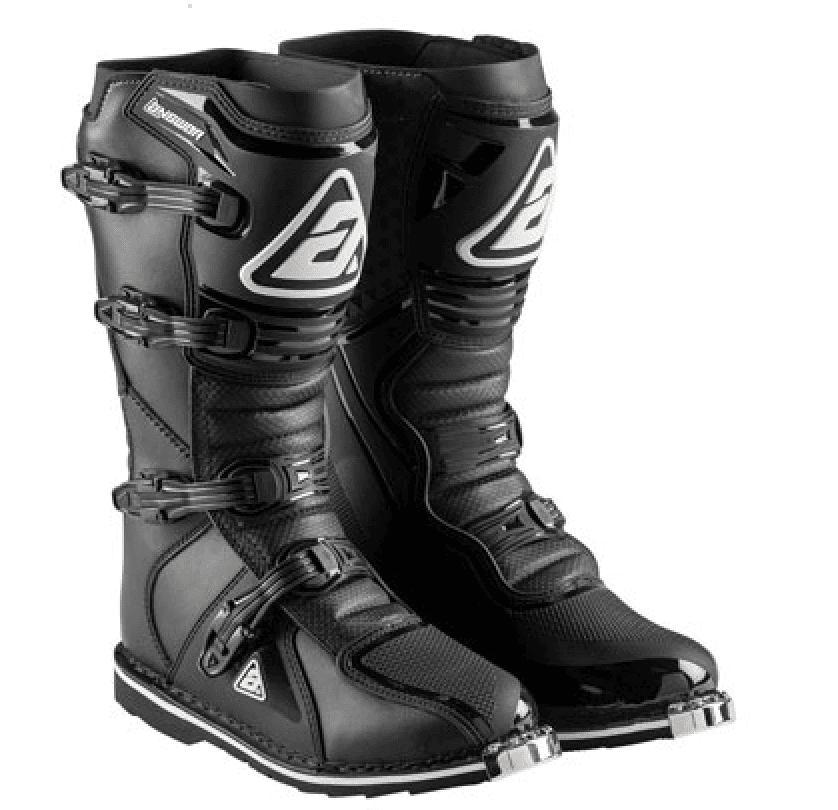 ANSWER RACING DIRT BIKE RIDING BOOTS
Answer Racing AR-1 – $120
A.R.C DIRT BIKE RIDING BOOTS
FLY RACING DIRT BIKE RIDING BOOTS
Fly Racing FR5 – $270
Fly Racing Maverik – $140
FORMA DIRT BIKE RIDING BOOTS
Forma Terra Evo – $340
Forma Terra – $300
Forma Boulder – $280
LEATT DIRT BIKE RIDING BOOTS
Leatt GPX 5.5 FlexLock – $390
MOOSE RACING DIRT BIKE RIDING BOOTS
O'NEAL RACING DIRT BIKE RIDING BOOTS
O'Neal Racing RMX – $200
O'Neal Racing Element – $125
O'Neal Racing Riding – $100
SHIFT DIRT BIKE RIDING BOOTS
THOR DIRT BIKE RIDING BOOTS
Thor Radial MX – $250
Thor Blitz XP – $130
Remember you get what you pay for. While the lower end boots are still WAY better than shoes they won't offer as much support and safety as the higher end boots.
That doesn't mean you need to run out and buy the most expensive boot to get started with. For those that are trail riding, there is even an "enduro" style of boots. Typically all this means is that the sole and tread are different. 
Find a middle of the road dirt bike boot for trail riding or motocross. 
It's also worth noting that typically the higher end boots can take more wear and tear. Some of the dirt bike riding boot companies will replace the sole for you.
Remember….you can save a TON of money and pain if you buy the proper riding gear. Hospital bills are not cheap.