In this article we talk about the lightest dirt bike and motocross helmets on the market today
Long motos and long single track riding really take a toll on your neck and shoulders, we all wear helmets because it's safe and we want to protect the ole brain in case of a quick exit. 
Now, what if we could ditch that old heavy and crusty helmet that we have had for 20 years with a new lightweight SAFER motocross helmet?
We are talking…
The Lightest Motocross Helmet
The Lightest Enduro Helmet
The Lightest Trail Riding Helmet
Why do you need a light motocross helmet?
To alleviate all that pressure on your neck and head.
Well,
If you are like me and have a few half-numb fingers so you went to see the doc and the first thing he asks if you have landed on your head a few times…
sound familiar?
I have a pinched nerve in my neck that has scar tissue wrapped around it from too many head and neck impacts.
This has resulted in half numb fingers and a feeling of a needle slowly being shoved deep into my neck, which starts to show up around an hour into riding.
My 6D helmet, Fly Racing Helmet, Answer Racing helmet, and Fox Racing helmet would put too much weight on my neck and head resulting in a pinched nerve.
This sucked.
All the motocross helmets I had were too heavy. 
I thought it was a fitness thing, and did lots of shoulder and neck strengthening and also stretches. 
While this helped it did not take nerve pinching away. 
So, had the bright idea….
What if I could find a lighter motocross helmet?
I first went to downhill mountain bike helmets. Hell, these guys hurdle themselves down some pretty gnarly terrain (Red Bull Rampage) at speeds I cannot comprehend.
While there were tons of REALLY tempting options I decided to stick with the ECE, DOT, and SNELL rated lightweight motocross helmets.
Most of the lightweight motocross helmets listed below weigh under 3lbs. Now some of these are for the medium-sized helmets so judge accordingly. 
Lets get started with the VERY Lightest motocross helmets.
Airoh has been making helmets forever, the Airoh Aviator is a model that I think they have stopped producing, however, if you do a quick google search it looks like you can still get them. Not sure why they dropped them from the lineup but they replaced it with the Airoh 3.0 which is heavier. 
Carbon/aramid fiber shell
Cheek pad release system
Multiple vents
GoPro support
950 grams or 2.09 lbs
Fox Racin V3 RS CELZ Helmet
Fox Racin V3 RS Riet MIPS Helmet
Fox Racing V3 RS Relm MIPS Helmet
Fox Racing V3 RS Skarz MIPS Helmet
Fox Racing V3 RS Black Carbon MIPS Helmet
Fox racing helmets are solid helmets and Fox racing motocross helmets can borrow from the Fox Racing downhill mountain bike helmets that they also produce. The Fox racing V3 RS carbon fiber helmet is super lightweight and has huge vents. Meets both the ECE and the DOT standards. 
Equipped with MIPS
EPS
Carbon fibre and FRP lightweight shell
Carbon fibre d-rings
Meets DOT and ECE standards
A medium Helmet weighs 2 lbs 15 oz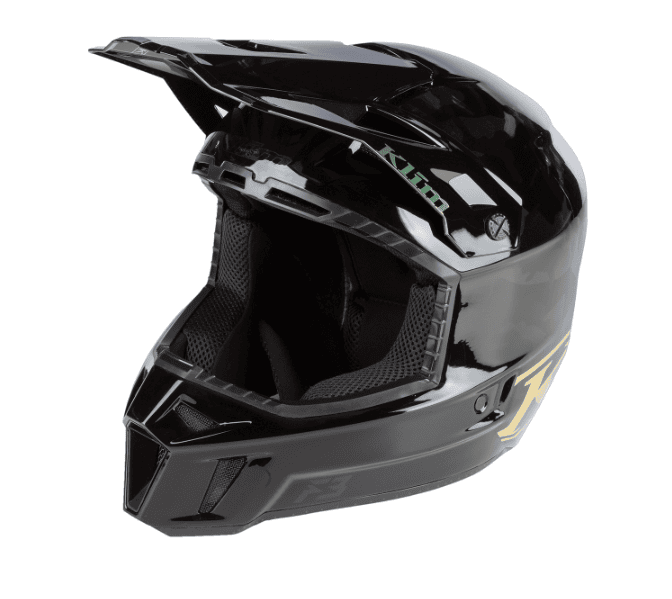 KLIM F3 Carbon ECE Helmet
Klim makes snowmobile, dual-sport, adventure, and dirt bike gear. Known for its high-quality and long-lasting gear the Klim F3 Carbon is my favorite lightweight helmet. It looks good and also is more affordable than the other lightweight dirt bike helmets.
Klim meets the ECE standard and also has a unique patented chin strap that is really easy to use.
Check out the KLIM F3 Carbon helmet review here – CLICK HERE
ECE approved
Carbon Fibre shell
Triple Density EPS
High Ventilation
Fid Lock quick-release strap
Weighs 1110g or 2.44lbs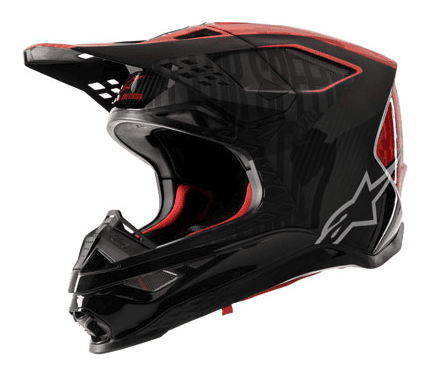 ALPINESTARS SUPERTECH M10 ALLOY MIPS HELMET
This all-new carbon fiber helmet from Alpinestars is sure to make a splash in the dirt bike and motocross helmet space. Alpinestars is well known for their high-quality dirt bike boots why not use that skill set to make a great helmet. 
Made from 3K carbon fiber the Supertech M10 meets both the DOT and ECE standards. It also comes with the MIPS rating which means Multi-Directional Impact Protection System,
Carbon shell, 3K
EPS
DOT and ECE
MIPS
Small – Medium Weighs 1240g or 2.7 lbs
Medium Weighs 1340g or 2.9 lbs
Over the years Fly Racing has been rising to the top with all its motocross and dirt bike gear. The all new Fly Racing Formula Carbon Prime Helmet is going to be a hit for those wanting a lightweight motocross helmet. Made from 12K carbon fiber you also have some new technology for safety that Fly Racing calls Impact Energy cells (RHEON) and the Conehead EPS tech. The Formula Carbon Helmet also meets both the ECE and DOT helmet safety ratings.
Fly Racing Formula Carbon Prime Helmet
Conclusion:
Above is the list of all the motocross lightweight carbon fiber helmets that I could find on the market today. If you feel like I missed one please comment below and I will add it to the list.
Personally, I have the KLIM F3 Carbon Helmet because it's super light and not as expensive as the other helmets. The Airoh Aviator 2.2 is REALLY light but it's an old model which means that it's being replaced with the Airoh 3.0 helmet which is not as light.
(CLICK HERE FOR REVIEW OF THE KLIM F3 Carbon Helmet)
I would love to try the Fly Racing Carbon Prime motocross helmet as I have liked the Fly Racing helmets that I have had in the past.