This article is a review of the Fly Racing Formula Carbon Prime motocross helmet. Scroll to the bottom for my opinion or watch the video.
My motto is to buy the best dirt bike gear you can afford.
When it comes to buying dirt bike gear for your safety especially when it comes to protecting your head, I will tell you it's much more expensive to fix your head.
Give yourself the best chance possible to keep your head safe.
The Fly Racing Carbon Forumla helmets are the BEST and safest dirt bike and motocross helmets that Fly Racing produces.
These Carbon fibre helmets are packed with the latest tech and are lightweight as well.
The most crucial features to look for in a bike helmet are protection from harsh elements, flying objects, and the impact of crashes. However, a helmet's design must also be ergonomic to prevent distraction or fatigue. The formula helmet from Fly Racing meets both of these criteria well. 
Here is our brief review of this lightweight dirt bike helmet.
Fly Racing Formula Carbon Prime Helmet Description and Specs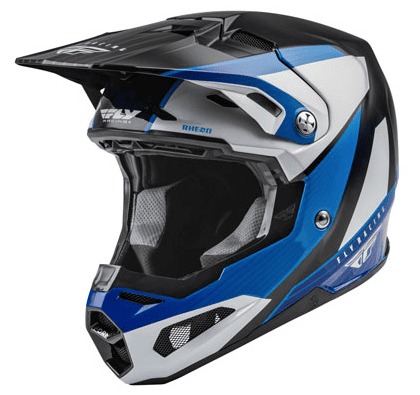 What's the Fly Racing Formula Carbon Prime Helmet? Fly Racing's formula helmet is one of the most innovative and lightweight dirt bike helmets on the market. Within the helmet's super lightweight 12K carbon shell is a highly advanced and adaptive impact system (AIS), as well as other innovative features designed to protect even beyond the threat of skull fractures.
Fly Racing refers to the AIS as a combination of design elements and energy mitigation materials, which basically means that everything, including the shell, the EPS liner, and their RHEON enhanced energy cells, is working together to absorb and release as much energy as possible away from the rider's head. Each component of the AIS has been meticulously adjusted to offer the best head protection against the broadest spectrum of probable real-world impacts.
The Fly Racing development team created the unique Adaptive Impact System after years of research and engineering collaboration with key industry researchers, scientists, and engineers from around the globe. This highly innovative helmet redefines standards for helmet safety and performance.
Here's is a breakdown of each component of the AIS:
AIS comprises a dual-density expanded polystyrene (EPS) conehead liner, expanded polypropylene filings, True Functional Ventilation, a 12K carbon fiber shell, and RHEON enhanced impact energy cells.
Dual-density EPS conehead liner.
The conehead dual-density EPS liner uses a series of inverted cones to control better or absorb the impact force when you go over a bump, pothole, or crash. Yes, it even protects your head when it gets bouncy!
Fly Racing has combined their proprietary Conehead EPS design with expanded volume EPS in six extremely critical zones, each deliberately designed to respond appropriately to both high and low-speed impacts, for the Formula Helmet's second act of protection. For instance, EPS and expanded polypropylene in the chin bar and clavicle shell relief zone help prevent facial and collarbone injuries.
RHEON enhanced impact energy cells
When you pull out the comfort liner, you'll notice big blue things inside the helmet. These are energy cells enhanced by RHEON. There are seven energy cells, each about 8 mm thick. What's cool about RHEON is that it's an active strain rate material, meaning that it will respond differently to different speeds and rotations. Basically, it maximizes absorption of high-speed impacts, preventing force transmission to the brain. It helps prevent concussions when you go down.
Ventilation is a big emphasis on the formula carbon prime helmet. It features True Functional Ventilation (TFV). There are vent cutouts on the chin bar, mouthguard, and just above the eye-port. There are also a couple more vents on the top and back of the helmet.
When the wearer is on the move, the air is sucked in via several intake vents, pushed through several cutouts in the comfort liner, and then expelled via exhaust vents. This helps keep the rider comfortable when conditions get hot. 
The Fly Racing Formula Carbon Prime Helmet is made in the US and rigorously tested to meet ECE and DOT standards. DOT is short for the Department of Transportation. It's a Federal Motor Vehicle Safety #218 Standard for riding helmets and applies to all US-produced helmets intended to be used on the road. A DOT-certified helmet just means it's been found safe for on-road use. To verify compliance with the standard, NHTSA gathers and sends random samples of the products to a third-party lab for testing.
On the other hand, ECE stands for "Economic Commission for Europe." ECE tests a helmet's durability, environmental conditioning, impact absorption, and other things. Just like a DOT standard, an ECE certification means a safer home.
The Fly Racing Formula Carbon Prime Helmet shell is both light and strong. It's made of 12K carbon fiber. What's unique about 12K is that there are 12000 filaments of carbon in each band of fiber. A lot of helmet manufacturers use 3K carbon fiber. On the other hand, Fly Racing sets itself apart by using 12K carbon fiber. This allows them to use fewer weaves as they make the shell, meaning a flatter and stronger shell. Also, using 12K carbon fiber helps reduce the helmet's weight, meaning less strain on your neck and head while riding.
Additionally, the Conehead's EPS material produces a lighter and softer shell, making the helmet more comfortable and safer against a wide range of impacts.
Additional helmet features:
The visor on the helmet is made of thin nylon material and is very flexible, meaning that if you go down, there's going to be a lot of give there. Also, the screws are beveled, so it doesn't take a lot of force to make them come out of the helmet.
A summary of the formula carbon prime helmet technologies and features
Adaptive Impact System:
12000 carbon fiber shell.
Creates a shell that is extremely light but with high penetration resistance.
Impact energy cells:
Rheon enhanced energy cells in the helmet's interior to maximize the absorption of impacts over a wide range of speeds, thus protecting from concussions.
EPS conehead:
Results in a softer lining, allowing the cones to more effectively regulate or absorb forces from impacts.
Six critical zones feature extra padding to respond appropriately to high and low-speed impacts.
Expanded volume EPS:
Additional impact-absorbing EPS in specific helmet parts increases the cushion between your head and the ground.
EPP chin bar
Expanded polypropylene in the chin bar to prevent facial injuries
Features:
Expanded Polypropylene (EP) chin bar
Clavicle shell relief zone: an EPP and EPS-filled zone to prevent clavicle injuries
Specifically molded rubber trim with a built-in nose guard.
Lightweight titanium alloy D-rings and custom visor screws.
Anti-microbial cheek pads and quick-release comfort lining
True Functional Ventilation comprises intake and exhaust vents on the front, back, and top of the helmet, plus air channel cutouts on the EPS liner.
Moisture-wicking cheek pads and comfort liner
Easy to wash the inner lining and cheek pads.
It comes with a spare visor.
Optional breath guard for chilly temperatures
Premium helmet garage
Meets or surpasses DOT and ECE requirements.
In what sizes is the Fly Racing Carbon Prime Helmet available?
The Fly Racing Formula Carbon Prime Helmet is available in extra small, small, medium, large, extra-large, and extra-extra-large sizes. It weighs approximately 1290g (+/-50g depending on the size). It features a Double D closure and ECE/DOT safety standards. Use the size guide on the products page to know which size you are going to need. 
Depending on where you buy it, they may accept product returns in brand-new condition if you are not happy with your size. Some may even offer free shipping both ways on your first exchange. Take advantage of such offers to get a helmet that fits snugly.
Performance
The carbon prime formula helmet from Fly Racing is a lightweight motocross helmet. It's designed to fit true to size, preventing up and down movements and all-around turnings when you are on the move. Its cheek pads and interior liner are moisture-wicking, antibacterial, and easily detachable for cleaning. 
The True Functional Ventilation circulates air via multiple intake openings in the helmet shell and EPS liner before expelling it via outlet vents at the back. It makes the helmet especially beneficial for off-road riding when temperatures get uncomfortable. The helmet design incorporates lightweight titanium alloy D-rings, custom visor screws, and a nose guard. There's no visor to cover your face from the sun, so you may have to get goggles.
Overall, the formula helmet from Fly Racin does an excellent job of protecting against impacts and harsh elements, resulting in a fun and safe riding experience. You also get a premium helmet case and a spare visor. The helmet comes in sizes XS-2XL and in various colors and graphics. It costs around $649.98.
Dirt Bike Sam's Review and Opinion 
What a great time to be a dirt bike rider. Many businesses, including Fly Racing, have improved their products over the years by introducing cutting-edge innovations to make headgear as secure as possible. Several excellent lightweight motocross helmets are available, but with the formula helmet, Fly Racing stands head and shoulders above the competition. The company spent several years testing and developing a helmet offering an entirely different perspective on safe riding.
It's also cool that the business collaborated with medical professionals and other experts to create a mix of high-performance structural designs and energy-saving materials. It has also been rigorously tested and found to surpass ECE and DOT regulations. In the end, it's one of the safest helmets out there; a little bit on the expensive side of things, but with every feature, you need to prevent injuries and harsh elements while on the road. Enjoy enhanced protection from various elements and impacts on the road by using the Fly Racing Formula Carbon Prime Helmet.
Check out our other great dirtbike and motocross helmet articles below!