This is a review of the MSR M3X riding boots!
Dirtbiking and motocross is EXPENSIVE!
Not only do you invest all that money into your dirtbike now you need to get all the dirt biking and motocross gear to help keep you safe.
Riding boots
Helmet
Gloves
Jersey + Pants
Knee Braces
Elbow pads
Neck Brace
Best dirtbike and motocross riding boot for the money?
I've worn a variety of MX boots over the years (SIDI, Gaerne, Alpinestars, Fox Racing), and the MSR M3X has quickly become one of my favorites. The high-quality leather chassis offers good protection without feeling bulky, and its replaceable components mean you won't have to replace the entire boot as often as other brands would require.
After many hours on track with this shoe, I've found it to be comfortable and durable thanks to smart design elements that make it easy to move around in, even when hitting jumps or riding through rough terrain. In fact, I'm so impressed by what this boot can do that I'm now using another pair for my daily driver—a big deal considering most riders only use one pair of riding boots their entire life!
MSR's racing gear has been around for years, and for good reason.
So, you've decided to get yourself a pair of MSR boots. The M3X is a great choice, and this section will tell you why.
MSR has been around for years and years, and it's one of the most popular brands in the outdoor equipment industry. The company has a good reputation for producing high-quality products that are also affordable—a rare combination!
Of course, there are other companies out there making boots as well, but if MSR's reputation speaks to your priorities in footwear purchases, then it might be worth looking into these boots further.
Offering great value for the price with its high-grade leather chassis and replaceable components, the MX boot was designed by guys who clearly know what they are doing (8-Time ISDE and 6-time Baja gold medalist Malcolm Smith).
MSR boots are very affordable. The MSR M3X boot is designed by guys who clearly know what they are doing, and it's made from a high-grade leather. The MSR M3X motocross boot also has replaceable components, which means you can keep riding for years to come.
This boot can be used in Motocross, dirtbike riding, hard enduro riding, and trail riding
When it comes to durability, the M3X is a great choice. It has a thick rubber sole and a reinforced toe cap and a steel shank it provides excellent protection from rocks, stumps, and other riders.
The boot is also waterproof, which means you can ride  through the rain or snow without worrying about your feet getting wet thanks to the built-in gaiter. The M3X is one of the most breathable boots on our list though 
The fit of this boot is snug but comfortable enough for long rides across hard terrain in all types of conditions. 
The MSR M3X is available in both men's and youth's models.
The MSR M3X is available in both men's and youth's models.
The boot upper is made from genuine full-grain leather with an incorporated suede leather heat shield to protect against exhaust pipes and other hot objects you might come into contact with while on the bike or in the pits. The toe box and heel area are reinforced for improved durability.
Other features include:
Waterproof breathable membrane with taped seams
Micro-fiber construction
Injection Molded
Steel Shank
Fully adjustable buckles
Gaiter
Padded internal ankle 
The M3X boots have a plastic side buckle closure that ensures a solid connection between the boot and shin, while a Velcro strap across the top of the foot keeps everything tight.
The flex points in the M3X are located in all the right places, allowing ease of movement without sacrificing support where you need it most.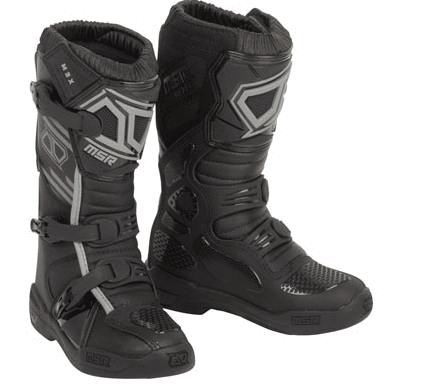 All the same features of the adult MSR boot mentioned above the MSR Youth M3X riding boots are a great boot for the money.
Comes in the following Youth sizes:
Size 13
Size 1
Size 2
Size 3
Size 4
Size 5
Size 6
Size 7
Is the MSR M3X the best dirtbike riding boot for the money?
That is something you will have to decide for yourself. My role of thumb is to buy the best riding gear you can afford. There have been plenty of times when I couldn't afford to buy the best gear as it just was too expensive and not worth the justification. 
My very first set of riding boots where Red MSR boots. I wore the crap out of those boots and they still worked. They protected me from all sorts and I really liked them.
The MSR M3X is a solid boot that offers a lot of bang for the buck. It's not going to win any awards in terms of fashion or style, but if your goal is to be comfortable while still being safe on the track, this may be exactly what you need.