Scroll down to the bottom for my opinion and impressions of the Gaerne SG-12 dirt bike boots!
Every piece of equipment you wear is critical when you take to the wilderness on your dirt bike, and in many ways, your dirt bike boots are the most important piece of gear of all. 
You never know when your safety and survival may depend on your boots, so going with a top-of-the-line product like the Gaerne SG-12 represents the ultimate smart investment.
How well do the Gaerne SG-12 boots protect you?
It's a big one, though, so you need to know what you're paying for. You want the best-protecting dirt bike boots, so what follows is a rundown that proves the biggest strengths and features of the Gaerne SG 12 boots, along with a list of the specs. 
If you're a believer in the old "dress for the slide, not for the ride" adage, these boots provide the ultimate in protection. They fit like a glove and it doesn't take long to break them in, and that's not just marketing hype-the comfort starts the minute you put them on from Day 1, and it will only increase from there. 
How comfortable are the SG-12's from Gaerne?
The interior of the SG-12 is lined with memory cell foam, which doesn't just add comfort. It helps with shock absorption, which makes it a major part of the overall protection package. 
Protection aside, the hinge system is the highlight feature of these boots, which is part of the reason why Gaerne has patented it. It mimics the natural flexing motion of the ankle, so much so that you can almost wear them full-time if you're so inclined. want to. They're almost as comfortable for walking as they are for riding, but the overall point is that they allow you to move in a natural way when you're shifting or breaking while standing. 
What extra protection does the SG-12 boot offer?
Back to the protection. These boots are encased in a rigid thermoplastic layer that basically puts your foot and ankle in a suit of armor. It's the highest level of protection on the market for your foot, ankle, and a lower leg if you do end up in a crash, and if you combine these boots with a knee brace you'll be as close to indestructible as you can get. 
The SG-12 incorporates a locking four-buckle setup to make sure you stay strapped in, but you need to do the work to make sure that happens. The buckles will click when they snap into that locked position, and you should always check to make sure they're secured, as this is a common problem with many brands.
Cleaning the Gaerne SG12 boot
These SG-12 boots also clean up nicely. They dry out quickly due to the full-grain, oiled leather, which isn't necessarily the case for "waterproof" boots that get soaked because of water that comes in over the top. 
With Gaerne boots, though, the quality of the leather gives you a solid shot at being dry within hours if water becomes part of your latest outdoor adventure. And there's also a waterproof, breathable membrane made of Gaerne DryTech just to make sure you stay dry. 
We haven't mentioned the grip or the protection in the sole yet, but they're both definitely present and accounted for. The inside of the sole includes a carbon fiber shank that will spread out the load after a hard impact, plus there's a dual durometer Vibram sole that's replaceable, which is a good thing given that you're going to use these boots for a long time. There are panels on the inside that help you grip the bike without subjecting it to any wear and tear. 
Also, you need to feel in control of the pedals when you're riding, and you need to have grip when you're walking. The SG-12 comes with a gum rubber sole that makes sure that happens. It's yet another feature that gives you the ultimate control of the bike and helps make these boots the best on the market. 
Gaerne SG-12 Boot Specifications
External full-grain leather, without exception
A dual pivot system provides both lateral support and stability
embedded inner grip guard is made of rubber that outperforms leather
four adjustable buckles are made of lightweight alloy
Toe box is low and slim to enhance feel and control while shifting
Front shin plate is adjustable for different legs sizes, or to accommodate a knee brace if necessary
Advanced heel cup design and gum rubber sole helps absorb shock
Top gather is made of breathable Acronos to reduce heat build-up
Weight is 4.6 pounds
Gaerne SG-12 Dirt Bike Boot Colors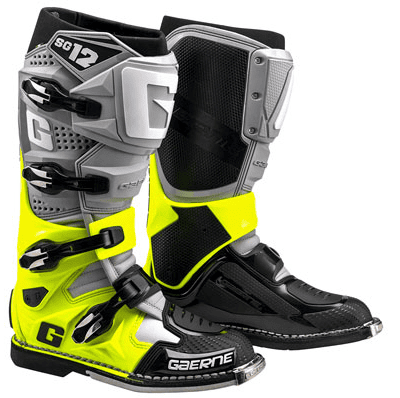 Dirt Bike Sam's First impressions and opinion of the SG-12 Gaerne boot.
I personally have the black and grey SG-12 boots that are size 10. Now, I feel like they run to try to my size, and depending on the boot size I typically fit between 10 US and 10.5 US.
My normal shoe size is 9.5 US to 10 US.
I have been riding the Alpinestars Tech7 boots for years. I also have a new pair of the SIDI Crossfire 3 SRS Boots to compare them to.
Alright, this is not a shootout between those boots mentioned but they are the bearing I am pitting them against. Look for a side-by-side comparison coming soon.
When I first put on the Gaerne SG-12 riding boots I noticed how stiff they were. Now, they do offer more protection than the boots in the  (Tech 7) $400 dollar range.
So, they are stiff but my foot felt like it fit in there well.
However, the ankle support actually felt a bit too tight and actually hurt the first day riding them.
When I first put them on the upper part of the boot feels much larger than the SIDI or the Alpinestars Tech 7 boots.
However, when riding I soon forget about the upper shin protection of the boots. 
Now,
The footbed is a larger feeling than the Aplinestar and the SIDI boot, It's not a problem but it was something I noticed and still am trying to get used too.
STIFF!
They are stiffer than the Alpinestars Tech 7 and have taken MUCH longer to break in.
Gaerne SG-12 Pros
Top-level Protection
Quality fit and finish
Look sharp
Gaerne SG-12 Cons
Larger foot print
Stiff
Hurt the first few rides (Getting better as time goes)
Not easy to hike or walk in
Conclusion
I really like the Gaerne SG-12 dirt bike boots.
I think they are a bit expensive for the money, but you pay for the extra protection, and if you want one of the best protecting boots on the market, the SG-12 Gaerne is the top of the line.
I don't like hiking in them, but the overfit and finish are solid even though they hurt my ankle bones for the first few rides. This is getting better, and I am guessing they are slowly breaking in.
I have been told they last for a very long time! We will see…
But on the motocross track or racing, these are solid choices to keep you safe.
I hope you learn more about the Gaerne SG-12 boots from this review,
I will continue to update this article with MORE information as I continue to use and compare the Gaerne SG-12 boots.