*** This is a gummy hybrid dirt bike tire buyers guide. Contact me if I missed one!
I am going to tell you right now….. there is nothing better than new tires on a dirt bike. I always get asked which mods are the best dirt bike mods to get more performance out of a dirt bike, and my first response is new tires and good fuel.
Luckily for us dirt bike riders, we have TONS of solid options when it comes to motocross, cross country, trail riding, and hard enduro tires. But which one is the best gummy dirt bike tire?
This article is about hard enduro gummy or gummy hybrid tires for extreme offroad hard enduro dirt biking.
These tires will give you so much grip you will be able to ride like Graham Jarvis…..just kidding.
What is a gummy hybrid dirt bike tire?
Dirt Bike Tires are made out of rubber.
Now, I am not smart enough to explain the difference in rubber but I will try to at least explain the difference.
Normally in the dirt bike world of tires, you have soft/intermediate tires and intermediate/hard tires. This refers to what type of riding terrain you plan on riding on. This will determine the flex, stiffness, and sidewall quality of the tire.
CLICK HERE for TUSK EMEX T-35 and T-45 Review
A gummy tire or gummy hybrid tire is built with a more flexible knobby and sidewall for MUCH better gripping rubber compounds.
Think extreme amounts of grip versus the normal tires. So much grip you can move the knobbies with your bare hands. 
Gummy Dirt bike or Trials Tire
Typically a standard dirt bike trials or gummy tire has a close knobby pattern and the tire is extremely soft both in the knobby's and the sidewall (See below picture).
THINK ULTIMATE GRIP
Let's talk Gummy "Hybrid" dirt bike tire!
A few years back, there entered a new dirt bike racing niche or genre.
HARD ENDURO RACING!
Hard enduro racing in my opinion was made famous because of the company RedBull, these hard enduro offroad racing events have always been there, but they are EXTREMELY hard to film or bring to the masses because of the long courses and crazy terrain features. Hell, some of these races are multiple days long, and you can get lost in the forest and eaten by bears.
Hard Enduro racing is a combination of long-range high, speed offroad racing mixed in with crazy trials and slow, like sections.
The problem is that the ole trials bikes are not made for these events and struggle at high speeds and various terrains.
Luckily for us, some European dirt bike manufacturers make some crazy good full-size enduro racing bikes.
The problem was….what tires should you use?
(CLICK HERE for the best dirt bikes tires)
There are too many high-speed sections that would DESTROY a standard trials tire, but the tires on the market back then could not handle the kind of grip you need to get through the gnarly trials-like sections.
Enter the HYBRID GUMMY tire for dirt bikes
These are tires that have knobby patterns like you would find on the offroad/motocross racing tires but with a softer knobby compound but still keeping a stiff carcass and sidewalls.
This allows for a broader grip in fast offroad sections along with the trials like terrain.
These tires are quickly becoming the dirt bike tires of choice for trail riders, hard enduro riders, and even some offroad racers.
Best Hard Enduro Offroad Gummy Tires
The below list is not in any order, all the below tires are solid choices and all have there advantages and disavatages. Some of the tires are built for more grip that long wear, others are built for more wear then grip. However, any hybrid gummy dirt bike tire will grip BETTER than the standard dirt bike tires. Wear…..well the really good gripping gummys get hammered quickly but thats what you bought it for….grip.
**NOTE
At the bottom of this article, I give you my favorite gummy tires that I use out here in the western united states on mountains, deserts, and sand.
I put this at the end as it's my opinion, and really I have not tried every tire on this list, so I wanted you to check out all the dirt bike gummy and gummy hybrid options on the market.
When you talk about the Dunlop Geomax AT81EX, all I can think about is GRIP. These babies have insane grip, and even when they seem worn out, they are still grabbing like your exwife trying for that extra money. It Comes with a unique gummy compound and knob grip design that Dunlop calls DGD. Features 2 nylon plies and a plush pad for bump absorption. Does not wear as long as some of the other hybrid gummy tires. It is not DOT, or FIM approved.
Dunlop Geomax AT81EX Specs:
Extreme Grip
DIRTuitive Grip Design (DGD)
Build for hard enduro and endurocross racing
Dunlop built in a plush pad
IRC VE33S Gekkota Gummy Tire
Probably the do it all dirt bike tire. Dare I say the Bo Jackson of tires? IRC hit a home run with the VE-33S gummy hybrid tire. Build for the extreme offroad racer and hard enduro rider. The VE-33S is on the stiffer side of the gummy hybrid tires but this means it lasts longer and has a better all-around application. IRC does not recommend this for motocross/supercross. The IRC VE-33S Gekkota gummy tire is not DOT or FIM approved.
IRC VE033S Gekkota Tire:
Versatile gummy tire for all conditions
Motocross like knobby tread patter
Built for the extreme
Special IRC Hybrid Gummy rubber compound
NOT DOT or FIM approved
IRC IX-09 Gekkota Gummy Tire
The IX-09 Gekkota tire is intricately designed using a gummy knobby compound for traction and a 2-ply carcass for flex. The IX-09's design is also 100 percent specifically made for applications in hard enduro, targeting riders who are searching for maximum traction in nasty or rocky terrains. That said, the IX-09 Gekkota Gummy tire is a high-wear item that prioritizes maximum racing traction even in the most unfavorable conditions.
IRC IX-09 SPECIFICATIONS:
Size: 110/100-18
Tread: iX09W
Type: TT
Load Index: 64M
Overall Diameter: 690
Overall Width: 128
NOT recommend for MX applications
IRC JX8 Gekkota Gummy Tire
The JX8 Gekkota is built and tested with the assistance of the best Hard Enduro Endurocross riders in the most extreme terrain conditions, making it an ideal option for top pro Endurocross/Hard Enduro and single track riders. Its dual compound helps ensure maximum grip, and the updated carcass structure to 3-ply helps improve rigidity for maintaining stability through the most difficult obstacles.
The IRC JX8 has a unique carcass with a dual-compound rubber that has a stiffer sidewall but softer gummy knobby's. The center knobs have extra rubber at the bottom for better rigidity.
IRC JX8 SPECFICIATIONS:
3 Ply Carcass
Dual Compound
Extra Rubber on center knobs
Tread: 64M
Type: WT
Load Index: 64M
Overall Diameter: 690
Overall Width: 128
Check out the ALL NEW Tusk Talon Hybrid Gummy Tire – CLICK HERE – https://dirtbikesam.com/tusk-talon-hybrid-rear-tire-review/
Tusk Talon Hybrid Gummy Tire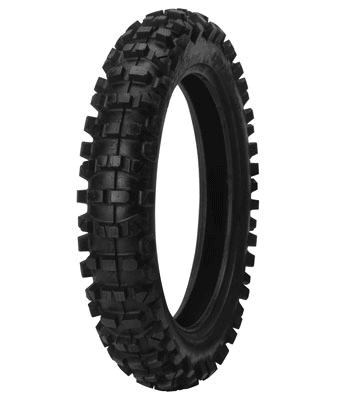 Tusk Recon Hybrid Gummy Tire
All new Gummy extreme conditions tire from Tusk Tires. 
Tusk Talon Hybrid Rear Tire Specs:
Crazy extreme grip built for technical terrain
Stiffer sidewall to help with cornering
Soft crown for better grip
Gummy Knobby compound
Open Knobby or tread pattern for grip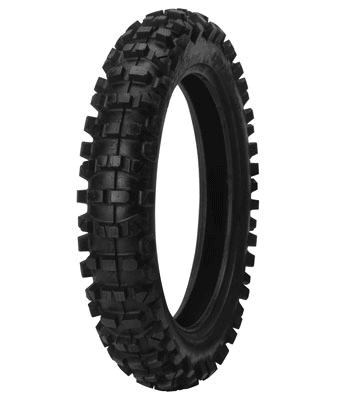 This tire combines the perks of sticky, soft trials tire with a motocross or off-road tire for maximum performance on technical and single track enduro use. Its gummy, soft rubber compound conforms and hooks up to roots and rocks similar to a trials tire but has a knobby tread design inspired by motocross to function better in the sand, mud, and aggressive braking and cornering. Its carcass also handles better and offers ideal protection, traction, and absorption through technical and gnarly terrain.
TUSK RECON SPECIFICATIONS:
Tube-type
NOT DOT
Weight: 13.1 lbs
Hard enduro and trail riding
Kenda K774 Ibex Hybrid Gummy Tire
This dirt bike hybrid tire's design is ideal for extreme enduro-type or Endurocross conditions. It's also specially made for technical riding and low speed. Its flexible and soft rubber compound functions well for maximum terrain compliance and bump absorption like log crossings and rock gardens.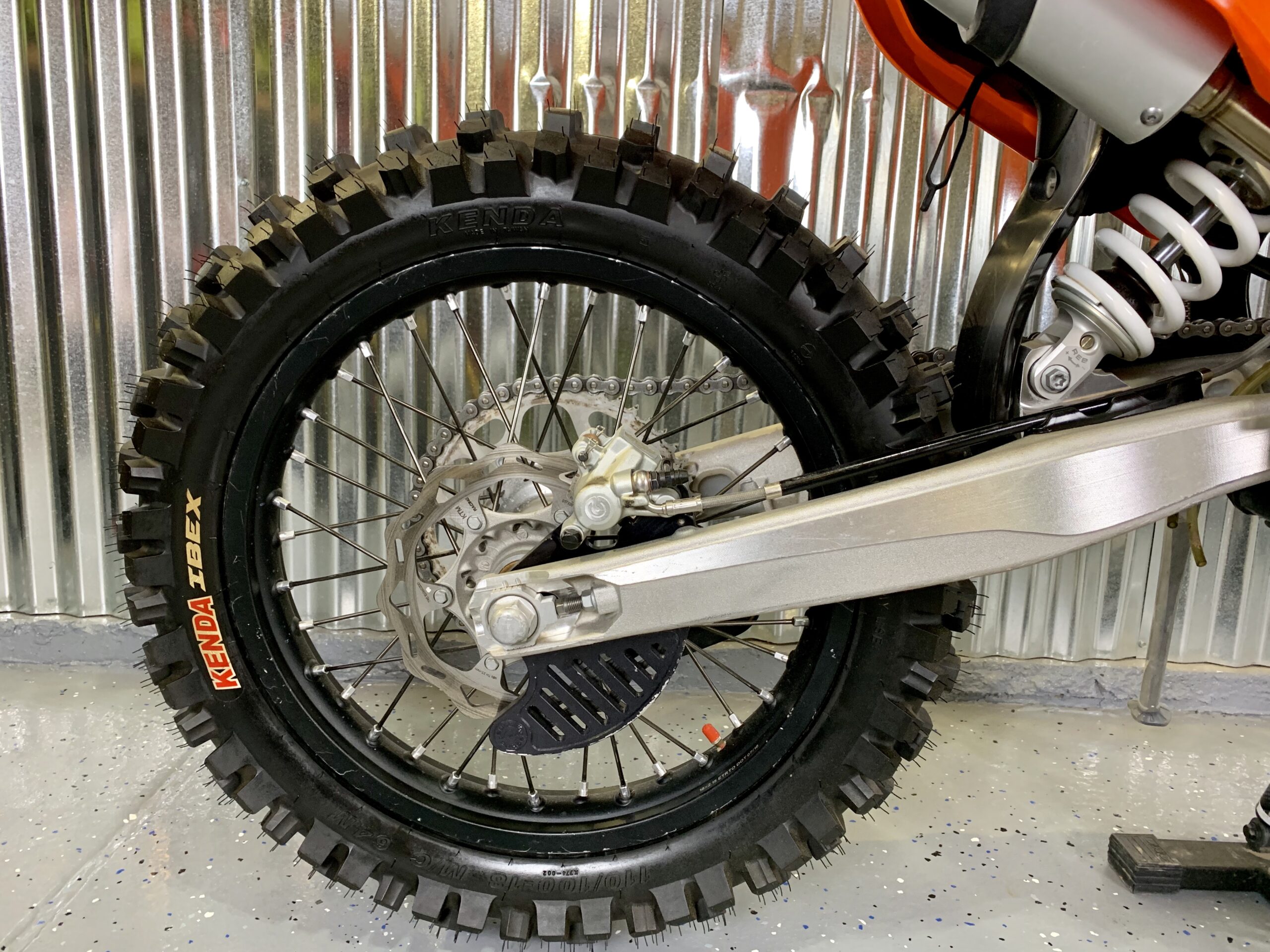 KENDA IBEX SPECIFICATIONS:
Gummy Hybrid
Extreme Hard Enduro and trail riding
NOT DOT approved
High traction in wet conditions
Flexible and super soft rubber
Made for low speed
Load Index: 49M
Type: TT
OD: 22in
 Tread Depth: 13.50mm
Max Loading: 408lbs
Kenda Equilibrium Trials and Hybrid Gummy Tire
Trials meet enduro in this DOT-approved Equilibrium hybrid gummy tire by Kendra. This tire offers one of the most impressive qualities of motocross and trials tires all in one. It's a completely sticky race compound for a formidable grip in both dry and wet conditions.
KENDA EQUILIBRIUM SPECIFICATIONS:
DOT Approved
Sticky race compound
Trials style knobby patter
Motocross style shoulder knobs
Good stopping power
Load Index: 70M
O.D.:27in
S.W.:4in
Max Loading: 739lbs
Tread: 13.50mm
Kenda Knarly K778 Hybrid Gummy Tire
One of the brand new products in Kenda's off-road dirt bike line, the Knarly K778 is an extremely grippy tire that focuses on strong traction in both dry and wet conditions. Apart from the tread being a gummy compound, it also has an extra-wide footprint, enabling riders to run for lower air pressure for improved traction. The gnarly K778 is also famous for being the tire used by Cody Webb to conquer the King of the Motos extreme race.
KENDA KNARLY SPECIFICATIONS:
Super soft and flexible tire
Great traction in wet and Dry
FIM approved
Extreme Enduro
Load Index: 65R
OD: 27in
SW: 5 in
Max Loading: 639 lbs
Tread: 13mm
Kenda Gauntlet K779 Hybrid Gummy Tire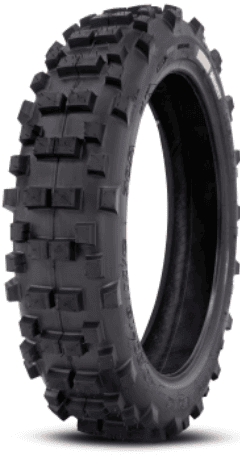 Like the Knarly, the Kenda Gauntlet is also a new product to the off-road gummy tire line. However, its main job is to provide more balance to the compound to ensure a strong, sticky feel for rough terrain, thus lasting longer than other gummy tires.
Built for hard enduro and offroad racing. The Gauntlet is FIM approved.
KENDA GAUNTLET SPECIFICATIONS
Hard enduro and FIM approved
Weighs 110 lbs
Sticky grip and long-lasting knobby's
Tread Depth 13.00 mm
Motoz Arena Hybrid BFM Gummy Tire
Motoz Arena Hybrid offers a unique and entirely flexible thread zone that functions like a mountain goat F to provide more traction and power over technical terrain. It produces the best kind of traction when you're not wheel spinning. It's worth noting that using this tire with full wheel spin or heavy throttle will only defeat the purpose of how it creates maximum traction and can damage the tire.
Considered one of the best all-around tires for offroad traction, it's a beast of a dirt bike tire.
MOTOZ ARENA HYBRID SPECIFICATIONS:
Soft Gummy rubber compound
The hybrid carcass that comes with a reinforced sidewall
Lightweight tire
Hybrid natural and synthetic rubber
Reversible
Extreme hard enduro and offroad racing
Type: TT
Load Index: 64 M
Recommended Rim: 2.15
Tread Depth: 109mm
Motoz Mountain Hybrid Gummy Tire
Bagging multiple industry awards in 2014, the Mountain Hybrid tire is known for its traction characteristics similar to a trials tire, with dimensions of road-enduro tires to maintain its handling capacities.
The new design works on a flexible concave and lock system, offering improved traction without using super-soft rubber compounds while avoiding punctures even in low-pressure inflations.
MOTOZ MOUNTAIN HYBRID SPECIFICATIONS:
Handles like a normal offroad tire
Grips like a trials tire
Reinforced sidewalls, allowing for tire pressure
DOT approved
Load index: 64M
Recommended Rim: 2.15
Overall Diameter: 677mm
Overall Width: 109mm
Tread depth: 16mm
Motoz Xtreme Hybrid Gummy BFM Tire
The Xtreme Hybrid Gummy Tire is similar to the Mountain HYbrid, but this one has a more aggressive and straightforward tread for extreme terrains and a serious straight-line drive for muddy bogs and soft hill climbs. It has similar traction to a trials tire and dimensions that of serious off-road enduro tires.
Like a trails but handles like a standard dirt bike tire! Built for the extreme hard enduro and offroad racers.
MOTOZ XTREME HYBRID SPECIFICATIONS:
Soft Gummy
Like a trials tire but has reinforced sidewalls
DOT approved
REversible
100% natural rubber for longer wear life
Flexible tread
Extreme Hard Endro and offroad racing
Type: TT
Load Index: 64M
Recommended rim: 2.15
Overal Diameter: 677mm
Overall Width: 109mm
Tread Depth: 16mm
Shinko R525 Hybrid Cheater Tire
Shinko's newest extreme or endure, singletrack R525 hybrid cheater tire offers traction even in the most extreme terrain conditions. Moreover, it's specifically designed for intermediate or soft terrains with a spread-out knob pattern that focuses on bite and grip.
Great braking application!
SHINKO 525 HYBRID SPECIFICATIONS:
Built for extreme hard enduro and single track
Considered a cheater tire
Grips like a trials tire handles like an MX tire
Wide self-cleaning tread
NOT DOT approved
Load/Speed Index: 64M
Recommended rim: 2.15-3
Outside Diameter: 26.65in
Width: 4.29 in
Max PSI: 33psi
Shinko R505 Hybrid Cheater Tire
The 505 Hybrid Cheater is a hard-terrain extremer or enduro singletrack tire that finds traction in extreme conditions, similar to the 525 hybrid cheater. Moreover, it has a sticky, soft trials-like rubber compound located on a moto-like carcass.
SHINKO 505 HYBRID SPECIFICATIONS:
Hybrid hard enduro single track tire
Soft sticky rubber knobby's
Great in all conditions
Load/Speed Index: 64M
Recommended rim: 2.15-3
Outside Diameter: 26,=.65in
Width: 4.29in
Max PSI: 33psi
MAXXIS MAXXCROSS EN Hybrid Gummy Tire
Endurocross pros consider the Maxxis Maxxcross as their weapon of choice. Its compliant carcass and tacky compounds help in gripping gnarly obstacles typically found on Endurocross tracks. It also excels on technical trail rides, inspiring confidence through unparalleled ride comfort and predictable traction.
MAXXIS MAXXCROSS EN SPECIFICATIONS:
Built for all-around offroad conditions
Long-wearing
Stiffer gummy rubber compound
All around grip
Built for big bore dirt bikes
Load/Speed Index: 51M TT
Recommended rim: 1.40×10
Overall Diameter: 27.6in
Width: 3.62
Max PSI: 33psi
Tread: 15/32
MITAS XT-454 Hybrid Gummy Tire
This tire targets Hard Enduro and Cross country riding, functioning as a mid to soft terrain tire. It also has an impressive grip on rocky terrain and wet roots through its Super Soft extra-sticky compound, allowing the tire to flex without damaging knobs.
Built off a motocross tire but with sticky trials like knobby's. 
MITAS XT 454 SPECIFICATIONS:
Built for extreme hard enduro racing
NOT DOT APPROVED
Grip on all conditions including wet
Load/Speed Index: 54M
GoldenTyre GT216X Gummy Tire
Considered the gold standard for extreme enduro racing, the X version of the GT216HBN offers the exclusive gummy compound to produce the best gripping tire. It also remains the best choice for extreme terrain conditions, as proven by the top riders in the Red Bull Enduro series.
GOLDENTYRE GT216X SPECIFICATIONS:
* Size: 140.80-18
* Rim SIze: 18
* Load index: 70R
* DOT approved
* Tube-type
GoldenTyre GT369X Gummy Tire
The GT369X is specially designed for the difficulty of Superenduro and Endurocross racing. Its reinforced sidewall, coupled with an exceptional production process, has yielded one of the most dynamic Endurocross tires across the globe.
GOLDENTYRE GT216X SPECIFICATIONS:
DOT approved
Load/Speed Index: 64M
Recommended rim: 18
Tube type
*** NOTE – VEE MOTO claims that their APEX rubber compound is closer to the gummy hybrid but I have no way of confirming this so I have a set of the VEE MOTO APEX tires that I am going to try out and I will let update this article once I see what they are like.
VEE MOTO FORCE AT APEX Hybrid Gummy Tire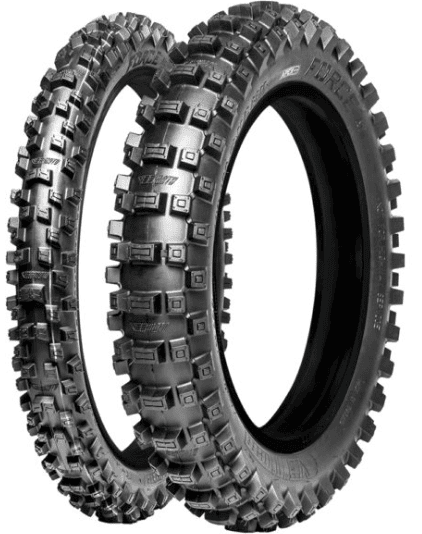 Force AT by VEE Moto tires is specifically made for off-road terrains and conditions. Its groundbreaking tread pattern is meant for all off-road conditions and is designed to meet the demands of off-road riders.
VEE MOTO FORCE AT APEX SPECIFICATIONS:
Size: 80/100-21 TT
Load/Speed Index: 51M
Recommended rim: 1.60
Outside Diameter: 702mm
Width: 90mm
Max PSI: 33
Tread:12/32
VEE MOTO FORCE EVOLUTION APEX Hybrid Gummy Tire
The Evolution tire is a great integration of all front tires of VEE Moto. Moreover, it works great on the rear as a heavy-duty and long-wearing option for off-roads specifically built for muddy terrains.
VEE MOTO FORCE BULL DOZER ST APEX Hybrid Gummy Tire
The Bull Dozer is your best bet when you need an additional grip on soft to intermediate terrain. It also is reliable and durable due to its intermediate tread design and reinforced sidewalls.
VEE MOTO FORCE BULL DOZER ST APEX SPECIFICATIONS:
Size: 90/100-14TT
Load/Speed Index: 49M
Recommended rim: 2.15
Outside Diameter: 550mm
Width: 109mm
Tread depth: 16/32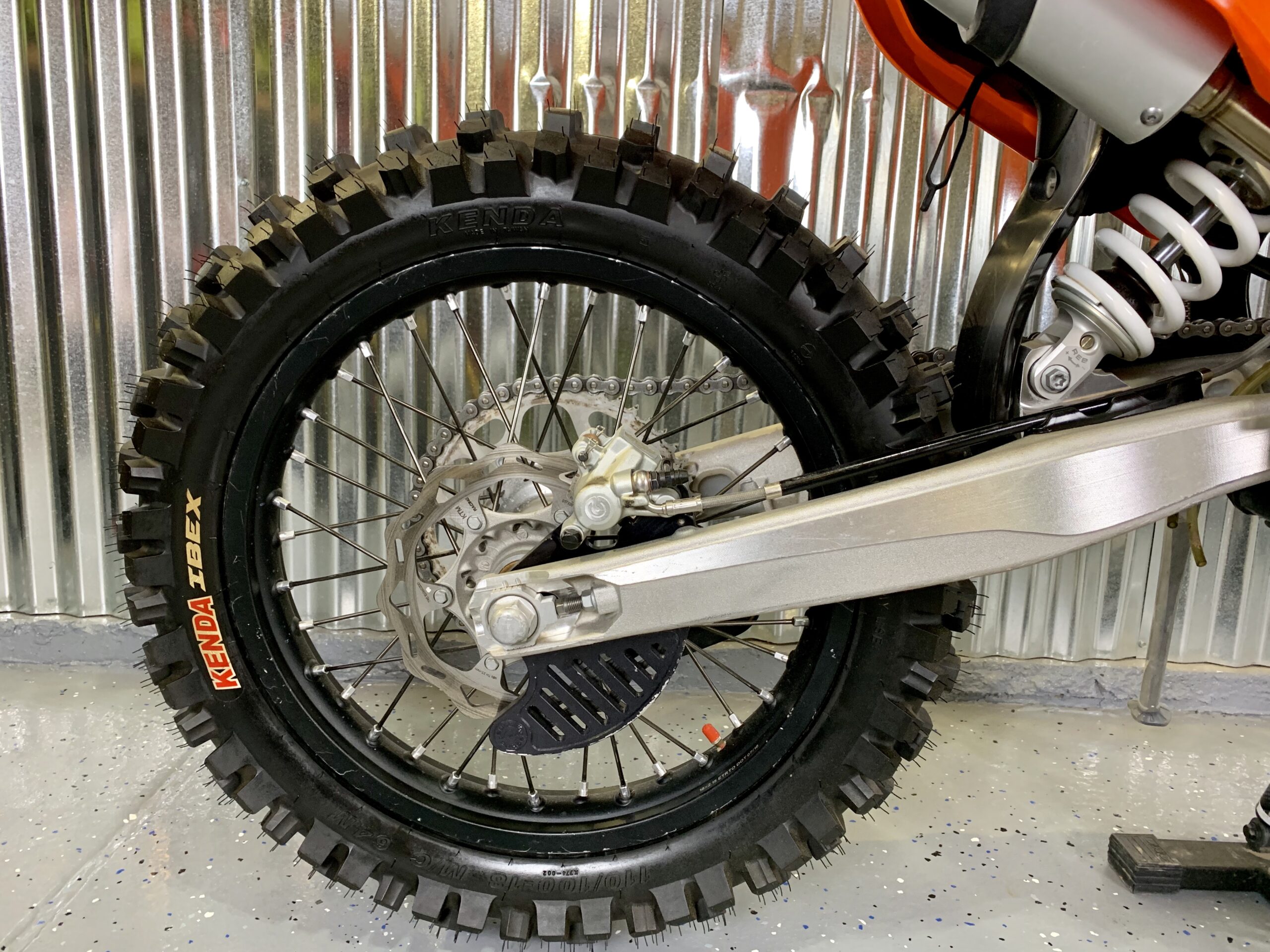 Dirt Bike Sam's Favorite Gummy Hybrid Dirt Bike Tires
Below are listed what I would choose first. Keep in mind I ride in all sorts of conditions, so need a tire that will work in pretty much any condition.
IRC VE33S – has great grip in all conditions and has long wear life, large knobbies
Kenda IBEX – Insane grip, great clean out, medium wear life
IRC IX-09 Gekkota – Insane grip pretty good wear life
Shinko 525 – Great grip, great all-around tire for the money, decent wear
Dunlop AT81EX – The best grip of any tire I have tried so far, does not last very long
Tusk Recon – good grip, decent wear, braking not so good, great tire for the money