This is a review of the Tusk EMEX T-35 and EMEX T-45 dirt bike tires. We will be adding to this article as we learn more about the tire.
If you did not already know, Tusk is an in-house brand that is owned by Rocky Mountain ATV. The Tusk brand offers lots and lots of different options for your dirt bike.
You can check out everything they offer by click here on this link. 
We are going to talk about the ALL NEW Tusk EMEX tires called the Tusk EMEX T-35 and T045. The EMEX T-35 is built for those who race offroad and also motocross. Tusk designed the EMEX T-35 as a soft to intermediate tire. That means that the tire is built to provide traction in loose conditions. It also has a really aggressive and wide lug setup. The EMEX T-35 treads look gnarly.
CLICK HERE TO CHECK OUT THE LIST OF GUMMY HYBRID TIRES
The Tusk EMEX T-45 is an intermediate to hard dirt built for getting grip on the motocross and offroad racing courses.
Both the EMEX T45 and T35 tires are NOT DOT approved and are for offroad use only.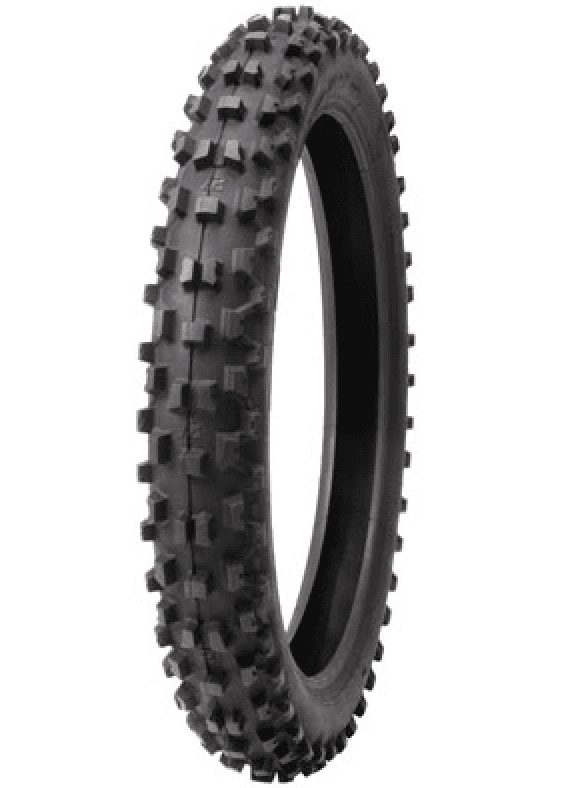 Tusk EMEX T-35 Riding conditions
The T-35 Tusk EMEX has a dual rubber compound on the knobs. iThe outer knobs are stiffer than the inner knobs. Tusk also a built-in reinforcing bridge that helps connect the side knobs for added strength.
This helps reduce side knob tears and also gives you a better control flex performance which gives it great lean angle traction.  The knob or tread pattern has a large contact patch for aggressive bite and consistent contact feel. 
Motocross Racing
Offroad Racing
Soft Intermediate Terrain
Lots of sizes
Tusk EMEX T-35 Comes in different tire sizes
The Tusk EMEX T-35 tire comes in front and rear dirt bike sizes which means you can get new rubber for both your front tire and rear tire. 
Also worth mentioning that the EMEX T-35 tire comes in mini bikes sizes. This is awesome as there really are limited options when it comes to the smaller bikes. 
Tusk EMEX T-35 Tire Sizes
100/100×18
100/90×19
110/100×18
110/90×19
120/80×19
120/90×18
60/100×10 (2.50×10)
60/100×14
60/100×12
70/100×10
70/100×17
70/100×19
80/100×12
80/100×21
90/100×14
90/100×16
90/100/21
So as you can see Tusk EMEX comes in just about every tire size on the market. This is good news and Tusk works really hard in providing affordable but quality parts.
I mounted the Tusk EMEC T-35 tires on my 2020 KTM 300 XCW TPI. I am also running tubliss instead of standard tubes but just wanted to make you aware of my setup (Tubliss Vs Tubes).
With Tubliss installed I can run my tires at a lower PSI which results in WAY more traction. Typically I run around 5-7 PSI in the tire which gives me a great contact patch and a ton of grip with cushion.
They were easy to mount up and seemed to have normal stiffness when it came to the sidewall. 
It's important to note that I typically run hybrid gummy tires
My first ride was a gnarly mountain single track that has tons of slow technical terrain with some a few sections of faster more flowy sections.
This is the more typically riding we do during the summer as it's too hot to ride the motocross tracks and desert. 
Tusk EMEX T-35 First Impressions!
Like I mentioned earlier my first ride on the EMEX T35 tire was on a mountain single track that I normally am running a gummy tire on my bike.
The first impressions were good. I felt like it gripped and handled really well without doing anything weird. For me, one of the important factors with a dirt bike and dirt bike tires is that I forgot about it and just focus on having fun and what's down the trail. To me, this is a sign of a good handling tire with plenty of grip.
I felt like both the front and rear tire handled all the loose and rocky terrain with relative ease.
I am working on providing a video as I get more hours on the tires but so far I feel like I like the Tusk EMEX T-35 tire. It also has solid braking capabilities unlike its gummy brother the TUSK RECON.
I WILL continue to provide updates and information as I put more riding hours on the tires. 
Stay TUNED
Tusk EMEX T-45 Dirt Bike Tire
The Tusk EMEX T-45 dirt bike tire is an intermediate to hard rubber compound built for offroad and motocross racing. That means packed dirt conditions. Designed with side knob indentation and reinforced side knobs. This allows for better knob flex and control.
My impressions of the Tusk EMEX T-45
Personally, I liked the EMEX T-45 tire but I did not love It. It's a solid tire for the money but I would not choose it for the type of riding I do. When it's loose conditions it did not perform as well as other tires. I know that it's considered an intermediate to hard rubber compound but out here in the west, we have tons of variable conditions and it's mostly loose conditions.
Tusk EMEX T-45 Tire Specs:
Intermediate to hard terrain tire
Reinforced side knobes
Tons of traction
Reliable traction feel
Offroad only not DOT approved
Tusk EMEX T45 Tire Sizes:
100/100×18
100/90×19
110/100×18
110/90×19
120/80×19
120/90×18
80/100×21
Tusk EMEX T-45 Front Tire
Starting At
Tusk EMEX T-45 Rear Tire
Starting At
Conclusion:
Both the Tusk EMEX T35 and EMEX T45 are good tires for the money. If you race motocross or offroad then these are solid affordable options. Are they the best dirt bike tire on the market? That's for you to decide.
Give them a try and reach out with what you found about the tires!
See you out on the trails.