In this article, we talk about the Best Dirt Bike Tires for 2023.
A brand new tire is one of the VERY BEST performance modifications you can do for your dirt bike is a new tire.
Tires are what help you put the power to the ground. Not every dirt bike tire is created equal and there are different types of dirt bike tires that do better than others in different situations. The terrain and how hard the ground is also is a factor on which type of dirt bike tire you should choose.
Riding a motocross track vs a single-track trail is different and its recommend you get tires that suit the terrain or type of riding you are going to do.
The hard part about choosing the right dirt bike tire is that you might want to hit the track on Monday then ride the hills on Tuesday. Any newer dirt bike tire that still has knobbies left is better than an old worn-out dirt bike tire.
Keep your tires as fresh as possible. This is the best performance you can give your bike. Remember no matter what you do to your bike all that matters is how much traction you get from your tires.
Types of Terrain for Motocross Dirt Bike Tires
Soft Terrain
Intermediate Terrain
Hard Terrain
Want the best deals on dirt bike tires? CLICK LINK BELOW
If you are like me and DO NOT have a tire sponsorship or a pro mechanic to change tires for me whenever the terrain or riding style changes…
The question is what is the Best ALL AROUND DIRT BIKE TIRE?
That's something you are going to have to answer for yourself. While there is NO PERFECT dirt bike tire for all types of dirt bike niches. Motocross, supercross, enduro, trials, and trail dirt bike riding all offer different types of dirt and terrain.
Different dirt bike tires will have different grip, clean out, and even wear.
Some good do-it tires for the weekend warriors who want to ride motocross and trail ride with the same tire.
What's the best dirt bike tire for you in 2023?
We will do our best to help answer some of those questions but really it comes down to personal preference and trial and error.
What is the Difference Between Soft, Intermediate, and Hard Terrain Dirt Bike Tires?
SOFT TERRAIN DIRT BIKE TIRE
Soft Terrain dirt bike tires are made for ground that is soft. These type of tires generally has a harder knobby compound that has a wider spacing pattern. Soft Terrain dirt bike tires are for sand, mud, and loamy conditions.
Some of the Soft Terrain dirt bike tires even have more of a scoop like you would see with a sand paddle tire. 
INTERMEDIATE TERRAIN DIRT BIKE TIRE
The Intermediate terrain dirt bike tire is considered the do it all dirt bike tire. Its probably the most popular terrain type for the guys who ride all sorts of different conditions. Intermediate terrain dirt bike tires work well in a variety of conditions which is the reason why it's used so much.
HARD TERRAIN DIRT BIKE TIRE
A hard terrain dirt bike tire is actually a softer knobby compound in order to get grip on hard-packed or slippery surfaces. Hard terrain dirt bike tires are also known to come with harder or stiffer side carcass to withstand the impacts of hard enduro types of riding. 
TRIALS TERRAIN DIRT BIKE TIRE
HYBRID TERRAIN DIRT BIKE TIRE
Over the past couple of years, a new type of dirt bike tire has emerged. These Hybrid dirt bike tires have knobby's, carcasses, and sidewall like a standard dirt bike tire but the knobby's are gummy or soft like you would find on a trials tire. 
So, they look like a standard Intermediate Terrain motocross tread pattern but have the stickiness that a trial dirt bike tire has. A standard Trials tire really is only good for slow trials types of dirt biking.
Below is a list of all the different motocross tires you can get for your dirt bike. It's up to you to choose which dirt bike tire is best for your motocross riding. Each dirt bike tire has pros and cons.
Dunlop MX33 Geomax Soft/Intermediate Terrain Tire
The Dunlop MX33 Geomax This is a great dirt bike tire for motocross tracks. These tires are the new industry standard for soft-to-intermediate terrain.
Superior grip, slide control, shock absorption, and durability are all features of Dunlop's innovative new technologies. These tires have better grip and grip in all directions, making them a great choice if you plan on doing a lot of off-road action.
Dunlop MX33 Geomax Motocross Tire Specs:
Altered Block in a block shape for better surface area contact.
Tie bars that connect each knob to improve traction and durability
Apex design that improves impact and shock on the sidewall
Carcass Tension Control for better flex
New rubber compound for durability while keeping grip
Replaces the MX3S tire
NOT DOT Aproved
Bridgestone Battlecross X30
Bridgestone Battlecross X30 tires are also a good option for motocross tracks. These tires are made for racing and have more grip than other dirt bike tires making them great for fast off-road action. However, these tires do not slide as well on hard surfaces which may make them less suitable for riding around the yard. And also not recommended for public roads.
Bridgestone Battlecross X30 Intermediate Terrain Tire Specs:
Great all-around tire for any dirt conditions
Center block has a raised pattern for better braking and grip
Convex blocks that help catch the track and give you better grip no matter the conditions
High tire contact pressure 
Cooling fins that help dissipate the heat.
Maxxis Maxxcross MX tires are a great option if you do a lot of riding on hard surfaces but don't want the sliding resistance that comes with some other dirt bike tires. These tires are designed for racing and offer good grip and stability at high speeds. Comes with a dual-compound tread for better grip and wear.
Maxxis Maxxcross MX IT Specifications:
Varied pitch tread design for intermediate outdoor motocross racing
Lightweight and strong sidewall
No tire roll
Straightforward grip and cornering 
 Kenda Washougal tires are another example of a highly-rated dirt bike tire made for racing. These tires have excellent grip even in the rain and are lightweight, perfect if you often plan to take your dirt bike track riding on public roads.
2023 Best Hard Enduro Dirt Bike Tires
If you plan on riding rough and gnarly single track or racing hard enduros you will want to go with a sticky, gummy hybrid dirt bike tire.
Dunlop AT 81EX
Dunlop AT 81EX Enduro tires are designed with "double aramid fiber, " giving them extra strength and resistance to punctures. This feature makes these tires very suitable for off-road riding over terrain that includes rocks, roots, or ruts due to being one of the toughest dirt bike tires available on the market today.
IRC VE33s Gekkota Gummy
IRC VE33s Gekkota Gummy tires are a good option for those who want good performance and long life out of their dirt bike tires. This is due to the durable construction of these tires which includes a "gummy" rubber compound that provides good grip in all types of weather conditions, even during wet rides.
Kenda K774 IBEX
Kenda K774 IBEX tires are designed for Endurocross for racing on extreme conditions and multi-terrain courses or terrain that includes loose rock. Also, these tires are made for low-speed riding, by recommendation of the manufacturer, do not go over 40 mph.
Shinko R525 or R505 Hybrid Cheater
525 HYBRID CHEATER tires are sanctioned for off-road use, making them a great value and versatile tire designed to give riders confidence on both dirt bike trails with the most extreme conditions. The 505 Hybrid Cheater tires are perfect for absolutely damaged terranes.
Tusk Recon Hybrid
The Tusk Recon Hybrid rear tire offers the best of both worlds for extreme single-track and technical enduro riding: the advantages of a soft, sticky trial tire and an off-road/motocross tire. The soft, gummy rubber compound on the rear tire hooks up and conforms to rocks and roots like a trials tire.
Tusk Talon Hybrid Gummy Tire
The all-new Tusk Talon Hybrid Gummy tires is built for those that want a extreme hard enduro tire that comes with an affordable price. Check out the full article here – https://dirtbikesam.com/tusk-talon-hybrid-rear-tire-review/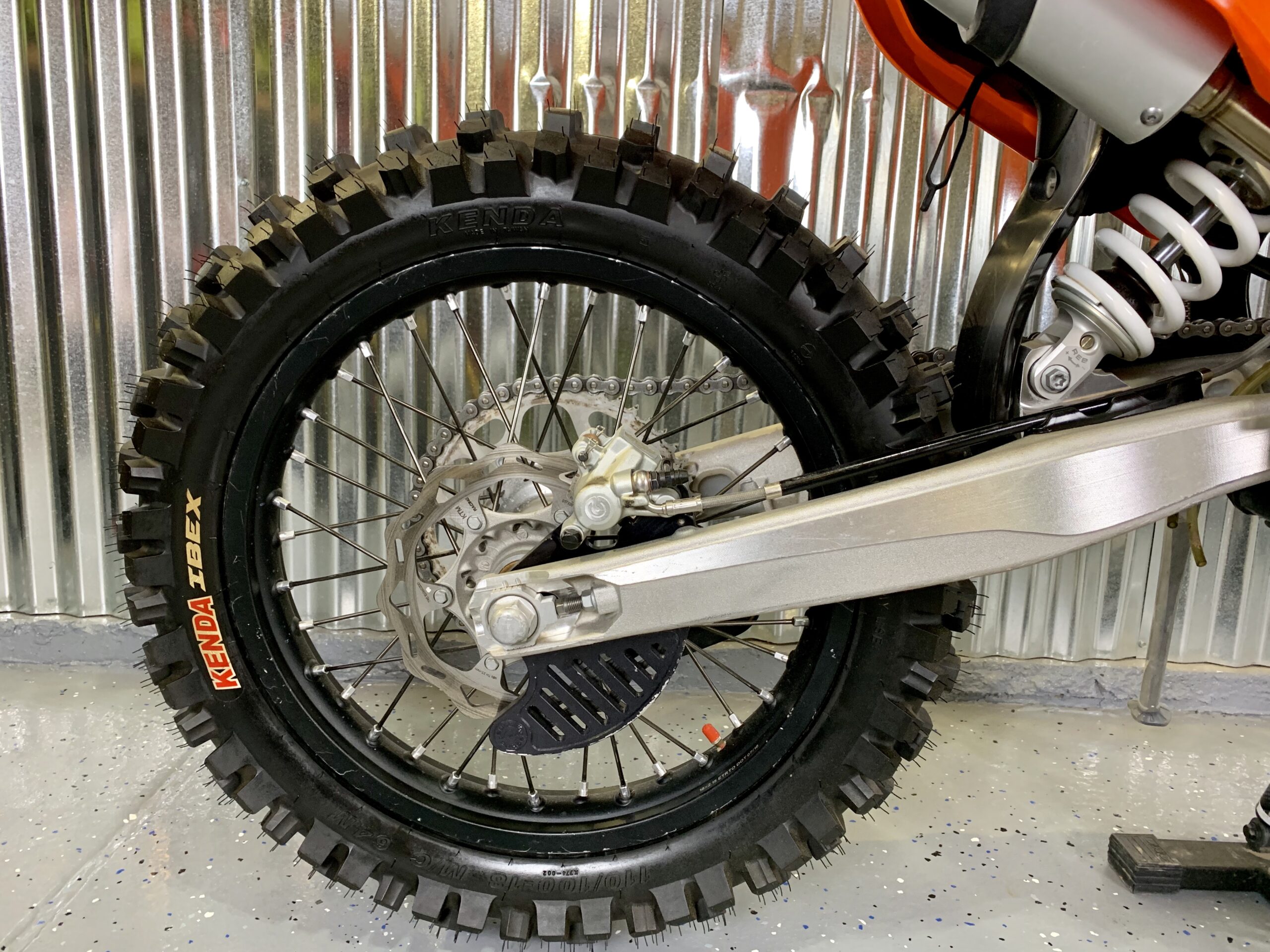 2023 Best Desert Dirt Bike Tires
If you plan on spending most of your time in the desert riding or racing here are the tires that do well in those types of dirt biking conditions.
Bridgestone Battlecross X40
Bridgestone Battlecross X40 tires are designed specifically for the dirt bike racing sport in the dust. They offer riders superior traction and cornering grip as they attempt to navigate obstacles on an extremely rugged course. Notice that these tires are not for public roads.
Dunlop MX53 Geomax
Dunlop MX53 Geomax tires are perfect for a variety of terrains, which is one reason I put these types of tires on this list.
Maxxis Maxxcross Desert IT
Maxxis Maxxcross Desert IT tires come in a variety of widths to fit different types of applications, making them versatile and perfect for almost any dirtbike. The Maxxcross Desert IT tires are also designed with an aggressive cross-country tread design that provides excellent grip in all conditions, from dry trails to wet mud.
Bridgestone M22
Bridgestone M22 tires are rated as one of the best all-around off-road tires on the market that can be used for any type of terrain or application, from motocross to enduro racing. The M22 is a semi-knobby tire with an aggressive tread pattern designed to provide plenty of grip and traction in both dry and wet conditions.
Kenda K781
Kenda K781 tires are a great option for riders who want an aggressive off-road tire that can handle all types of terrain. The K781 has a tough construction that provides good traction in dry and wet conditions, making it perfect for use on any dirt bike trail.
Maxxis Maxxcross MX
Maxxis Maxxcross MX tires offer excellent grip in wet and dry conditions, making them perfect for use on any dirt bike trail or racing circuit. On-road bikes can also benefit from a pair of off-road tires, especially for long-distance bike packing or touring.
No Matter what dirt bike tire you choose a new or fresh tire is WAY better than on old worn-out tire. Keep your dirt bike performing well with a new set of dirt bike tires.
Dunlop Geomax AT81 tires are designed to provide superior grip and stability at high speeds, making them a great choice if you want to race on motocross tracks or do some serious off-road riding. Dunlop makes these tires for more all-around performance for racing and trail riding.
The Dunlop AT81 motocross tire is commonly used by dirt bike manufacturers as OEM tires.