A brand new tire is one of the VERY BEST performance modifications you can do for your dirt bike is a new tire.
Tires are what help you put the power to the ground. Not every dirt bike tire is created equal and there are different types of dirt bike tires that do better than others in different situations. The terrain and how hard the ground is also is a factor on which type of dirt bike tire you should choose.
Riding a motocross track vs a single-track trail is different and its recommend you get tires that suit the terrain or type of riding you are going to do.
The hard part about choosing the right dirt bike tire is that you might want to hit the track on Monday then ride the hills on Tuesday. Any dirt bike tire that is newer and still has knobbies left is better than an old worn-out dirt bike tire.
Keep your tires as fresh as possible. This is the best performance you can give your bike. Remember no matter what you do to your bike all that matters is how much traction you get from your tires.
Types of Terrain for Dirt Bike Tires
Soft Terrain
Intermediate Terrain
Hard Terrain
Want the best deals on dirt bike tires? CLICK LINK BELOW
If you are like me and DO NOT have a tire sponsorship or a pro mechanic to change tires for me whenever the terrain or riding style changes…..
The question is what is the Best ALL AROUND DIRT BIKE TIRE?
That's something you are going to have to answer for yourself. While there is NO PERFECT dirt bike tire for all types of dirt bike niches. Motocross, supercross, enduro, trials, and trail dirt bike riding all offer different types of dirt and terrain.
Different dirt bike tires will have different grip, clean out, and even wear.
There are some good do it all tires for the weekend warriors that want to ride motocross and trail ride with the same tire.
What's the best dirt bike tire for you in 2021?
We will do our best to help answer some of those questions but really it comes down to personal preference and trial and error.
What is the Difference Between Soft, Intermediate, and Hard Terrain Dirt Bike Tires?
SOFT TERRAIN DIRT BIKE TIRE
Soft Terrain dirt bike tires are made for ground that is soft. These type of tires generally has a harder knobby compound that has a wider spacing pattern. Soft Terrain dirt bike tires are for sand, mud, and loamy conditions.
Some of the Soft Terrain dirt bike tires even have more of a scoop like you would see with a sand paddle tire. 
INTERMEDIATE TERRAIN DIRT BIKE TIRE
The Intermediate terrain dirt bike tire is considered the do it all dirt bike tire. Its probably the most popular terrain type for the guys who ride all sorts of different conditions. Intermediate terrain dirt bike tires work well in a variety of conditions which is the reason why it's used so much.
HARD TERRAIN DIRT BIKE TIRE
A hard terrain dirt bike tire is actually a softer knobby compound in order to get grip on hard-packed or slippery surfaces. Hard terrain dirt bike tires are also known to come with harder or stiffer side carcass to withstand the impacts of hard enduro types of riding. 
TRIALS TERRAIN DIRT BIKE TIRE
A trials tire is built to give you the MOST traction possible. The knobby's are built from super-soft compound or "GUMMY" tires. Really trial tires are built for trials dirt bikes which are built to go really slow and to climb hard-pack surfaces like rocks. 
HYBRID TERRAIN DIRT BIKE TIRE
Over the past couple of years, a new type of dirt bike tire has emerged. These Hybrid dirt bike tires have knobby's, carcasses, and sidewall like a standard dirt bike tire but the knobby's are gummy or soft like you would find on a trials tire. 
So, they look like a standard Intermediate Terrain motocross tread pattern but have the stickiness that a trial dirt bike tire has. A standard Trials tire really is only good for slow trials types of dirt biking.
2021 Best Motocross Dirt Bike Tires
If you plan on riding motocross tracks most of your time I would recommend sticking with a quality motocross intermediate dirt bike tire. 
Dunlop MX33 Geomax

Bridgestone Battlecross X30

Dunlop Geomax AT81
Maxxis Maxxcross MX 
Kenda Washougal 
2021 Best Hard Enduro Dirt Bike Tires
If you plan on riding rough and gnarly single track or racing hard enduros you will want to go with a sticky, gummy hybrid dirt bike tire.
Dunlop AT 81EX
IRC VE33s Gekkota Gummy
Kenda K774 IBEX
Shinko R525 or R505 Hybrid Cheater
Tusk Recon Hybrid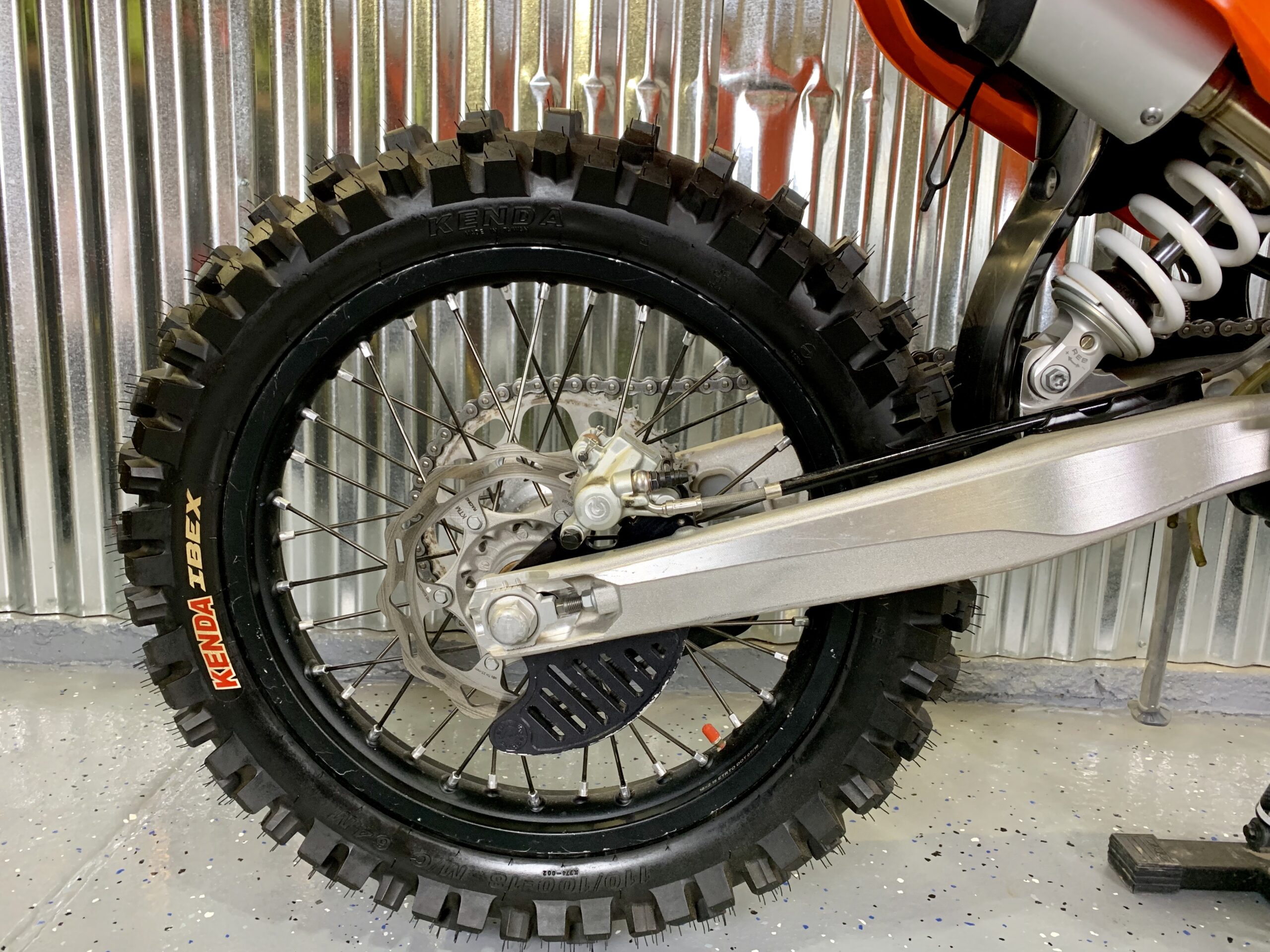 2021 Best Desert Dirt Bike Tires
If you plan on spending most of your time in the desert riding or racing here are the tires that do well in those types of dirt biking conditions.
Bridgestone Battlecross X40
Dunlop MX53 Geomax
Maxxis Maxxcross Desert IT
Bridgestone M22
Kenda K781
Maxxis Maxxcross MX 
No Matter what dirt bike tire you choose a new or fresh tire is WAY better than on old worn-out tire. Keep your dirt bike performing well with a new set of dirt bike tires.