In this article, we talk about the top best GPS units for dirt biking.
If you are like me, a big part of dirt biking is being able to go WAY out into the backcountry and explore. Leaving behind civilization and cell phone access.  This kind of adventure really is one of my favorite things to do in the world. 
BE PREPARED. Why do you need a GPS while dirt biking?
This kind of remoteness does depend on a level of preparedness in order to keep yourself safe and also allow others to find you quickly if needed while out on a dirt bike trip.
Being able to navigate where to go can save you costly time and mistakes, a GPS is more than a map it can also be life-saving.
I have been a part of multiple life flight recovery missions deep in the backcountry. Having a radio and a GPS really helped speed up the recovery process.
CLICK HERE TO CHECK OUT MY FAVORITE BACKCOUNTRY RADIOS
At the bottom of this article, I relate a few of these recovery missions and how having a radio or GPS helped us.
Why you should carry a GPS when Dirt Biking
Navigation 
Communication
Geo Marking
Waypoints
Terrain planning
Safety
Trip Tracking
What's your safety worth to you while dirt biking?
I DO NOT recommend going out in the wilderness without some form of communication or mapping system. You do not want to get lost or worse get hurt and not have anybody be able to find you. You can save yourself a LOT of time and money by being able to know where you are at and also communicate with others when you do not have cell reception.
When search and rescue are called in they try and figure out as much information as they possibly can. If you can communicate with them then they know what proper steps you can take. You do not want to be helicopter evacuated unless its life threatening.
Lots of REALLY good GPS options for Dirt Biking
Love or hate technology, in recent years the technology for GPS has come a VERY long way. You have GPS units that can attach to your dirt bike and also act as your speedo computer. You also have GPS units that can text others and even communicate with dispatch.
This is HUGE as if you get lost or injured you want to get help as fast as possible and this new GPS does just that. 
For Dirt Biking Here is a list of the Recommended GPS units:
Trail Tech Voyager Pro GPS/Computer
Trail Tech Voyager GPS/Computer
Garmin inReach Explorer
Spot X
Garmin inReach Mini
Spot Gen4 Satelite GPS Messenger
All dirt bike GPS vary when it comes to the different options. You need to make the decision on which dirt bike GPS will work best for you and what you are after.
Some of these GPS units will be carried in your dirt bike pack or some of them will also be mounted to the handlebars on your dirt bike.
But we are only going to talk about the Top 3 Dirt Bike GPS units which is the Garmin inReach Explorer, SPOT X, and Voyager Pro GPS.
Garmin inReach Explorer+ Dirt Bike GPS
Garmin has produced one of the most versatile GPS for dirt biking on the market.  Garmin has designed the inReach for the backcountry adventure that demands the very best out of their equipment. Having the Garmin inReach in your dirt bike pack will allow you to stay safe and communicate with your loved ones when out of cell phone range.
The inReach Explorer + comes with location sharing, an SOS button, GPS navigation, and the ability to send messages to your loved ones or emergency dispatch.
The Garmin InReach uses the global Iridium satellite system and coverage. This will not only give you on the demand GPS navigation it also gives you 2-way text messaging.  The all-new inReach Explorer+ comes with the Delmore TOPO maps for onscreen maps, a built-in compass, accelerometer, and barometric altimeter.
Garmin InReach Explorer+ Features
Bluetooth wireless compatibility
SOS 24/7 
SMS and email (Send and Receive)
SMS with other InReach users
Location sharing and Tracking
Weather Forecasting
Virtual Keyboard
IPx7 Waterproof rating
Up to 100 hours of battery life
How Much Does the Garmin inReach Explorer+ Cost?
$499.99 for the unit.
There is an additional cost to use the 2 way messaging (See below Chart). This is a monthly cost and you have a few different price points to choose from.
Overall thoughts on the Garmin inReach Explorer+ GPS Unit
This GPS unit from Garmin is probably the best all-around GPS for dirt bike trail riding money can buy. If you want the best this is it. While it's not cheap and there is a monthly fee to use the 2-way communication options it's MUCH cheaper than having to pay for a helicopter ride out of the backcountry and it's cheap when compared to the ability to communicate quickly with others when you need help.
Getting help when needed is priceless. Help yourself by being prepared and get yourself proper GPS  for dirt bike riding.
I personally have used the inReach GPS and we used it to help an injured dirt biker out of a scary situation (Scroll down to read the story)
SPOT X Dirt Bike Satellite Messenger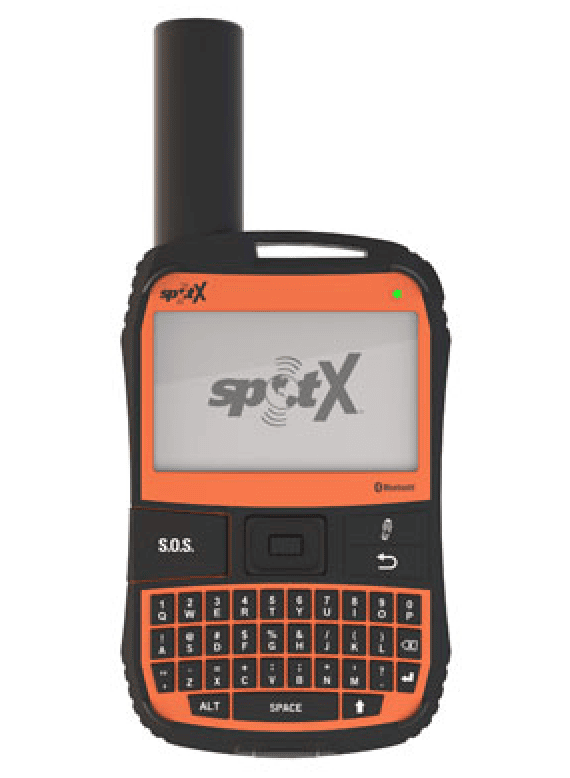 The SPOT X is a 2-way satellite communication device, and one of the best gps for any off road motorcycle. You sent text messages when you are off the grid and in the backcountry. You can connect the SPOT X to your phone via Bluetooth.  You need to have the SPOT X app which will give you access to your contacts so you can send them a message. SPOT X will have its own dedicated US mobile phone number so others can message you when needed.
You also can communicate directly with search & rescue when in life-threatening situations. 
There is a monthly subscription fee that is required in order to use the services on the SPOT X device.
SPOT X WITH BLUETOOTH TWO-WAY SATELLITE MESSENGER FEATURES
2 Way Messaging from anywhere in the world
SOS button for emergencies (24/7 service)
SPOT X App 
Tracking (Others can follow you on a map)
Check-Ins
Built-in Compass
IP67 Weatherproofing
How Much Does the SPOT X Cost?
$249.99 for the unit.
There is an additional cost to use the 2 way messaging (See below Chart). This is a monthly cost and you have a few different price points to choose from.
SPOT offers 2 different types of device plans… You can get a Contract Plan or a Flex Plan depending on how much you plan on using your SPOT X device. For the year-round adventure, rider get the contract plan but the flex plan allows you to activate the SPOT X when you need it for a trip. 
TRAIL TECH VOYAGER PRO GPS/COMPUTER
Those in the dirt bike world are familiar with the quality dirt bike parts that come out of the Trail Tech shop. The Voyager Pro GPS/Computer is no exception.
The Voyager is built to attach to your dirt bike and function as your onboard GPS and computer. You have a map screen that gives you everything you need to know about the topography that you are dirt biking on.  The Voyager Pro from Trail Tech comes with a Micro SD card but the Voyager is already loaded with North American Maps. 
A MAJOR new feature from Trail Tech is the Buddy Tracking system. This uses a local radio signal that can support 20 of your riding. buddies. This is huge when it comes to keeping track of a large group of riders. You can view all your buddies on the screen and where they are located. You can use the emergency beacon if needed and cell phone reception is not required. 
Bluetooth is standard on the Voyager pro which means that you can enable it for intercom, phone, and media controls. What to listen to music and use the Voyager screen to switch between songs? Done.
You can also integrate your Voyager to real tech vehicle sensors which will give you vital machine information. 
Trail Tech Voyager Pro Features
Record your Trip
Buddy System (Track your Buddies)
Bluetooth 
Glove-friendly Color display
Emergency Beacon
GPS Satellite tracker
Tachometer
IP67 weatherproof rating
These are the TOP 3 Dirt Bike navigation units on the market today. You will need to decide which unit is the right one for you and your situation.
I feel that every dirt bike rider needs to carry a quality GPS or a way to communicate with others while dirt biking. For safety and also in emergencies having a way to communicate with others can mean the difference between life and death.
It's a good idea to give yourself the best chance available, and you can do that by investing in a decent GPS before going on a dirt bike trail riding.
Here are some other really great dirt bike GPS units you should look into!
Trail Tech Voyager (No color screen)
Garmin inReach Mini (No Screen)
SPOT Gen4 (No screen)
Why you need to carry a GPS while Dirt Biking (Personal Experiences Below)
For example.
Southern Utah Dirt Bike Trip
I was on a dirt bike riding trip in southern Utah and we had one of our crew members take a nasty fall. He went over the handlebars on a really technical downhill slamming him into the ground. He started to lose consciousness and luckily we had a Garmin Inreach where we could quickly communicate with first responders. We did not have any cell service but because of the Garmin InReach, the first responders were on the scene way faster if we had to sent someone out of the canyon to get cell service.
Idaho Single Track Trip (Example of when we needed a GPS)
We were wrapping up a 3 day riding trip in the mountains of Idaho when another dirt bike rider approached us and asked for our help as his brother had broken his leg about 30 miles down the trail.
They did not have a GPS communicator or even a radio. They had to leave him there while his brother rode out to find help. We also did not have any cell service or s GPS communicator so we had to drive into the nearest town and use a LAN line to call emergency services.
At the trailhead with search and rescue, it was tough to actually know where to send the life flight or emergency helicopter.  We ended up having to ride into the location on our dirt bikes, use the radio to guide the helicopter into a spot that they could land. It was a mile-long trek from the helicopter to where the hurt rider was located.
The hurt rider had completely shattered his leg and was in a TON of pain. We had to carry him the mile or so down the trail on a stretcher.
If his brother or even us had a GPS that could communicate to search and rescue it would have REALLY sped up the recovery purpose.
Right after this trip, we invested in a Garmin InReach.
Utah Mountain Single Track 
I was on a ride with 2 of my other buddies and ran into another dirt bike rider that said he stumbled upon a guy who was riding by himself and hit a tree and was in serious condition. None of them had a radio or a way to communicate with anyone.
We rode up there because we had radios and helped the helicopter land in the field in the photo above. They brought in the medical team and we gave them rides up the trail on our dirt bikes.
The hurt rider ended up getting cable lifted out of the woods. If this rider had an SOS GPS help would have been assembled at a much more rapid pace. 
He was in pain in the wilderness with serious injuries for hours. 
Stay safe out there guys.