Did you know the most common dirt biking injury is an ankle sprain? It might not sound like much, but even a mild ankle sprain can take you out of the game for 2 weeks. A bad sprain may take up to 12 weeks to heal. Make sure you have quality dirt bike boots to keep you safe while you're riding.
To learn more about the best dirt bike boots, continue reading below.
Today, I will give you Alpinestars Tech 7 Review.
Why Quality Dirt Bike Boots Matter
Besides your helmet, your boots are the most important thing to dirt bike safety. Good boots are key to pedal control. Your rear brake and shift pedals will respond quicker to a better boot.
Slipping off a foot peg can result in sprained ankles or worse. Falling from your bike at high speeds can easily break bones. Responsive and stable boots are essential for dirt bike safety. 
Is Aplinestars the Best Dirt Bike Boot?
Choosing the right dirt bike boot is important. Alpinestars has made motocross and dirt bike equipment since the 1960s. They have decades of experience outfitting world champs and top athletes.
The Tech 7 Series from Alpinestars includes Motocross and Enduro trail riding boots. All Alpinestars boots are CE certified. This means they meet EU safety, health, and environmental protection requirements.
Additionally, these boots are highly adjustable and fit a wide range of calf sizes. The right fit and the right boot will improve your comfort, endurance, and pedal control. Simply put, Alpinestars are worth every penny. 
What is in one of the Best Dirt Bike Boots?
Alpinestars uses abrasion, water, and dirt-resistant microfibers inside their boots. Outside of the boots are made of high modulus polymers, that offer protection and stability. Here are a couple of their best dirt bike boots.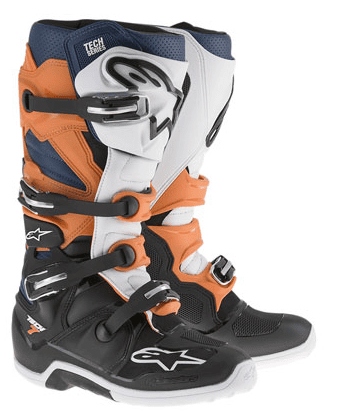 This is the best dirt biking boot for motocross enthusiasts. These boots are extremely grippy, keeping you firmly on your footpegs. Check out some of the specs.
Low toe-box for easier shifting
One-piece, highly resistant shell
Polymer contoured calf plate
Protection for heel and Achilles tendon to prevent hyperflexion
High-impact aluminum bridge closures

 

Microfibre gaiter helps keep dirt and water out
Anti-slip microfibre suede on the heel to keep the foot in position
These boots offer ultimate ankle protection. If you're jumping on your bike or learning a new trick, the Alpinestars Tech 7 Motorcross boots are comfortable enough to wear all day.
Alpinestars Tech 7 Boots Motocross Colors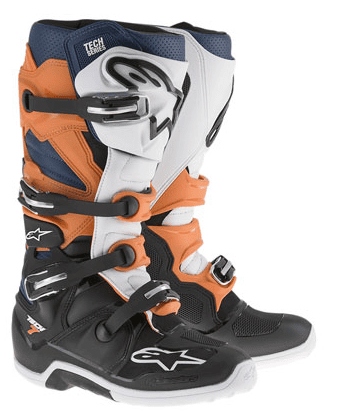 Dark Grey/Dark Blue/ Pink Fluo
Alpinestars Tech 7 Enduro Boot
For a full day riding trails, you'll want something like the Alpinestar Tech 7 Enduro Boot. These boots are made with the long-haul trail rider in mind. Here are some of the best features.
Anti-slip microfibre suede in the heel to keep your foot in position
Foam reinforcement on ankles all-day comfort and shock absorption
Honeycomb rubber for excellent bike grip

 

Single piece shin plate for stability

 

Abrasion-resistant
Promotes core stability
The bottom sole of the Alpinestars Tech 7 enduro boot has tread (See below picture)
The Alpinestars Tech 7 Enduro Boots also offer state-of-the-art ankle protection. The increased core stability comes from a biomechanical pivot within the boot. 
Alpinestars Tech 7 Boots Enduro Colors
Getting the Right Boots for You
Quality dirt bike boots can save you from injury. The last thing you want is a sprained ankle from falling off a footpeg. The Tech 7 Enduro or Motorcross boots from Alpinestars are some of the best dirt bike boots out there.
If you found this helpful, check out some of my highly recommended dirt bike boots and other gear reviews.
I hope this Alpinestars Tech 7 review helps you make the easiest decision when buying dirt bike boots.