In this article, we talk about the best dirt bike shift levers you can buy for 2022.
Aww, dirt bike levers…
Those that have spent any quality time on a dirt bike realize having a quality shifting lever is a must. Also, having a backup plan when you bend or break that shift lever is also a must.
Why do you need a spare shift lever?
If you ride just motocross…Maybe you don't need to have a spare shift lever in the truck.
CLICK HERE For the Best dirt bike foot pegs
But for those who spend any time offroad and on single track having a spare shift lever is worth every penny. Hell, I recommend having replacements for ALL your levers when you are way out there.
You don't want to get caught way out on the trail without a spare shift lever. You can always pick up a spare OEM shift lever but to be honest, I typically go aftermarket as they add more bling and in most cases, the aftermarket dirt bike shift lever is stronger and offers more features.
Sometimes aftermarket dirt bike shift levers are cheaper than the OEM shift lever.
Dirt bike shift levers dictate the amount of control a rider has. In many cases, the stock shift lever doesn't offer superior control desired by pro riders. That's where aftermarket shift levers come in. However, there's no shortage of bike shift levers in the market today, and most aren't that great.
We've gone through the trouble of listing top dirt bike shift levers below based on extensive research, testing, and other factors like cost. 
No matter if you ride motocross, supercross, offroad, desert, enduro, dual-sport, single track, or trail riding having a quality shift lever is important.
The levers we've covered below are the best aftermarket shift levers that replace OEM shift levers.
I. Tusk Folding Shift Lever Main Features
MATERIAL: This lever is made of aluminum. The handle material is also aluminum.
FINISHING:  The Tusk Folding dirt bike shift lever has a polished finishing.
DESIGN:  Matches OEM specs.
WEIGHT:  The lever weighs 3.73 ounces only.
Highlights
The Tusk Folding dirt bike shift lever deserves a position in this list for many things, including the compatible design that matches OEM specifications. The Tusk Folding is the perfect OEM shift levers replacement. The shift lever also stands out for having a great look. As mentioned above, the shift lever is polished (anodized) to offer a durable, long-lasting beautiful finishing.
Most importantly, the Tusk Folding dirt bike shift lever has been made with durable solid material that lasts a lifetime. The lever's aluminum (T-6061) is extremely strong and durable. What's more, it has been heat-treated to make it extremely strong but lightweight. The size (length) also makes it perfect for quick and easy shifting. The lever is also available in various colors to match unique preferences. Aftermarket dirt bike shift levers for replacing OEM shift levers don't get better than the Tusk Folding.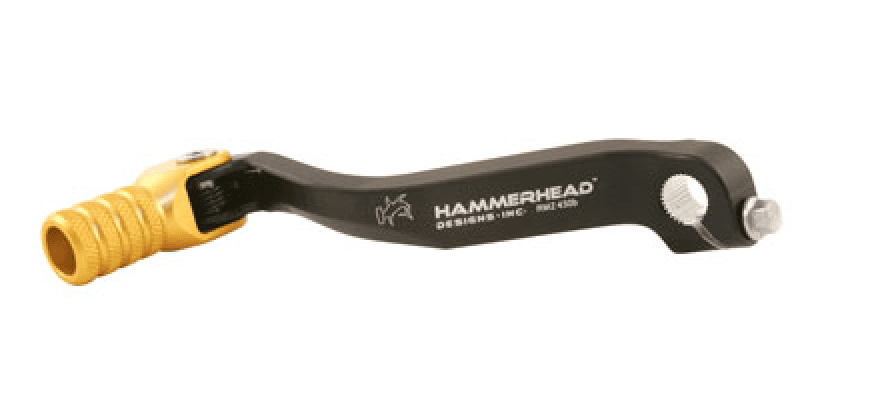 II. Hammerhead Forged Dirt Bike Shift Lever with Knurled Tip Main Features
MATERIAL:  This shift lever is made of 6061 Aluminum. The spring is made of stainless steel.
FINISHING:  The lever features UV protected anodization to prevent fading
COLOR:  Available in OEM brand colors.
Highlights
The Hammerhead Forged dirt bike shift lever is another notable OEM shift lever replacement for riders outside the normal foot size and other benefits like color variety and durability.
Production dirt bikes are sold with folding shift levers that are mounted on gears at fixed distances from footpegs. This distance is critical for easy and proper shift lever engagement while a rider is stepping on the footpegs.
Typically, dirt bike manufacturers set the distance based on foot size of model riders in each bike type. In many cases, footpeg/shifter compartments are designed for riders with boot sizes ranging from size 8 to 9.
Riders with larger/smaller than average feet are normally forced to struggle when engaging the shifter since the footpeg/shifter compartment is usually too wide or cramped. While riders can change stance to make shifting easier, this can cause awkward positioning or imbalances on footpegs.
The hammerhead forged dirt bike shift lever is a perfect solution to this problem. With different shift tip sizing, shifting is extremely fast and easy regardless of feet sizing.
III. Hammerhead Billet Dirt Bike Shift Lever with Knurled Tip Main Features
MATERIAL:  Made of 6061 T-6 aluminum
DURABILITY: Lasts longer than OEM shifters
ADJUSTABILITY FEATURES: Height adjustable
MECHANISM:  Bolts like a typical/stock dirt bike shift lever.
SIZING:  Available for varying foot sizes
FINISHING:  Anodized finishing. Available in multiple colors
Highlights
This shift lever looks better than the stock lever. Other notable pros include the aluminum alloy that offers superior strength and durability that withstands the worst crashes. Old OEM controls can't match up to the 6061 T-6 aluminum. This aluminum is also superior (stronger, more durable) to the 6061 aluminum that makes the Hammerhead forged shift lever.
Hammerhead Billet dirt bike shift lever has also been designed to fit perfectly like the OEM part. However, it has an ergonomic design and weighs less. This shift lever was also designed with a shift tip that will fit the entire foot perfectly regardless of size.
The Hammerhead Billet Lever also looks better than the OEM part. The lever features a tough anodized finishing that comes in multiple colors for riders to choose from. Besides superior durability, more comfort, and strength, this dirt bike shift lever is also for people looking for superior levers that complement bike factory colors. Additionally, you get to shift like a true professional.
When compared to the Hammerhead Forged shift lever that is great for continuous prolonged rides, the Hammerhead Billet stands out for lightness and more efficiency.
While the Hammerhead Billet shift lever isn't among the most affordable dirt bike shift levers on this list, the features justify the pricing.
IV. IMS Flightline Folding Shift Lever Main Features
MATERIAL:  The shift lever and handle are made from alloy steel
HANDLE FEATURES:  Lever
DIMENSIONS: Measures 1 by 1 by 1 inch in length, width, and height, respectively.
WEIGHT: Weighs 10.4 ounces.
Highlights
IMS has been making Flightline shift levers for over three decades now. Their levers are popular globally among dirt bike riders. The brand is synonymous with sturdy design and superior folding tip that gives riders the strength to ride aggressively on trails and tracks while enjoying unmatched flexibility without breaking. This shift lever deserves a spot in the list of best dirt bike shift levers since it allows bikers to push to the limit without compromising on safety.
The lever has also been designed for ride consistency. It's next to impossible to "jump out" of gear even when the shift lever hits obstacles. The lever has a stiff design that eliminates sloppiness common in stock levers. If you wish for a positive shifting response, consider this lever. The IMS
Flightline shift lever also stands out for being more affordable but durable at the same time when compared to stock shift levers.
Most importantly, the strong alloy steel construction with a folding tip minimizes damage on impact. Riders shouldn't worry about shift shaft or transmission damage.
V. ASV C6 Series Pro Shorty Clutch Lever
Unbreakable design.
Laser-engraved ASV logos.
Universal fit.
"On The Fly" adjustable reach.
CNC machined from billet 6061 aluminum.
Shot peened, anodized matte finish.
6-year unconditional guarantee.
Comfort shape.
Having had the opportunity to extensively test the ASV C6 Series Pro Shorty Clutch Lever, we're ready to share our hands-on review and candid feedback. Right off the bat, this lever impressed us with its blend of sophistication and versatility, a testament to its meticulous design focus on high-performance and durability.
One key feature that immediately stood out in our testing was the "unbreakable" design. We subjected the lever to severe pressure and harsh conditions to test this claim, and to our surprise, it held its ground admirably. The robustness and resilience of the ASV Unbreakable lever were clear indicators of its superior quality and reliability.
A point worth noting is the universal fit of the lever. We tested it across a variety of motorcycle models, and it adapted seamlessly to each one, proving its wide-ranging compatibility and performance. The lever's adaptability speaks volumes about its well-thought-out design, setting it apart from its competitors.
From a user comfort perspective, the clutch lever's ergonomics were praiseworthy. It fit naturally into our hands, reducing fatigue, and ensuring a firm grip. This comfortable yet secure hold is crucial when navigating through challenging terrains, and it performed exceptionally well under these conditions.
Our in-depth analysis revealed that the lever is CNC machined from billet 6061 aluminum. This material choice contributed to the lever's formidable strength, durability, and resistance to corrosion, without adding extra weight to the motorcycle. The strength-to-weight ratio of this lever is undoubtedly one of its standout qualities.
Summary
OEM shift levers replacement doesn't get better than the above. If you are searching for an aftermarket shift lever that is better than an OEM shift lever in many aspects, from durability, to aesthetic appeal, performance and cost, consider any of the above shift levers in our top dirt bike shift levers list.