Wondering what dirt bike is best for women? This article covers some things to consider when looking for a beginner Dirt Bikes for Women.
Finding the right dirt bike when you are just getting started can be a bit scary. There are LOTS of different dirt bike models, sizes, and motors.
What Size of Dirt Bike should I get?
This depends on how tall you are and what type of dirt bike riding you would like to do.
The seat height of a dirt bike can be from 30 inches to 38 inches. What do I mean when talking about the seat height.
Its distance from the ground to the top of the seat. When you seat on the seat this height.
We can break the type of dirt bike motors into 2 different categories:
Now. There are liquid-cooled 4 strokes and none liquid-cooled (air-cooled) 4 strokes. Generally speaking, a liquid-cooled 4 stroke is going to produce more power and this is why the motor cannot just be air-cooled.
An air-cooled dirt bike is typically put in dirt bikes that are softer and easier to use. 
This leads to the next thing we need to talk about….
Where do you plan on riding your dirt bike?
Trail riding
Hard Enduro
Motocross
If you are just getting started you probably want to get a trail riding dirt bike first.
All of the below dirt bike pricing is for brand new dirt bikes. You can get most of these dirt bikes on the used market.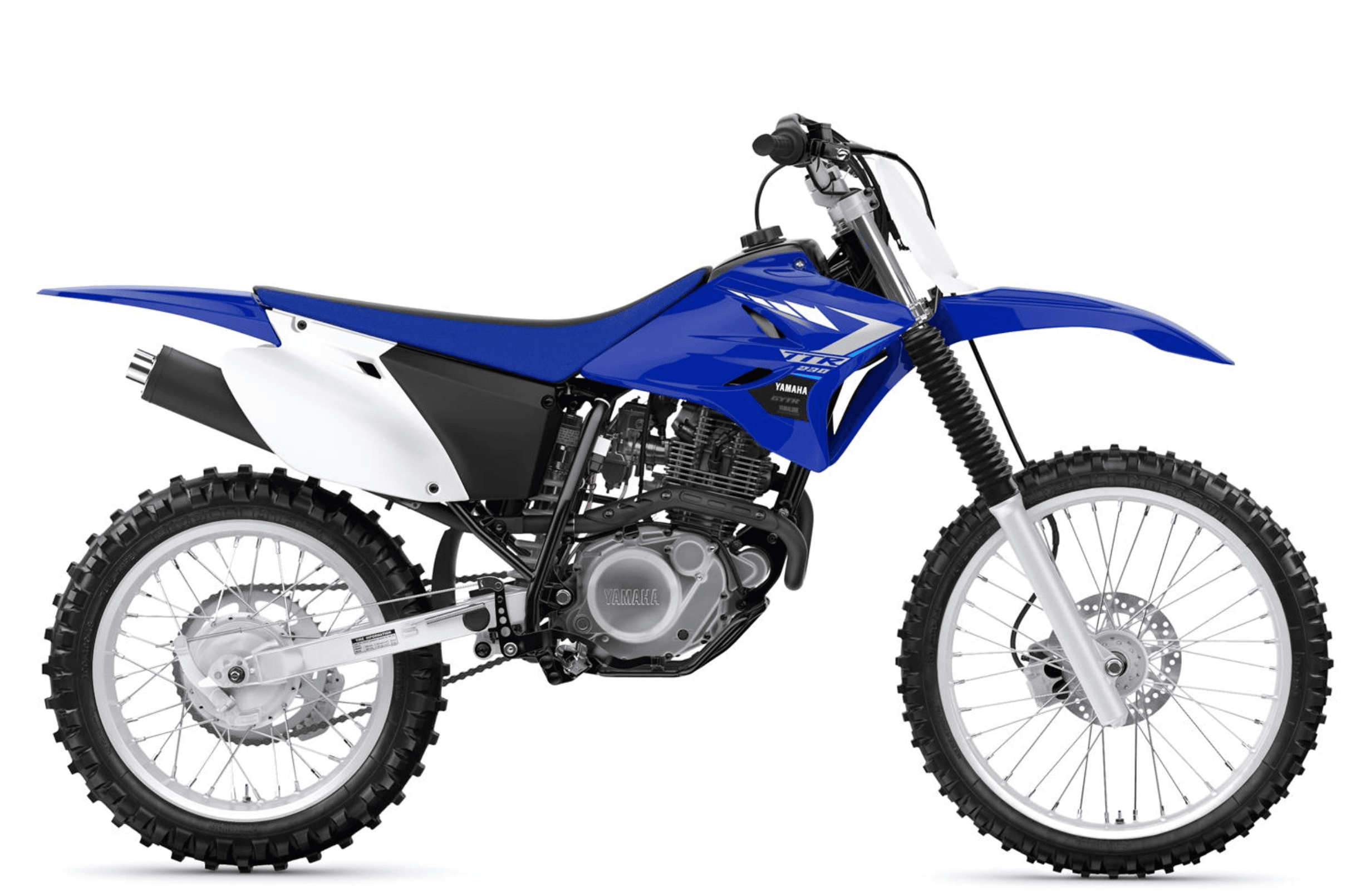 Top 3 Best Beginner Dirt Bikes for Women
Out of the gate I am going to give you the top 3 best women beginner dirt bikes. 
Kawasaki KLX 140G
Honda CRF 150F Big Wheel
Yamaha TT-R 230 
TRAIL RIDING dirt bike is the best beginner dirt bike for Women
Typically a trail riding dirt bike will have a lower seat height which makes you feel more secure as you can reach the ground easier. Also, lots of trail dirt bikes are air-cooled and have soft mellow power.
When you first get into dirt biking its important to get a dirt bike that is easy to ride and not super scary. This will help you build up the proper skills before you move to a taller more powerful dirt bike.
It's also important to note that having an electric start dirt bike is also really nice for beginner dirt bikers.
We are going to list the best dirt bikes for women who are beginners.
Top Best Beginner Dirt Bikes for Women
Kawasaki KLX230R
Kawasaki KLX300R
Yamaha TTR230
Yamaha TTR125
Honda CRF230F
Honda CRF125F
Honda CRF250F
Suzuki DR-Z125L
Beta Xtrainer
All the women's dirt bikes that I have mentioned above are great dirt bikes to get started with. Lets going to detail of each of the dirt bikes starting with the Top 3 beginner dirt bikes I mentioned in the beginning of this article.
Best Women's Racing Hard Enduro-Offroad Dirt Bikes
Beta Xtrainer
Beta 200 RR
KTM 150XCW
If you plan on racing motocross here are the best beginner dirt bikes for women
Best Beginner Women's Motocross Dirt Bikes
Kawasaki KLX140G Beginner Women's Dirt Bike
Price: $3,699
Air Cooled 4 Stroke 144cc
Seat Height 33.9 in
Weight 218.2 lbs
5 Speed Manual
21″ Front tire 18″ Rear Tire
Electric Start
The KLX140G is an affordable dirt bike for women who are beginners. Its only 218 lbs with an 33.9 inch seat height. What makes the Kawasaki KLX 140G perfect for beginners?
The KLX 140G model comes with larger tires. In fact full-sized 21″ and 18″ tires. This really helps the dirt bike roll over obstacles that the other smaller tires would struggle with.
Having full-sized tires also allows you to have a TON of really good tire options. You can put in Tubliss System for more grip, no flats, and a cushier ride.
Honda CRF125F Big Wheel Beginner Dirt Bike for Women
Price: $3,499
Air Cooled 4 Stroke 144cc
Seat Height 30.9 in
Weight 199 lbs
5 Speed Manual
Fuel Injected Motor
Electric Start
The Honda CRF125F Big Wheel is a lightweight and lower seat height option for a lady dirt bike rider. The CRF125F big wheel model from Honda comes with a Fuel Injected Motor, which gives you a crisp and smooth power delivery. The CRF125F big wheel comes with 19″ front tire and a 16″ rear tire.
Yamaha TT-R 230 Beginner Women's Dirt Bike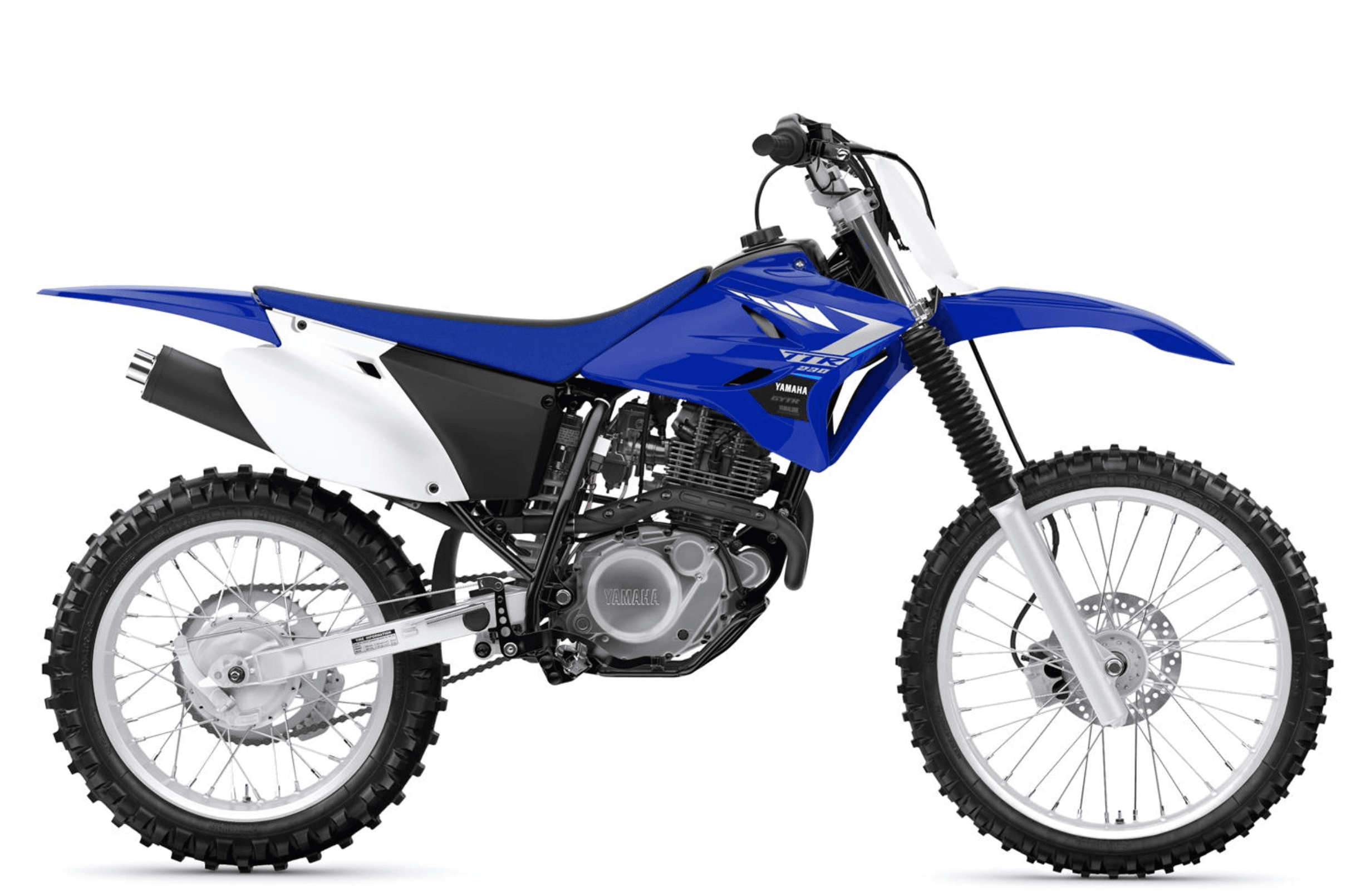 Price: $4,449
Air Cooled 4 Stroke 223cc
Seat Height 34.3 in
Weight 251 lbs
5 Speed Manual
Electric Start
The Yamaha TTR 230 trail dirt bike is a great option for a lady that is just getting into riding. It has a taller seat height than the KLC140G and the CRF125F Big Wheel dirt bikes. It also has a larger 223cc air-cooled 4 stroke motor. The only issue I have with the TTR230 is the weight. It weighs around 250lbs which is in the same ballpark as the full-sized more powerful dirt bikes. This is the reason why the 230cc dirt bikes typically are lower down the list on the best dirt bikes for ladies who are just getting into dirt biking. 
You want to be able to lift the dirt bike off the ground and 250lbs is a lot to lift. However, they are still a really fun and reliable dirt bike to ride.
Wanting to choose a different dirt bike than what we mentioned in the Top 3?
125cc – 140cc Dirt Bikes For Women
Yamaha TT-R 125LE
Electrical Start

31.7 Seat Height

198 Lbs
CRF 125F
Electric Start (Smaller Wheels)

29.1 in Seat Height

194 lbs

Fuel Injection
CRF 125F Big Wheel
Electric Start (Larger Wheels)

30.9 Seat Height

199 lbs

Fuel Injection
KLX 140
Electric Start 144cc motor

30.7 in Seat Height

205 lbs

Front and Rear disc brakes

17″ Front Tire

14″ Rear Tire
KLX 140L
Electric Start 144cc Motor

31.5 in Seat Height

209.4 lbs

Front and Rear disc brakes

19″ Front Tire

16″ Rear Tire
KLX 140G
Electric Start 144cc Motor

33.9 Seat Height 

218.2 lbs

Front and Rear disc brakes

21″ Front Tire

18″ Rear Tire
230cc Beginner Dirt Bikes For Women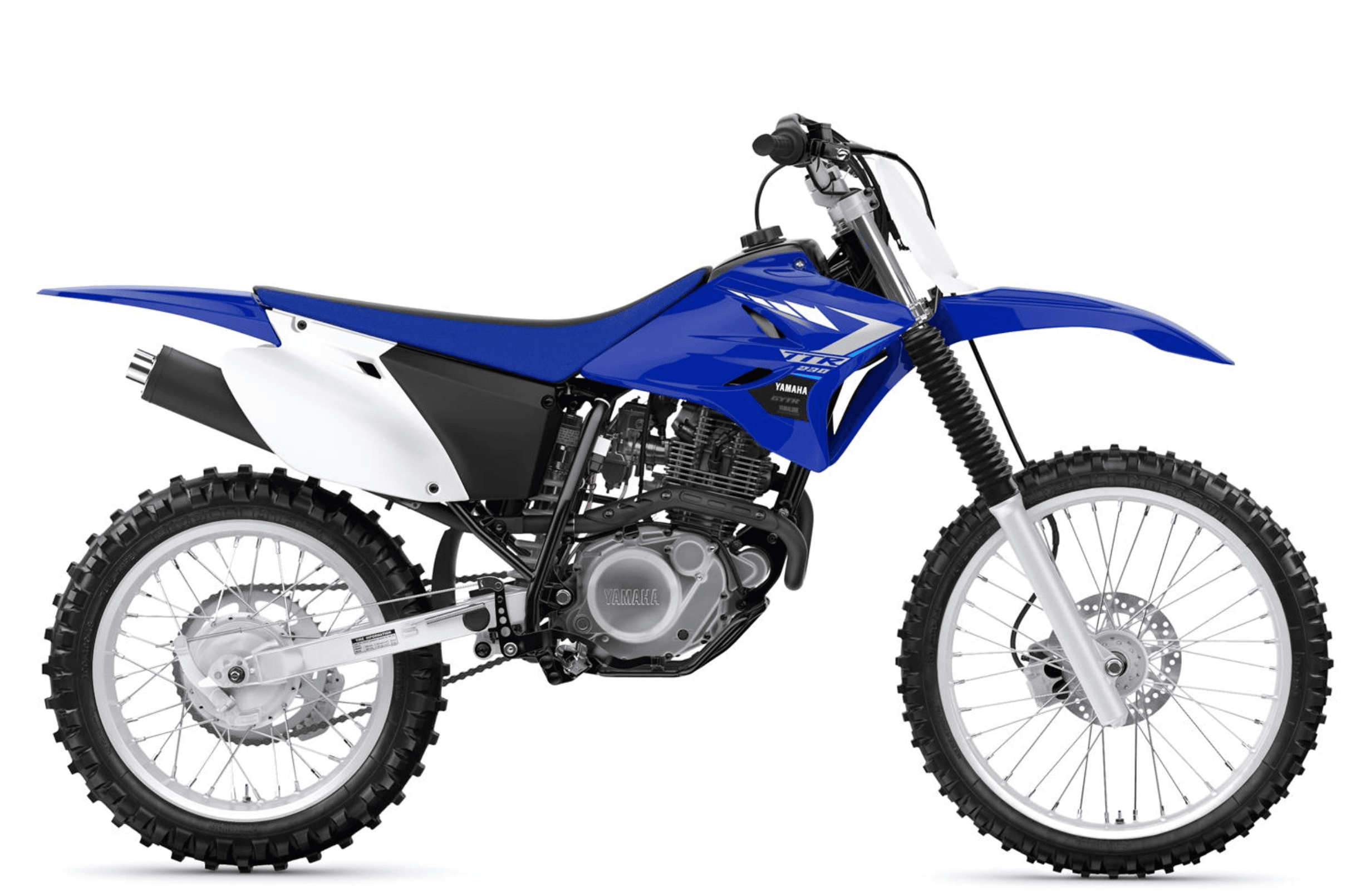 CRF 230F
Electric Start 223cc Motor

34.6 in Seat Height

249 lbs

21″ Front Tire | 18″ Rear Tire
TT-R 230
Electric Start 223cc motor

34.3 in Seat Height

251 lbs

21″ Front Tire | 18″ Rear Tire
KLX 230R
Electric Start 233cc motor

Fuel Injection

36.2 in Seat Height

253.6 lbs | 21″ Front 18″ Rear Tires
250cc – 300 cc Dirt Bikes For Women
Honda and Kawasaki have a 250F and a 300F trail dirt bikes that they have built. They are relatively new and are a step up from the 230F models. The Kawasaki KLX300 has better suspension then and the bigger motor to be more closely related to the bigger full-sized bikes. The KLX 300 is considered a more aggressive play offroad dirt bike. With trail-tuned long-travel suspension its an in a world between a trail dirt bike and a full-sized race dirt bike.
The Honda CRF250F is a trail dirt bike with a larger seat height but has the same characteristics as its little brothers. The Honda CRF250F does come with Fuel injection.
Kawasaki KLX300R
Electric Start

Liquid Cooled 292cc Motor

36.4 in Seat Height

282.2 lbs

Fuel Injection

Long Travel Suspension
Honda CRF250F
Electric Start

Air Cooled 249cc Motor

34.8 in Seat Height 

265 lbs

Fuel Injection

Telescopic Fork
All the above women dirt bikes are perfect to get started into dirt biking. They have smaller seat heights and more mild power. However, Not all the ladies out there want to just ride the trails. For those women that want to have a full-fledge race dirt bike to ride hard enduro or motocross, the below section is for you. 
Best Enduro Dirt Bikes for Women
KTM 150 XCW
Fuel Injected 150 cc Motor

37.8 in Seat Height

215 lbs

Headlight

Electric Start
Beta Xtrainer 300
Oil Injected 300 Motor

35.8 in Seat Height

218 lbs

6 month Warrenty

Electric Start
Sherco 125 SE
125 cc Motor

37.40 in Seat Height

N/A lbs

Electric Start

FMF Silencer
For Motocross any of the 250F dirt bikes will do. All the brands and models are solid bets its just which one you like better or which deal you can find. You also can use a women's cross country dirt bike that can double as a motocross dirt bike and also a motocross dirt bike
With anything make sure that you do your own research and I highly recommend taking a dirt bike training course and make sure you invest in the proper dirt bike safety gear like helmets and boots.
See you on the trails!