In this article, we talk about the Best 2 Stroke Exhaust System.
It can be a real challenge to determine the best upgrade for your dirt bike, considering the wide range of available options to choose from. In this case, most of the upgrades tend to lean on power increase or weight-saving options.
When it comes to dirt bike riding, performance is critical. For this, you have to consider the most important factors that can contribute to your bike's increased performance, such as its maximum power ratio and power to weight ratio. The lighter your weight and bike, the smoother and easier it is for your bike's engine to propel you forward.
awww the smell of premix in the morning…..
I tell you, there is not much out there that I like the smell of 2-stroke exhaust. There, the 2-stroke motor was the king of the dirt bike world for a while until the ole 4 strokes came along.
Click here for the best 2-stroke replacement silencer packing
Luckily for me, the 2 strokes have made a big comeback in the offroad world, and there are some great 2 strokes out there that I would buy before any 2 strokes.
2 Stroke Exhaust Pipe Expansion Chamber Manufactures
FMF
Pro Circuit
Lexx
Scalvini
SRT Racing
Buds Racing
Bill's Pipes
Dirt Bike 2 Stroke Exhaust names
2 Stroke Expansion Chamber
2 Stroke Pipe
2 Stroke Head Pipe
2 Stroke Front Pipe
There are also other things to consider, such as aerodynamics, the right gear, and better tread; however, these factors are less vital than those as mentioned earlier. But most importantly, it's also a wise choice to opt for the best value for your money, and that is a new exhaust system.
An effective exhaust system is the best value that an average dirt bike rider can get for their money. Having a lighter exhaust system combined with the extra horsepower significantly makes your upgrade a considerable threat to your competitors or mates on the track.
The right 2 stroke exhaust system for your dirt bike is important if you want to maximize performance. 2 stroke exhaust systems feature an oversize bulge that functions as an expansion chamber, allowing the engine to generate more power.
In this article, we will take a close look at the best exhaust systems for 2 strokes. We will also be going into detail about these 2 stroke exhaust systems regarding their features and specifications.
1. FMF FACTORY FATTY PIPE
The FMF Factory Fatty Pipe has been a consistent favorite of riders for many years now. One of the attributes most common to two-stroke bikes is that it elicits a snatchy and lively throttle response. Upon hitting the power band, you may end up hearing your bike take off similar to that of a scalded cat.
The Factory Fatty, however, smooths out this power curve which makes it easier to access and control the power. Its smooth delivery is accessible in an even wider band as well. This enables boosted gains, simultaneously offering increased over-revs alongside more mid and low ends. As FMF's heirloom product, the Fatty took a good 35 years of development. It also doesn't compromise on its appearance with its carbon steel finish plated with nickel.
The Factory Fatty is perfect if you're looking for an all-around power-boosting pipe that is lightweight at the same time. This 2-stroke exhaust system also comes with choices of silencers or end pip. You can make your pick either from the shorty or the standard version.
Hand pounded seams to allow smooth transition flows
Lighter 20-gauge steel for the pipe's body
19 Gauge Steel for the header
Supplied O-rings for a seamless fit
Higher over-revs
Better mid and low-range power
Made in the USA
The Gnarly Desert Pipe is FMF's proposed solution for riders who prefer to get out from tough terrains with a low-end grunt. Accompanied by the manufacturer's signature 18-gauge steel, nickel plating, and pipe shape precision, this Gnarly Desert pipe serves a potent pulling power akin to tractors. This feature is enough to make it a Holy grail for many riders of 2-stroke bikes. With increased torque and horsepower, the FMF Gnarly Desert Pipe will help propel your bike through the most technical and challenging terrains or power-depleting sands with utmost ease.
Superior strength brought by 18-gauge steel construction
Increased torque and rpm horsepower
Includes O-rings
Signature nickel-plated finish prevents corrosion
3. FMF GOLD SERIES PIPE FATTY MOTO
ne of FMF's most popular 2-stroke popes, the Fatty moto offers a smoother power band and increased power curve while providing better control no matter where you are.
There will be added power in the mids and lows, with which unusable power peaks will be evened out as well. The pipe also maintains the original punch with added over-rev, preventing the top-end from suffering as much.
The Fatty pipe makes riding fun regardless of its type, particularly due to its usable power that allows for better control and hook-ups in acceleration.
Smooth power delivery
Increased power
Extra over-rev
New O-rings
Tru-Flo stamping process ensures accurate fitment and contours
Nickel-plated, carbon steel body to prevent corrosion
The legacies of both KTM and FMF are behind the construction of the Fatty Pipe. It's because of this that the Fatty Pipe has turned into an industry benchmark due to its commendable quality and performance.
The Fatty is specifically designed to provide a meatier power band while supplying more punch at the throttle's first crack, increased top-end revs, and an overall smoother powerband.
These features allow for enhanced throttle response and usable power – two crucial elements you need to have if you want to maximize power on the ground. This pipe is rugged as well, especially with its signature nickel coating and 19-gauge steel carbon construction, giving it more rigidity and durability when encountering debris and impacts.
Earlier throttle responses
Usable and broader power band
Increased tractable power with better control of the throttle
Power gains with added over-rev
19-Gauge carbon steel
Nickel coating for anti-corrosion
O-rings
The Lexx DuraFlow Pipe is constructed with utmost emphasis on performance and durability, as shown in its quality 2-stroke expansion chamber. With its 18-gauge steel construction, the DuraFlow Pipe is plenty more durable than stock. Moreover, it also has a polished and signature nickel plate finish that helps prevent corrosion and damage brought by debris.
Anti-corrosion nickel plating
Performance tailored to maintain power balance through the rpm range
18 gauge steel which is more robust than stock
High-quality 2-stroke exhaust pipe
Increased performance and durability
O-rings
6. FMF GOLD SERIES PIPE GNARLY WOODS
The Gnarly Wood Pipe from the FMF Gold series is dyno-tested and computer-designed to add tractor-like 4-stroke torques to your 2-stroke dirt bike or motorcycle.
Besides this, the FMF Gold Series Pipe Gnarly Woods are constructed to elevate throttle response while leveling the power band. This way, it's more linear and adds more over-rev at the same time.
The Gnarly Woods also features the Fatty Design and goes through a stamping process to ensure optimum fit, quality, and performance. This pipe is specifically designed to offer punchy low-end power, which will help you get out of tricky situations. It is also ideal for complex forest or woodland trails as well as technical and tight courses.
Improved throttle response
Extra over-rev
Improved low-end torque
Leveled out power band
Durable and anti-corrosion nickel plate coating
Exclusive fatty design for additional power
Dyno and computer tested for optimum performance
Made of 18- and 19-gauge steel
7. PRO CIRCUIT PLATINUM PIPE
The Pro Circuit Platinum pipe offers similar performance tweaks, but its plated finish makes it distinct from others, increasing its resiliency against muddy and wet conditions. Because of this, the Platinum pipe requires lesser maintenance when used.
More importantly, the Pro Circuit Platinum Pipe offers improved over-revs and outstanding mid and low ranges inspired by the classic Works Pipe design.
The Platinum Pipe makes for a perfect choice if you don't like routinely cleaning a works pipe and if you're a rider who frequents wet conditions or rides in the harshest terrain conditions.
Increased upper limit revs
Increased mid and low range power
Nickel-plated header
Pounded and hand-welded seams
Electroless nickel coating adds to part life while preventing corrosion
Reinforced stinger and mounting brackets
Stamped AKDZ construction of carbon steel
8. PRO CIRCUIT PLATINUM 2 PIPE
The Platinum 2 Pipe provides gains both in the mid and low range in a construction filled with a similar quality as that of the Pro Circuit. However, the Platinum 2 distinguishes itself with its thicker 18-gauge steel, which holds up better to drops, impacts, and trail debris as compared to thinner materials. This means that the Platinum 2 can efficiently handle more impact than anything else, making it ideal for aggressive and hard endure trail ridings.
More than that, it's also equipped with the exact same electroless and anti-corrosion nickel plating in the Platinum Series. With its rowdy low and mid-range power bands, you receive an off-road centric pipe that spools up your bike engine to its maximum output smoothly and quickly.
Low and mid-power band gains
Reinforced stinger and mounting brackets
No power loss in the top-end
Thicker 18-gauge steel
Electroless nickel coating
Ponded and hand-welded seams
9. PRO CIRCUIT WORKS PIPE
The Pro Circuit Works Pipe smooths out high-revs and mid-range transitions, unlike plenty of 2-stroke engines. In a singular smooth curve, the Works pipe elevates the mid-range power output into the higher end. Moreover, its rider-friendly power curve is the result of intensive factory testing and valuable feedback from dyno tests and actual works riders.
It also offers enhanced durability with its CNC milled mounting plates, making it more resistant to fractures or cracks. Even so, it still requires maintenance after every ride.
Stamped AKDQ carbon steel construction
Reinforced stinger and mounting brackets
Pounded and hand-welded seams 5
10. SRT PRO-FLO 2-STROKE PIPE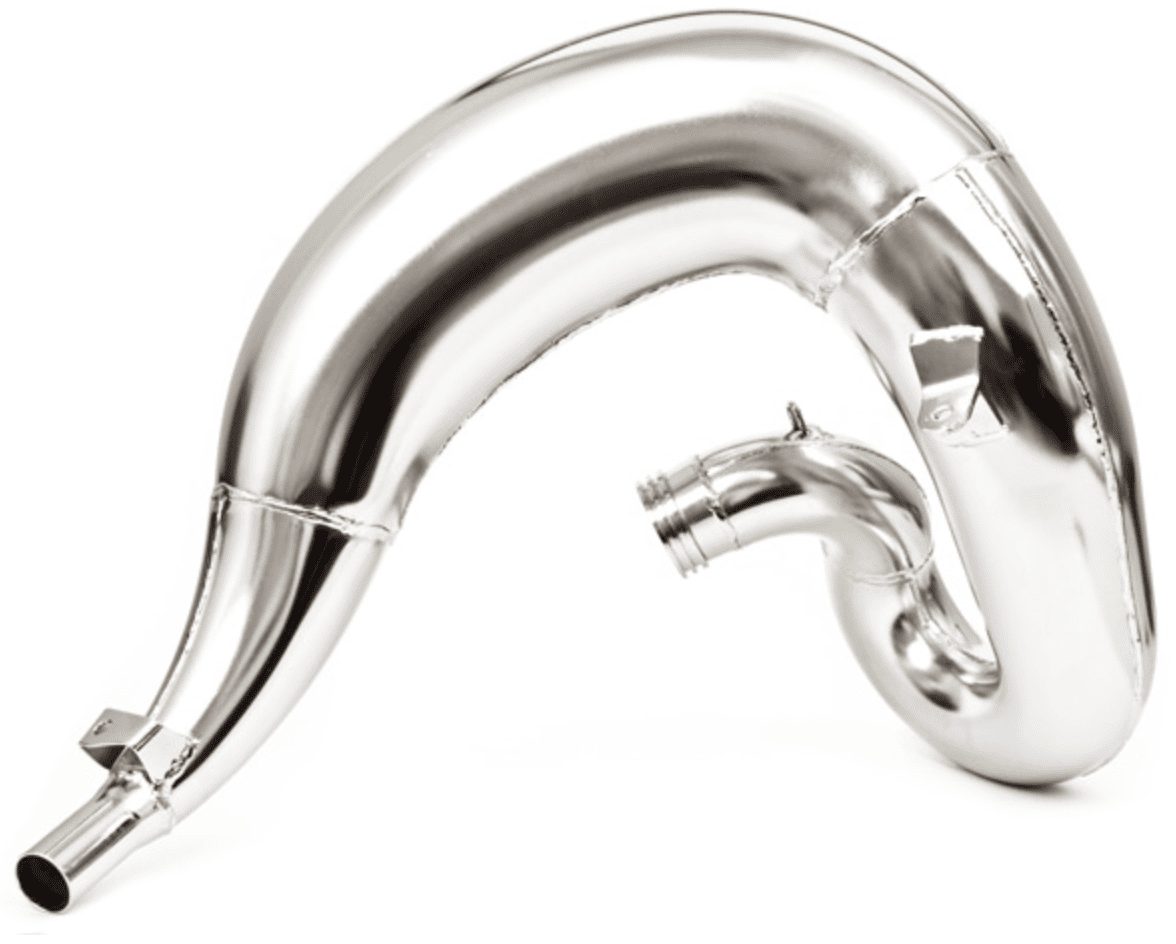 The Pro-Flo pipe is a straightforward OEM replacement system. It's particularly designed to be sturdier, incorporating a Zinc, anti-corrosion plating robotically welded using precision seams. Furthermore, the Pro-Flo chamber specifically targets extensive usable power.
Designed for easy installation
19 gauge steel that is lightweight and durable
OEM replacement head pipe
Nickel plating that is corrosive resistant
11. DEP ARMORED ENDURO PIPE
The nickel-plated DEP Armored Enduro pipe has a thicker skin that makes it stronger and more suitable to ward off inevitable smashes and hits that happen when riding in tricky terrains. Moreover, it's also equipped with power gains over stock as well as a CNC-machined manifold, which has been thoroughly tested on the circuit of World Enduro.
* Dyno-tested for maximum performance
* More robust and more resistant to crash damage
* Extensively track tested
12. KTM FMF FACTORY FATTY PIPE
This 2-stroke pipe incorporates features reminiscent of the cone pipes or works utilized by Factory teams. It especially shares similar characteristics in terms of material quality and craftsmanship.
Durable, high-quality, and extra strong steel
Smoother and broader power band
O-rings
Better throttle control and increased traction
Higher speedUnadulterated factory appearance
13. HUSQVARNA FMF FACTORY PIPE
This FMF Factory Pipe is specifically designed for Husqvarna, catering to your Husky's strengths to ensure optimum performance as much as possible.
With this in consideration, FMF constructed this pipe to deliver a smoother power delivery and wider powerband. At the same time, it also makes the Husqvarna factory pipe ideal for technical or loose terrain obstacles where controllable acceleration and traction are a necessity.
Smooth power delivery
Higher top speeds
Wider rev range and power band
More acceleration control
Increased traction
14. SCALVINI FACTORY WORKS EXPANSION PIPE
This true cone pipe harkens back to the works pipes built in Italy and utilized by factory two-strokes. Scalvini finds importance in hand-building each pipe in order to mirror the stock's bottom performance while ensuring stronger top-pulls and harder mid-hits. Furthermore, each exhaust system is also complete with an ID tag, including double-wall mounting brackets and a CNC-machined exhaust flange.
Usable torque and power
CNC-machined exhaust flange
Finest construction materials
Welded and hand-made by experienced artisans
Made in Italy
ID tag
15. BILL'S PIPES MX2 WORKS
Bill's Pipes MX2 Works has been the top choice of many serious riders and champions all across the globe. Race-proven and performance-tested, it offers unparalleled performance fit for your 2-stroke bike with its championship-winning technology. Its 30 years of development, testing, and engineering have resulted in an exhaust pipe that renders optimum performance and quality while being affordable at the same time.
Works' look due to its unplated finish
19-gauge AKDQ carbon steel
Hand-assembled and welded for accurate fit
Performance gains throughout
16. BILL'S PIPES MX2 NICKEL
Bill's Pipes 2-stroke line, including the MX2 works, is sought after by many professional riders and champions worldwide due to its excellent technology. The MX2 nickel pipe sports similar features but has a double nickel-plated finish to elevate product life and durability.
Double nickel-plated coating for improved durability
19 gauge carbon steel construction AKD
Increased performance gains
Hand-assembled and welded for fit accuracy
17. BUD RACING FACTORY PIPE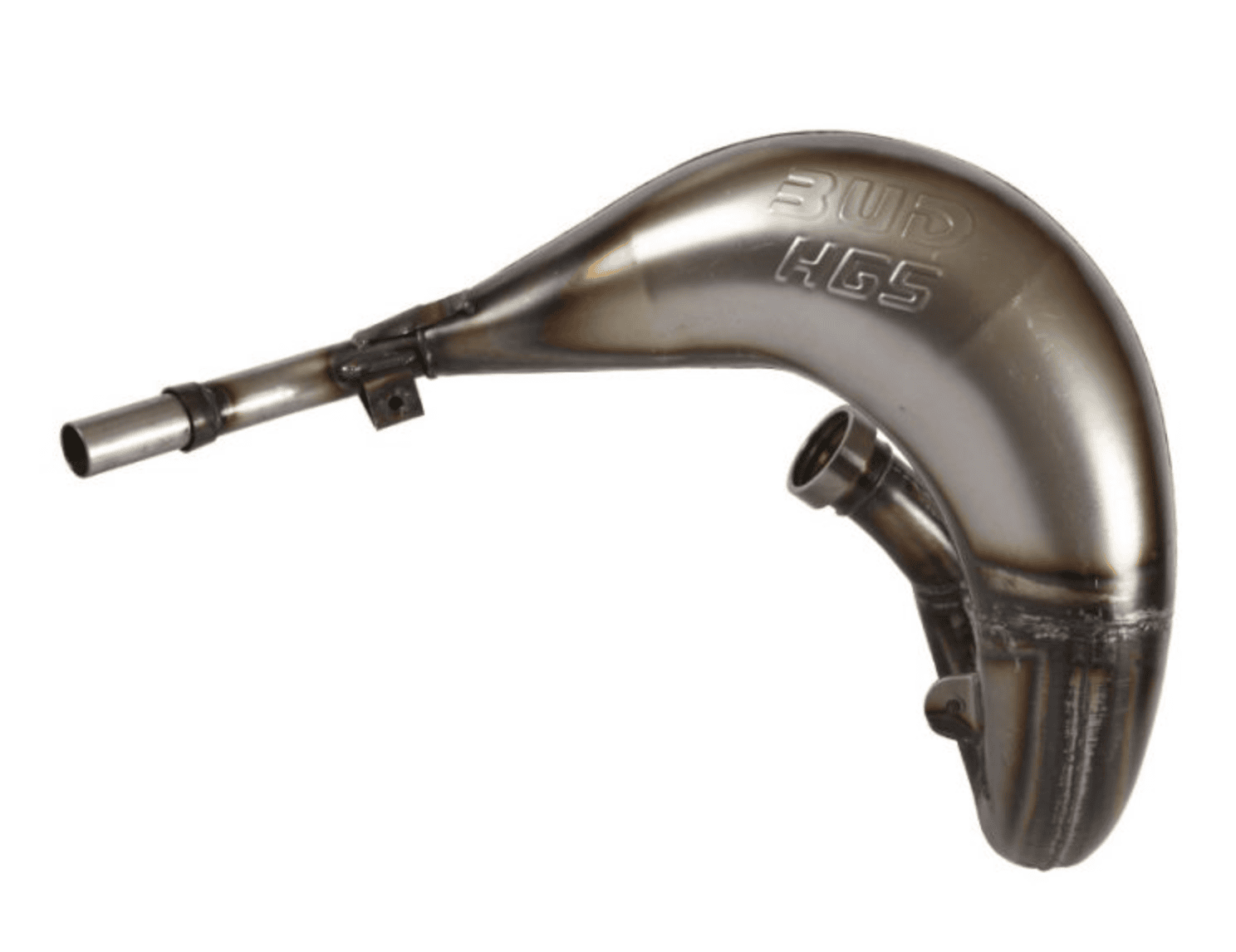 This factory pipe is manufactured by Bud Racing specifically targets a firmer low-end response alongside smoother power delivery. The primary goal is usable and tractable power. It also underwent a deep stamping process which has been developed and tested on tough European circuits where controllable power is vital.
Tractable and usable power
Smoother power delivery and stronger low-end response
Raw metal finish
Conclusion
No matter which 2-stroke expansion chamber you decide to get, I am sure you will look WAY cooler…..which means you will be much faster around the track or out on the trails.
While I have had a few 2 strokes with pipes, they really do make a difference and are sometimes worth the money.
However, the older I get, the harder it is to hang onto a 300 or 250 2-stroke. Generally, I leave the expansion chamber alone and opt for a forest legal silencer.
See you out on the trails!!