Properly selecting the right dirt bike size based on your height and size is essential to truly get the most out of dirt biking.
Most likely the first thing on your mind when deciding to buy a dirt bike is all the fun and excitement you're gonna have. It's perfectly understandable and, after all, the thrill of riding is what made us all fall in love with dirt bikes in the first place.
Nevertheless, your main concerns when choosing the bike for you or your kid should be safety and comfort. Being safe while riding is not something that should be taken lightly.
Although dirt bikes usually are smaller and pack less power than larger road motorcycles, dirt bikes still have a really good power to weight ratio. Likewise, if you're not comfortable on your dirt bike, it doesn't just feel unsafe, but also greatly reduces your enjoyment while riding your dirt bike.
 I will repeat, you need to properly select your the right dirt bike based on your height and size, as it is essential to get the most out of dirt biking. The amount of dirt bike control you'll have is directly related to these factors.
Finding the Perfect dirt bike Fit for Your Height
Lots of people, when they talk about the dirt bike's size, they refer to the size of the engine. Of course, having an engine packing the right number of cubic centimeters (and horsepower) is very important, but the overall dimensions of the bike, seat height, and wheel size are actually more crucial to your comfort and safety.
The size of the engine is not necessarily related to the bike's height. Some smaller bikes have engines with higher cc measurements, so the shorter riders can have more power if they like.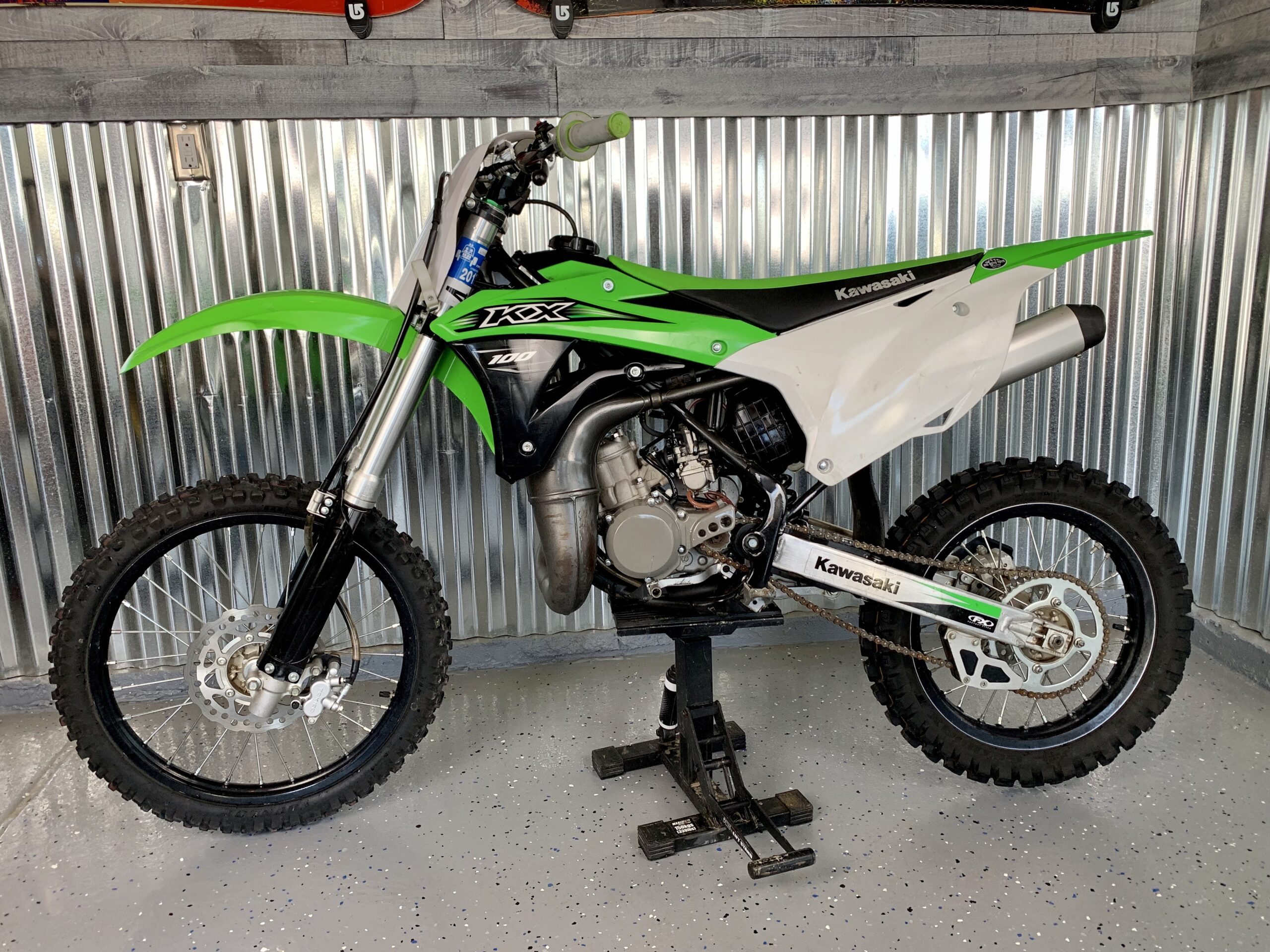 How to pick the right dirt bike size
 There's no universal dirt bike frame size and to the answer question of how to pick the bike of the right size. Depends on what you plan on doing with the dirt bike. 
Each of us has different body types and builds. Some have shorter legs or longer arms. Although you can get the idea of what you need by doing some research, the biggest mistake you can make is buying a bike thats either too big or too small.
Go to the dealership, sit on the dirt bike or have your kid try it and check to see how comfortable it is. Sitting on the dirt bike will help you get a feel for the bike and get a sense of weight distribution. A general rule is that when you sit on the bike the balls of your feet should touch the ground.
To be more precise, you should touch the ground with your toes and feet cushions, while your heels are up in the air. Place all of your weight on the motorcycle. Try not to carry any of your weight by your legs.
This may feel weird to many beginners but, it's important to be able to control the bike by putting your feet down. If your whole foot is on the ground, it can lead to a foot injury while riding this also means that you are too big for the dirt bike.
Also, this means that there is more weight on the suspension which will cause you to feel every rock or bump. Too much weight and you can bottom out the rear shock and de wieght the front tire making it harder to conrtol the dirt bike . While you're at it, make sure to check the distance between seat and hand controls.
Not being able to properly reach controls doesn't just feel awkward, but is an accident waiting to happen. When looking for a dirt bike make sure you wear the boots you plan to wear while dirt biking riding, or at least similar.
Not being in your riding gear is a common mistake for many. Bear in mind that boots can add a couple of inches to your height, so the bike that seemed too high at first, can be just right.
If you are buying a dirt bike for your child, it may not be a bad idea to go a bit higher. Kids can grow a lot during just one year and you don't want to buy another motorcycle in such a short period of time. Just make sure that your son or daughter has enough contact with the ground to be able to successfully control the bike and feel safe.
Dirt Bikes Sizes and Height Overview
Every manufacturer publishes dimensions of their bikes. You can compare the seat heights against your inseam to have an approximate idea about the right fit for you. In order to get a clearer picture of what size of the bike you need, take a look at the chart of bike sizes according to your height. This should help you narrow down your choices before picking the perfect ride.
See our table of dirt bike sizes based on age, body height and seat height. To be more helpful we included metrics too.
| | | | | |
| --- | --- | --- | --- | --- |
| Age | Body Height (Inches) | Body Height (CM) | Seat Height (Inches) | Seat Height (CM) |
| 3-6 year olds | 2'11 | 90-110cm | 23-24″ | 58-61cm |
| 5-8 year-olds | 3'11 | 120cm | 23-25 | 58-64cm |
| 8-9 year-olds | 4'4 | 133cm | 24-26″ | 60-66cm |
| 9-10 year-olds | 4'7 | 140cm | 24-26″ | 60-66cm |
| 10-12 year-olds | 4'9 | 145cm | 26-31″ | 66-79cm |
| 12+ years | 5'2″ | 157cm | 31-35″ | 79-89cm |
| 12+ years | 5'4″ | 162cm | 33-36″ | 84-92cm |
| 12+ years | 5'6 | 167cm | 34-37″ | 86-94cm |
| 12+ years | 5'8 | 172cm | 34-38″ | 86-97cm |
| 12+ years | 5'10 | 178cm | 35-39″ | 89-99cm |
| 12+ years | 6″ | 182cm | 37.5″+ | 95cm + |
Dirt Bike Wheels Size Matters
Some of the dirt bikes you'll look at have bigger wheels and some have smaller wheels (ex. big wheel), especially when it comes to kids' dirt bikes. Some dirt bikes will come in both versions for the same model. This comes handy if, for example, a kid is of lighter weight, but needs a bigger bike. The bigger the wheels the better it will roll over obstacles. 
Bear in mind that this chart, due to the different builds, should serve as guidance when shopping for a dirt bike. Most of all, it's a good place to start when planning a purchase. To help you we made a list of the most popular dirt bikes from renowned manufacturers on the market for each class of height.
Dirt Bike Manufacuture models and sizes
Here are some examples of kids, Youth, and adult dirt bike sizes. 
Kids/Youth Sizes – Yamaha PW50, Yamaha TTR50E, Yamaha TTR110E Yamaha YZ65, Honda CRF50F, Honda CRF110F, Suzuki RM-65, Suzuki DR-Z50, Suzuki DR-Z70, KTM 50SX, Husqvarna TC 50, Husqvarna TC 65, Kawasaki KLX 110

Youth /Adults Sizes – Yamaha TT-R125LE, Yamaha YZ12, Yamaha YZ85, Suzuki DR-125L, Suzuki RM85, KTM 85SX, Husqvarna TC 85, Kawasaki KX 85, Kawasaki KX 100, Kawasaki KLX 140

Adult Sizes – Yamaha YZ125, Yamaha YZ250X, Yamaha YZ45F, Honda CFR250XLR, Honda CRF450X, Suzuki RM-Z250, Suzuki RM-Z450, KTM125SX, KTN150SX, KTM 250SX, KTM350SX-F, KTM 450SX-F, Husqvarna TC 125, Husqvarna TC 250, Husqvarna FC 350, Husqvarna FC 450, Kawasaki KX 250F, Kawasaki
Dirt Bike Height Adjustment
The dirt bike manufacturers, of course, can't make custom rides for each individual. Typically dirt bike manufactureses land in the middle when it comes to size and height. This stock size is 150-180lbs and 5'9″ to 5'11" . Fortunately, there are ways to adjust your dirt bike's height.
With a few simple tricks, you can lower or raise the height. Also, this can save you for buying a new bike Avery time your kid has overgrown the old one.
Lowering the Dirt Bike Size
The simplest way to lower your bike is to just cut the foam out of your seat. The seat may not be as comfortable anymore, but this could give you more confidience when riding.
Another thing you can do is replace the foam. The softer foam will compress under the weight of the rider and lower the overall height. Better foam compressing can also be achieved by drilling holes in a seat.
If you don't feel like using the first method, you can replace the existing seat with a new one. Finding a suitable seat with less padding can help you reach the ground easier.
Correct SAG settings
A great way to reduce the height of your dirt bike is to tinker with the sag settings by adjusting the spring of the rear suspension to find the height that perfectly fits you. This way you can lose a couple of centimeters. This may have some effect on the steering.
MAKE SURE THAT YOU SETUP THE SAG CORRECTLY. Consult the owners manual for these settings.
Raising the Dirt Bike Size
If you need more height, instead of using replacement softer foam, you can add a thicker and harder one. This can give you up to two extra inches.
Also, the same way you can use sag settings to lower your bike, you can adjust it to make it higher.
You can also purchase a taller seat. Keep in mind if you change the sag settings it will effect how the dirt bike controls. Also, putting bar risers might feel more comfortable, they also effect the handling of the dirt bike. 
Owning a dirt bike can bring you a limitless amount of fun and excitement. But, buying one that doesn't suit you can be a great risk. For you or your kids. Don't ruin what can be a source of great joy in your life by being careless.
Today, more than ever, there is a never-ending array of dirt bike manufacturers, models, and types to choose from. Be patient when shopping for a dirt bike. Try hard to find the one that suits you and your skill level.
Don't be afraid to ask for a bit of advice and try as many dirt bikes as it takes to get to the right one. Smaller doesn't necessarily mean safer.
Besides your height, there are other important factors to consider. Your weight, age, and most of all, experience.