This is an article talking about the best skid plates for protecting your off road dirt bike.
Dirt bikes are pretty amazing when it comes to what they are capable of. Riding your dirt bike offroad in the rocks, roots, and obstacles are fun but can be a challenge. A skid plate is a cover for the bottom parts of your dirt bike. An off-road skid plate protects your frame, motor, and linkage from getting smashed up and bent.
Do you like riding dirt bikes over any of the following?
Just like protecting your head and body, you need to make sure that your dirt bike has the proper protection to ride in this type of terrain off-road. Having the proper protective gear can really help your riding and keep your bike safe.
One of the MOST important things to get for your dirt bike if you plan on riding off-road hard enduro type of singletrack is getting a Skid Plate, Glide Plate or Bash Plate.
What are Dirt Bike Skid Plates made of?
We have a few different material options for materials for dirt bike skid plates. Below is a list of all the materials and each of these materials has pros and cons:
Dirt Bike Skid Plate Material:
Aluminum
UHMW Plastic
HDPE Plastic
Carbon Fibre
Why do you need a skid plate for your dirt bike?
To protect your dirt bike from rocks, roots, logs, debris, other dirt bikes, and garden gnomes.
Getting a high-quality skid plat will help keep your dirt bike from getting dents or cracks in the frame of your dirt bike and even protect your dirt bike from engine case punctures and cracks.
We tend to be rough on dirt bikes and having a good protection for the undercarriage of your dirt bike is a really smart idea. 
What a Ski Plate Protects:
Frame
Engine
Oil nut
Oil Filter
Clutch Cover
Rear linkage and shock mount
These brands manufacture the toughest and Best Dirt Bike Skid Plates:
Molecule Motosports Plastic SkidPlate
Molecule Motorsports is owned and operated by a dirt bike rider named Seth. Built-in the USA from the very best Billet UHMW plastic that is tougher and has better wearing than aluminum and even carbon steel. Billet UHMW does not crack or puncture. Also, UHMW plastic glides over rocks and stumps better than aluminum and metal.
Billet UHMW is WAY better than aluminum and HDPE.
Thermo-formed from 1/4″ think Billet UHW with a unique shape that helps reduce mud build-up. Extremely lightweight and tough the Molecule Motorsports skid plate gives you the option to have a linkage guard or without the linkage guard. The Molecule Moto skid plate also comes with stainless steel brackets.
TUSK QUIET GLIDE DIRT BIKE SKID PLATE
Tusk built the Tusk Quiet-Glide dirt bike skid plate from premium 3/8″ thick HDPE plastic. The Tusk Quiet-Glide offers great engine and frame protection but also is lightweight and has zero vibration noises that you get with metal or aluminum skid plates. Also, HDPE plastics on the Tusk Quiet Glide skid plate are slippery and built to not get hung up on rocks or trees. Perfect for gliding over trees.  
No plastic frame mount brackets allow for stronger mounting of the skid plate. The Tusk Quiet Glide skid plate is built to easily install and also remove for oil changes. 
Richochet Offroad Skid Plate

Ricochet off-road skid plate is for those who want to ride in the toughest dirt bike terrain there is. You need tough protection to keep riding and not bust you your dirt bike. The Ricochet aluminum alloy is made from thick 5/32″ – 3/16″ alloy plating.  The clamps are made from high-quality steel to ensure that when your Ricochet skid plate takes a hit that the steel clamps will keep in secure and snug on your dirt bike. For dirt bike maintenance you do not have to take off the Ricochet skid plate as the proper maintenance cutouts are in place. The Ricochet comes with a tough anodized finish. 
You can get the Ricochet offroad skid plate or bash plate for most of the popular dirt bike brands and models. This is a tough skid plate for those who like to push the limits while dirt biking. This is a tough skid plate that can take some abuse.
Works Connection Skid Plates
Works Connection makes a couple of different dirt bike skid plates that you can choose from. The toughest dirt bike skid plate the make is the Works Connection Extended Coverage Skid Plate with RIMS. This aluminum skid plate is super tough and the fit and finish are spot on. The RIMS stands for the Rubber Isolator Mounting System which is designed to flex with the dirt bike frame. Some people complain that mounting an aluminum skid plate affects the rigidity of the dirt bike frame. Works Connection uses the RIMS to eliminate this issue.
The Works Connection Skid Plate is a machine-specific skid plate and is available for more dirt bike brands and models.
Oil drain and other maintenance holes are there so you do not have to remove the Works Connection skid plate to change the oil. 
AXP Racing arrived on the USA dirt bike scene a few years ago and surprised the industry with a high quality plastic skid plate. The ALL NEW AXP Racing Xtrem HPDE Skid Plate is their new biggest baddest and toughest skid plate. 
Made from a plastic that is a high-density 8mm thick polyethylene that provides excellent coverage and protection. 
These AXP Plastic Skid plates are CNC machined for perfect fit and finish. The AXP Xtrem skid plate is machine-specific and for most offroad make and models. High quality plastic skid plates from AXP provide great impact and denting protection but they also are considered a dirt bike glide plate that means they do not get hung up on logs or rocks that aluminum skid plates struggle with.
The AXP Racing Xtrem HPDE Skid Plate is a FULL-COVERAGE skid plate that covers your frame and linkage with one piece.
SXSlide Plate (Editors' Choice)
Why the SXSlide plate is my Choice as the best dirt bike skid plate?
It's lightweight like the carbon fibre skid plates, it is extremely durable and can really take a beating. It slides over obstacles better than aluminium.
The SXSlide plate also is a FULL skid plate. This means you not only are covering the frame it also goes down to protect your linkage. Like I mentioned earlier this kind of coverage REALLY helps you from getting caught on rocks or log crossings.
The SXSlide dirt bike skid plate also will guard the case, and water pump area from impact.
Here is our video review of the SXSlide Dirt Bike Skid Plates:
USE "mtnlife" at checkout for a 10% discount
Enduro Engineering Xtreme Skid Plate
Enduro Engineering Xtreme Skid Plate is the toughest skid plate for dirt bikes that Enduro Engineering makes. Called the Xtreme skid plate for a reason the newly designed Enduro Engineering Xtreme Skid plate is built to withstand impacts from boulders and logs. The Xtreme Skid plate from EE is the perfect skid plate for those who love to go canyoneering on their dirt bike. 
The build quality of the Enduro Engineering Xtreme comes with extra-large wings for better protection. There is even footpeg protection built into the skid plate. These skid plates are CNC machines for dirt bike-specific machines. Made from High-quality Aluminum. 
Flatland Racing Skid Plate
The crew over at Flatland Racing are dirt bikers that wanted to build high-quality dirt bike parts. The Flat Land Racing Skid plate is built from high quality 5025 3/16″ aluminum. This Flatland Skid plate is tig welded and held to the dirt bike via steel clamps. 
Slits in the skid plate to allow for cleanout and also an oil drain hole for specific dirt bike models.  Very light and strong the Flatland Racing skid plate allows you to ride gnarly single track without worrying about dirt bike damage.
Devol Racing built a skid plate to protect your motor and frame of your dirt bike. Devol Racing refers to their skid plate as a glide plate. 
The Devol Racing Glide plate is built from a high-quality CNC machined US grade aluminum. These Devol Racing Glide plates are machine specific for a perfect fit. Airflow holes to allow for engine cooling and better cleanout. Oil holes are pre-drilled for most of the dirt bike models. 
If you want the trickest and lightest skid plate on the market, the P3 Carbon Skid Plate is the ticket. Made from high-quality carbon fiber for perfect fit and finish the P3 Carbon Fiber Skid Plate is made by hand. Machine specific for the perfect fit and finish the P3 Skid plate is made from kevlar, carbon fiber, and biaxial fiberglass.  Built for high impact the p3 Carbon Skid plate can take on carls dinner type terrain and protect your dirt bike at the same time.
Quick-release allows you to quickly remove the P3 Carbon skid plate for cleaning and dirt bike maintenance. 
T.M. Designworks Full Coverage Plastic Skid Plate
If you have been privileged to experience other quality products from T.M. Designworks you can bet that the full coverage skid plate is a beast of a skid plate built to provide the very best protection for your dirt bike. T.M Designworks knows their plastic and the skid plate is built from lightweight, tough, impact-resistant heavy-duty nylon composite. The is a great skid plate that allows you to slide over rocks and logs with ease.
This T.M. Designworks skid plate offers plenty of extra coverage of your rails, ignition, oil cover, and water pump. It also weighs less than aluminum plates.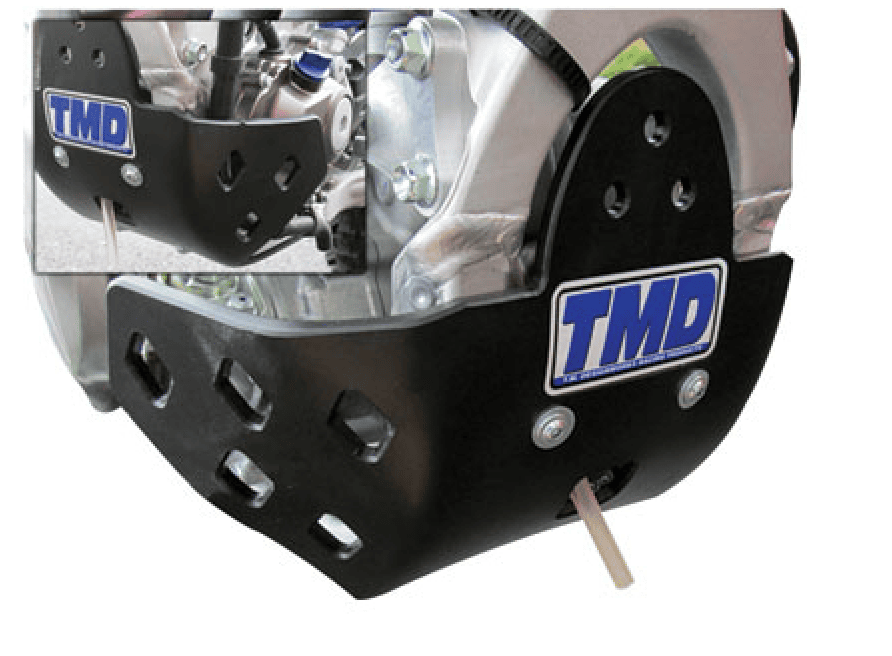 All of the above off-road dirt bike skid plate brands make high-quality tough skid plates that can take a beating. Most are made from aluminum, carbon fiber or UHMW plastics. Aluminum might have a small edge when it comes to taking a beating but if you dent carbon fiber and UHMW plastics they do have a memory where aluminum does not.
Also aluminum does NOT slide nearly as well as the plastic or carbon fiber. Keep that in mind when you go to purchase a skid plate.
Frequently Asked Questions:
Why do you need a skid plate for your dirt bike?
A skid plate is a must-have accessory when it comes to riding dirt bikes offroad or singletrack. A skid plate will attach to the bottom frame of your dirt bike and provide protection. You want to make sure that your skid plate just doesn't protect the frame of your dirt bike. You also want the skid plate to protect the case, water pump, hose guard, linkage, and frame mounts.
It protects your frame from bends and dents. 
It protects your Motor from impacts and dents.
It protects your linkage from getting smashed.
In short words, protecting your dirt bike engine with a skid plate is an investment that can cut your dirt bike maintenance costs.
Should i get a skid plate for my dirt bike?
When riding a really big boulder-like singletrack, you can have a sharp edge rock smash a hole In the case of your engine. It also helps protect against bending or denting your frame. Some of the skid plates even come with a linkage guard that help protect it and also helps your linkage glide over obstacles better.
So, there are 2 reasons main reasons to get a skid plate.
Protection
Gliding
The last think you need is a break down miles from the truck. A proper skid plate will help protect against those mishaps.
When trying to get your dirt bike up and over obstacles like a log crossing, the last thing you need is for your dirt bike frame or linkage to get caught up on the log. A glide or skid plate helps prevent that from happening.
Getting hung up on log crossings also is no fun and sometimes the bike tips which can result in more broken dirt bike parts.
But hey….thats part of riding dirt bikes off road.
I am just all for doing what I can to minimize the damage that I do to my dirt bike.
What types of off road dirt bike skid plates are there?
Basically there are 3 different types of materials that are used in off-road skid plates.
Plastic Skid Plates
Aluminum Skid Plates
Carbon Fibre
Each of them has there advantages and disadvantages.
Plastic skid plates are becoming more popular as the technology has made plastic really strong and slides better than all the other skids plates. Keep in mind skid plate manufacturers use different plastics in with there skid plates and they are not created equal.
Aluminum is a solid lightweight skid plate that is strong but gets hung up a rock. Aluminum doesn't have really any flex in it so it's more ridged with hitting things. Aluminum skid plates sometimes rattle more than the other skid plates.
Carbon Fiber skid plates are the lightest and are really strong. They are more expensive than the plastic and Aluminum skid plates.
Lucky for us we have lots of options to choose from when it comes to off-road dirt bike skid plates. We are going to list out the skid plate brands that make the toughest and best skid plates on the market. You will notice that I will be leaving out a bunch of well-known skid plate manufactures.
The reason is they just do NOT hold up to the major abuse of gnarly single track riding.
Most of the OEM skid plates are just glide plates and do not really hold up to any amount of abuse. While having a skid plate is better than not having one we just want to know what are the best on the market.
Top 3 skid plates for off road dirt bikes
SXSLIDE PLATE
AXP SKID PLATE
ENDURO ENGINEERING XTREEM SKID PLATE
The SXSlide plate and the AXP Skid Plate our both made from high-quality strong plastics. The Enduro Engineering Xtreme Skid Plate is made from aluminum. 
Both the SXSlide and AXP skid plates have full coverage and cover the linkage as well. The EE Xtreme skid plate does not cover the linkage. 
In full disclosure, AXP Racing has come out with a new Xtrem HDPE skid plate that is said to be stronger and better than the old version which I have tried.
Will this dethrone the SXSlide plate?
Regardless if you do with plastic, aluminum, or carbon fiber it's always better to get the best skid plate you can afford. This really can save you in the long run. While there is NO such product that completely protects your dirt bike from harm but hey that's part of the adventure.
Make sure that when you are selecting a skid plate for your dirt bike that you select your specific model and model year.
Skid plates for dirt bikes are NOT universal and are uniquely built for your specific dirt bike. If you ride any time of hard enduro or single track you need the best skid plate you can get.
In the comments below let me know what you think and if you feel like I missed a skid plate.