In this article, we talk about the best batteries for your dirt bike.
f you are thinking about buying a battery for your dirt bike but aren't sure which one to go with, you might want to take into consideration the 9 best dirt bike batteries reviewed below. These are all popular brands that have been rated highly by both experts and customers alike, and can be purchased either online or at your local auto parts store. The important thing to remember when looking at dirt bike batteries is that they are not universal, so make sure to get the right one before making your purchase. Here are the 9 best dirt bike batteries on the market today
Which dirt bike battery should you get?
Choosing a battery for your dirt bike can be tough. To make sure you get a high-quality and high-performing battery, here are important considerations to help you out! 
Prior to making a purchase, it's important to figure out how much power you need. For example, if you plan on riding for extended periods of time or at high speeds, you'll want a battery with a higher power rating. On average, dirt bikes require anywhere from 10-20 amps. If you plan on using your bike in extreme conditions (i.e., off-roading), then it's important that your battery can keep up with your needs!
 Another important consideration is battery life. If you're using your dirt bike on a regular basis, then you may want to consider getting a replacement battery with a longer lifespan. This will ensure that you don't have to replace your battery as frequently, saving you time and money!
 It's also important to consider whether or not a battery is compatible with your dirt bike. If you have an older model, then chances are that it might not be compatible with newer battery models. Make sure you check what battery specifications your model requires and make sure you can find one that fits!
 The final important consideration is how easy a battery is to maintain. If you don't plan on keeping your dirt bike for too long, then it may not be worth investing in a more expensive model with more maintenance required. However, if you plan on keeping your dirt bike for a longer period of time, then you might want to look into getting something that requires less upkeep.
*** note: CCA stands for cold cranking amps.
Normally I also will list out the price of the batteries but because they are machine specific they will have different pricing.
1) Antigravity Batteries Re-Start Lithium Battery
This is a great choice for those with larger motors. It is designed with a smaller 12-cell case. At just 3 lbs, it offers lightweight but powerful performance that lasts over 30% longer than lead-acid battery options. The ATX-12 boasts over 2 times more recharge cycles than lead-acid and includes a unique Re-Start technology that instantly restarts your battery after every kill switch cutoff or accidental shutoff.
Specs 
5.9 x 3.38 x 5.19 inches

3 lbs

16 Amp Hours

12 OEM battery sizes compatibility 

Uses Lifepo4 Lithium chemistry and full BMS
2) Shorai Lithium-Iron Battery
You don't want a slow start on your dirt bike. If you're looking for speed and punch, then get yourself a Shorai Lithium-Iron Battery LFX14L2-BS12. It boasts up to 20% more power than lead acid batteries. This battery is safe and no explosive gases are produced when it is charged or discharged. The battery also has a low self-discharge rate of less than 1% per month so that it won't lose its charge even if you store it for months without using it. Its case type 1 design means that there are no vent caps required which makes installation easier and safer.
Specs
89 x 58 x 113 mm

662g

14Ah/4,0Ah

5 years warranty

13.2 Volts

52.8 Wh
3) ANTIGRAVITY BATTERIES 12-CELL SMALL CASE HI-POWER LITHIUM BATTERY
Another great choice is Antigravity Batteries 12-Cell Small Case Lithium Battery. At only 2.3 lbs, it's lighter than most lead-acid battery options and even many AGM or gel options. What's more, its durability makes it a better choice for use in bikes that see a lot of vibration or heat-two conditions that can cause other battery types to fail prematurely.
Specs
360 CCA

2.3 lbs

1300cc

12 Amp Hours

4.25″ x 3.25″ x 4.25″
4) Fire Power Featherweight Lithium-Ion Battery
The best thing about Fire Power Featherweight battery is that it is 50% to 70% lighter than your average lead-acid battery. It also has a built-in LED test gauge which allows you to easily check its charge level. This is one of those things that you don't realize how much you need until you have it, but once you do, it's hard to live without. Another great feature of these batteries is their long shelf life. If you are looking for something more powerful and longer-lasting, then this option will be perfect for you.
Specs
NON size 

2 Year warranty

2.1 Pounds

4 cells

6.3 x 3.7 x 4.8 inches
5) Antigravity Batteries 8-Cell Small Case Hi-Power Lithium Battery
This powerful lithium battery is designed for dirt bikes, ATVs, and other off-road vehicles that require high performance. Despite its low profile, it weighs less than 2 pounds. If you have a racing vehicle that needs a top-of-the-line battery, you'll be hard-pressed to find a better option. To save money on an impressive battery without sacrificing quality, look no further than Antigravity Batteries 8-Cell Small Case Hi-Power Lithium Battery.
Specs
1.5 pounds 

12 Volts

3 years warranty 

240Amp Hours

9.5 x 5.5 x 3.1 inches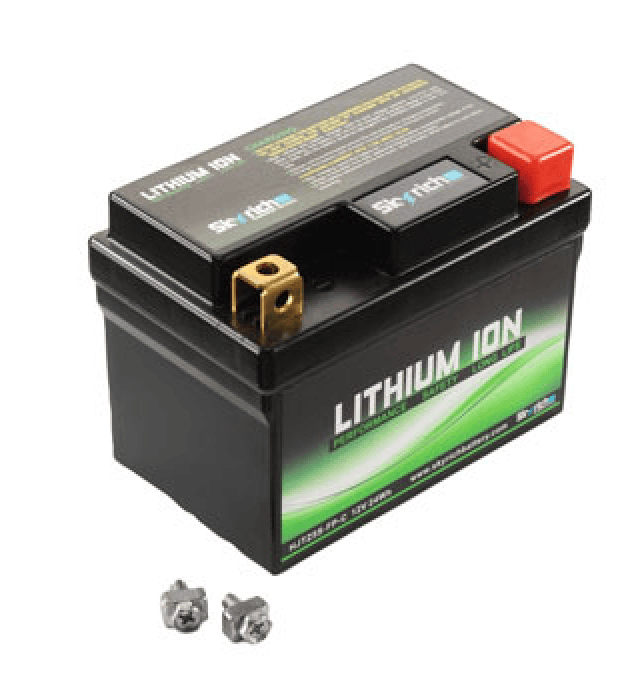 6) KTM OEM Lithium Ion Battery
If you ride KTM or Husqvarna products, your bike is most likely equipped with a lithium ion battery by default. Because these OEM models are factory-fitted, they're incredibly lightweight, which translates into a smoother and more nimble ride. While they can be pricey when purchased directly from dealerships, prices go down considerably when you shop online. If you have no interest in customization, these are some of best dirt bike batteries on offer today.
7) YUASA Standard Battery with Acid
The YUASA battery is always an excellent choice for motorcycle users. Since you're looking for a good battery for your dirt bike, I would recommend you get this option. It can give you enough power to run your motorcycle without any trouble. This 12-volt battery has been made with high quality materials and it will serve you for many years without any problem. You should be able to use it for at least two years before replacing it with another one.
Specs
12V

14 Capacity (10-HR)

7.9 lbs

1.4 Amps

34mm x 89mm x 176mm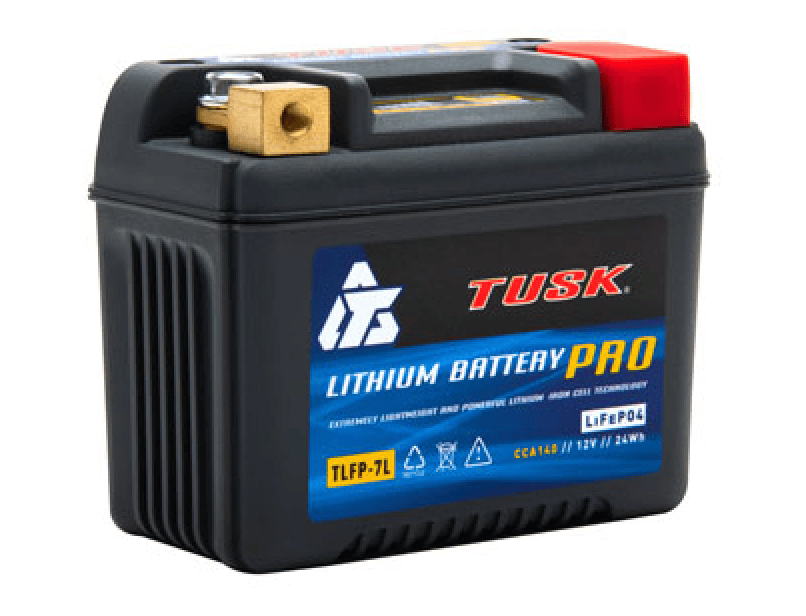 8) Tusk Lithium Pro Battery
Tusk Batteries designed their Lithium Pro for maximum power. This battery for motorcycles, ATV's, and UTV's is perfect for those who are looking for an increase in overall performance. It boasts high power which means will supply you with more speed, torque, and horsepower than your stock model could ever provide. What makes it even better is that it's compatible with almost any OEM or aftermarket device.
Specs
TLFP-7L size 

5.5 x 5.25 x 3.25 inches

M6 battery bolts

2 years warranty 

140 CCA 

24 Wh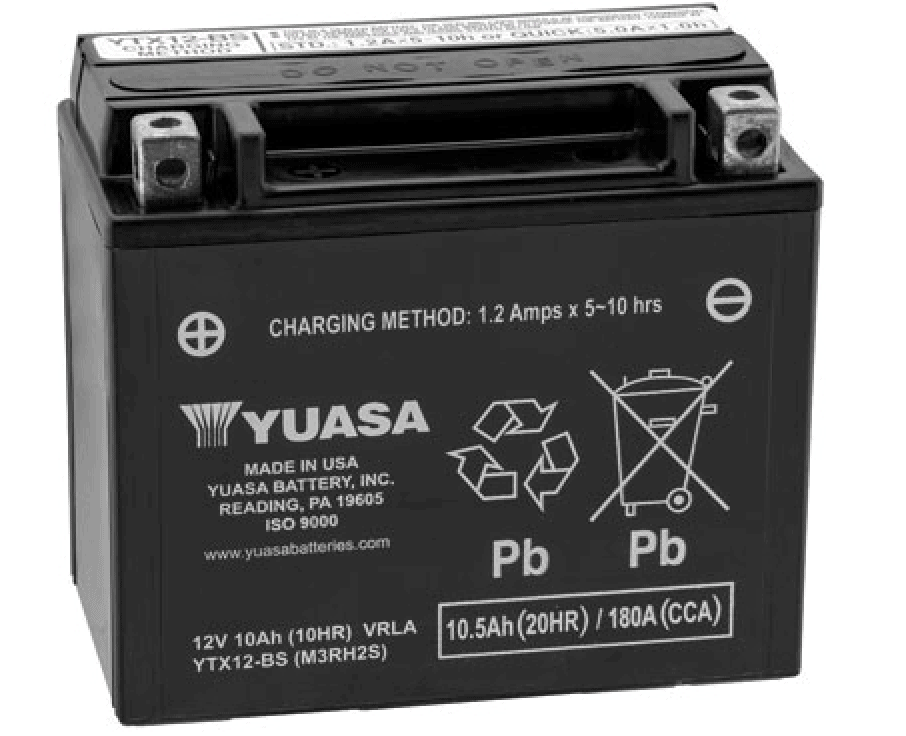 9) YUASA No Maintenance Battery with Acid 
The YUASA Battery with Acid is a maintenance-free motorcycle battery which never needs topping up and will last for years, thanks to its special construction. It works just as well in hot conditions as it does in cold ones, as it's fully sealed against moisture and electrolyte loss. This means that you don't have to worry about topping up or adding water regularly like you do with a regular battery.
Specs
12V

3 Capacity (10-HR)

3.4 lbs

0.4 Amps

114mm x 71mm x 86mm

50 C.C.A
Conclusion
In a nutshell, these are the best dirt bike batteries you can buy for your off-road vehicle. These are all high-quality and reliable products that will ensure that your motorcycle runs without any trouble. The prices vary according to different features so make sure you choose one that is right for you.