In this article, we talk about the best and worst enduro dirt bikes for beginners. 
Dirt biking can be a lifelong sport that can really be enjoyed by just about anyone. However, there are lots and lots of different dirt bikes to choose from and this can be a difficult decision.
Sound familiar?
If you have decided that you want to ride the trails and not race on a motocross track then an enduro dirt bike is exactly what you need.
Now enduro dirt bike can mean 2 things, that the dirt bike is street legal and is meant for offroad riding.
Nowadays there are hard enduro races which mean there are also hard enduro race dirt bikes. 
Enduro Bikes:
Trail Dirt Bikes
Trail Dirt Bikes with full size chassis
Street Legal Dirt Bikes
Enduro Race Dirt Bikes
You are here reading this article because you are just getting started and you want to make sure you get the right dirt bike for you. For example, lots of guys rush out and get a 450F thinking that would be a great dirt bike to start with but its NOT!
DO NOT GET a 450F if you are a beginner. 
A 450 is too much power and does not help you learn the proper riding technique. The best thing you can do to keep yourself safe and injury-free are to develop the proper riding technique (Check out our article on How dangerous dirt biking can be). 
Getting a bike that does not scare you allows you to focus on your riding technique and build your skills with confidence. 
Top Enduro Trail Dirt Bikes for Beginners
The bikes listed below are easy to ride and are really reliable they tend to be easy on the power and have softer suspension. Yamaha, Honda, and Kawasaki make trail bikes that have lower seat heights and smooth power. They are great bikes that come with air-cooled motors and an electric start. These bikes are easier to ride and you can touch the ground and are not considered a full-size chassis dirt bike. 
Top 3 Enduro Trail Bikes for Beginners with Lower Seat Height
1. Kawasaki KLX300R
Electric Start
Liquid Cooled 4 Stroke Motor
More modern trail-tuned Suspension
Fuel Injection
Manual Clutch
36.4 in Seat Height
282.2 lb curb weight
The Kawasaki KLX300R is a great dirt bike to start on. It comes with an electric start and a liquid-cooled motor. This allows for more power over the other 2 options and also Kawasaki has fitted the KLX300R with better suspension and more travel. This is a solid bike and is ridden not only by beginners but also advanced riders. Down side is that it's heavy.
2. Honda CRF250F
Electric Start
Air Cooled 4 stroke engine
Fuel Injection
Manual Clutch
34.8 in Seat Height
265 lb curb weight
One of the most widely sold beginner dirt bikes in the world the Honda CRF250F or CRF230F is a great choice for getting started with. Well known to hold their resell value this air-cooled 4 stroke is bulletproof. The CRF250F comes with fuel injection which means no worrying about jetting a carb. Down side is that its heavy.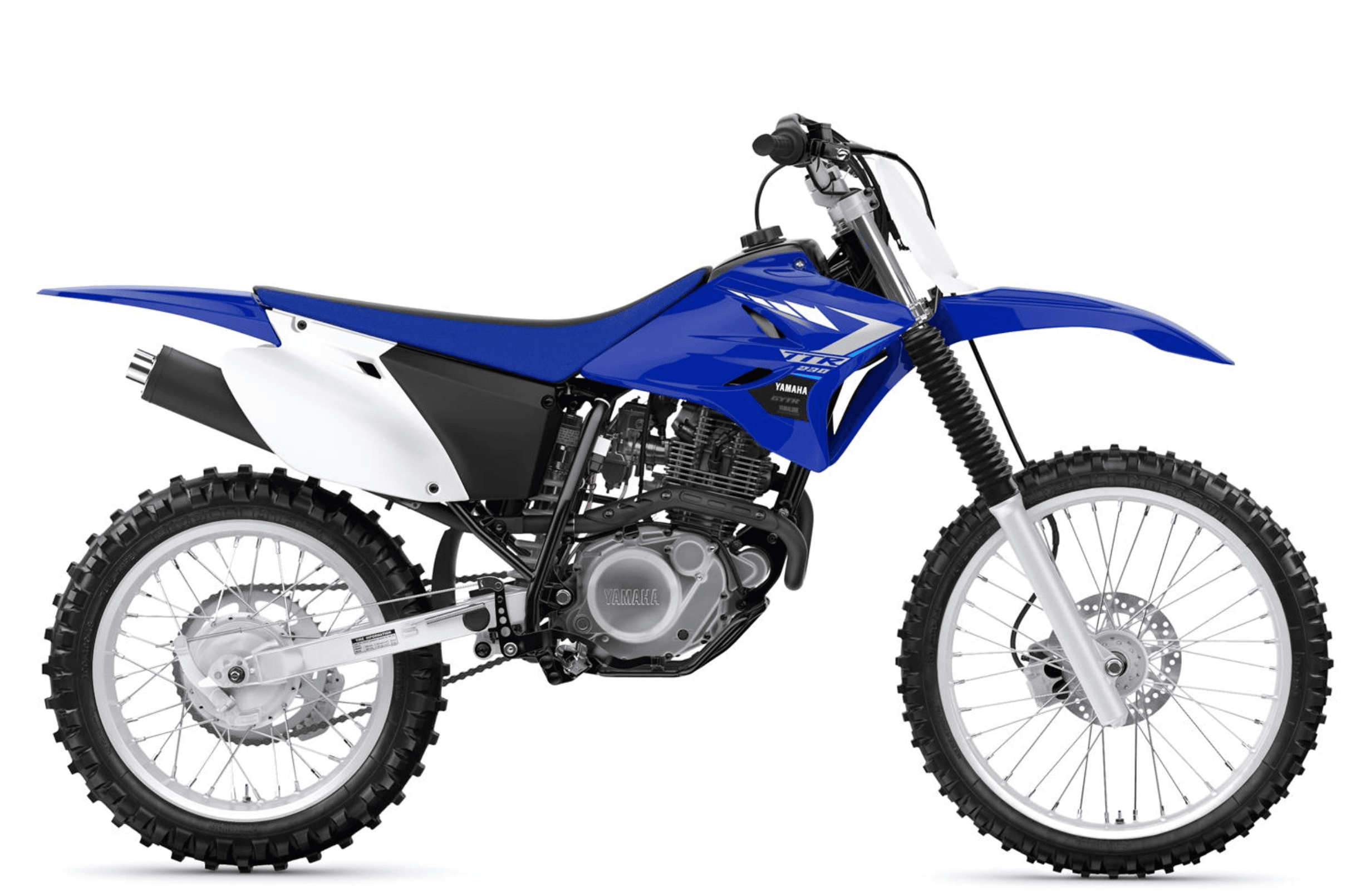 3. Yamaha TTR 230
Electric Start
Air Cooled 4 stroke engine
Manual Clutch
34.3 in Seat Height
251 lb curb weight
The TTR 230 Yamaha also is one of the most reliable dirt bikes on the market as well. This electric start air cooled 4 stroke is easy to ride and is a solid dirt bike to get started on. Down side is that it's heavy and has a carb. 
Top 3 Enduro Trail Bikes for Beginners with full size chassis
These dirt bikes are considered full-size dirt bikes which means they will have larger seat heights and full suspension. These enduro dirt bikes are also considered enduro trail dirt bikes but are based on the same platforms as their racing/motocross brothers. However, the power, suspension, and gearing are all set up for trail riding. This makes them easier to ride and are great trail enduro dirt bikes but are considered to be more powerful and harder to ride than the KLX, CRFF, and TTR models. Often considered open country or cross country dirt bikes these are good beginner dirt bikes but not as easy to ride as the others mentioned above.
The Yamaha WR250, Honda CRF250X, and Beta Xtrainer are all solid bikes if you want something to learn on but can be ridden for a longer amount of time before your skill outgrow the bike. The Beta Xtrainer is your best option if you want a bike that is easy to ride but also can do HARD ENDURO riding as well as your skills increase.
1. Yamaha WR250F
Electric Start
Fuel Injected 4 stroke engine
KYB Premium Suspension
Manual Clutch
37.6 in Seat Height
254 lb curb weight
Yamaha probably makes the best stock front forks in the industry. The WR250 is a great bike to get started on but has a full-sized chassis and a liquid-cooled fuel-injected motor. Probably the most reliable bike in this space and has more modern fit and finish than the CRF250X
The downside is that it's heavy.
2. Honda CRF250X
Electric Start
Fuel Injected 4 stroke engine
Showa Premium Suspension
Manual Clutch
37.7 in Seat Height
254 lb curb weight
The Honda CRF250X has pretty much been left unchanged since 2005. Will we see an update for 2022? The CRF250X is also a solid dirt bike for getting started. This was my very first dirt bike when I was a beginner.
The downside is that it's heavy and has valve issues. 
3. Beta Xtrainer 300
Electric Start
Oil Injected 2 stroke engine
Premium Suspension
Manual Clutch
35.8 in Seat Height
216 lb curb weight
Chances are you have probably never heard of Beta. Beta makes some of the highest quality dirt bikes for enduro and hard enduro racing. The Beta Xtrainer is a 2 stroke but don't let that stop you. This 2 stroke actually will be easier to ride on trails than the WR and CRFX. In fact, it will lug better and go slower than the other bikes. The other great thing it's MUCH lighter which is HUGE. Beta has been well known for having the best warranty in the business. We have a Beta 200RR in our garage and love it!
The downside is that they are harder to find and have a smaller dealer network.
These are the best enduro trail bikes for beginners
These are the best enduro trail dirt bikes on the market right now. You can pick any of them and you cannot go wrong. The Beta Xtrainer is the lightest and also has a seat height that is between the CRFF/TTR and the full size WR/CRF bikes. 
It's the only beginner 2 stroke that I would recommend. 
The air-cooled dirt bikes are going to be the most reliable and easiest to ride. Be aware of the seat height and the weight of the dirt bike. The taller it is the less confidence you will have and lifting up a heavy dirt bike while your out riding can be exhausting. 
Wost Trail Enduro Dirt Bikes for Beginners
Any bike that is scary to ride. That means ANY 450 four-stroke race dirt bike or any 250+ 2-stroke race dirt bike. 
STAY CLEAR of ANY motocross dirt bike for trail riding. They are not set up to ride the trails which means you will be fighting the power and suspension the entire time when you are trail riding.  
*** REMEMBER
The goal is to have fun, learn proper riding techniques and be safe. Leave your ego at the door and get a dirt bike that you can learn on first then upgrade as your skill level upgrades.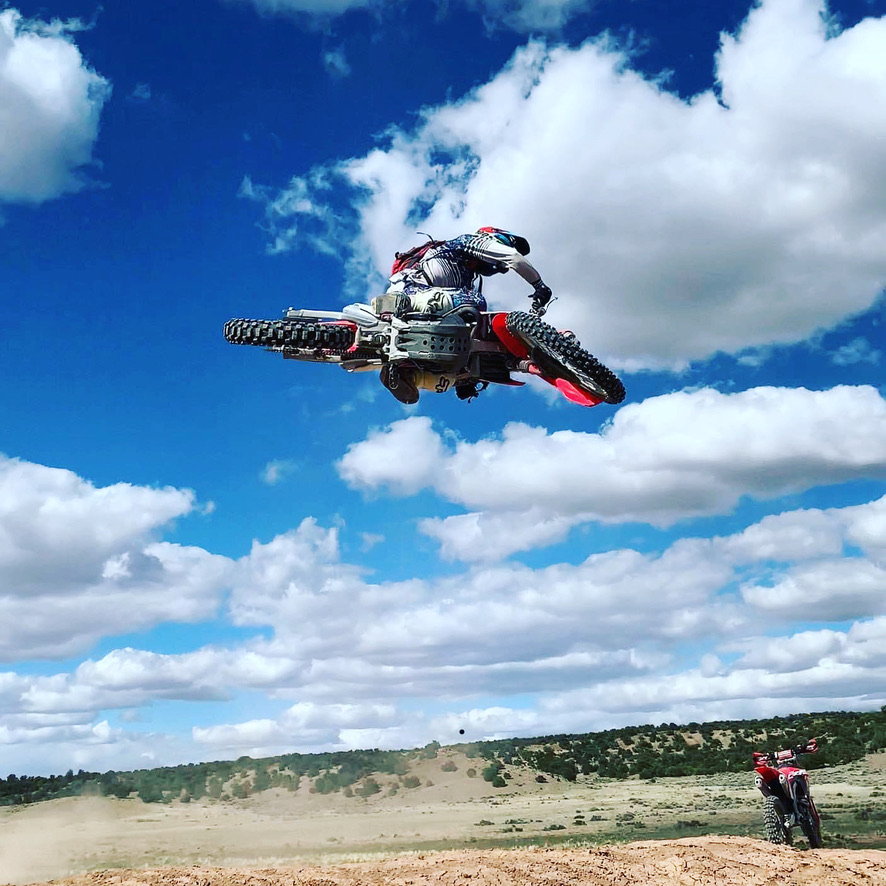 List of Enduro Trail Bikes for Beginners to avoid
WR450
CRF450X
KLX450
KTM 250/300 XCW
Husqvarna 250/300
Husqvarna 350 or 450
CRF450
YZ450
YZ250
YZ125
KX450X
Beta 430
Beta 300
GasGas 450
GasGas 350
GasGas 300
All the dirt bikes listed above are really fun great dirt bikes just not for beginners. Get a bike you can control and that is easy to learn on.
Once you have your skills dialed then make the upgrade but keep in mind jumping from a 230 to 450F will be shocking. The modern 450 4 strokes and 2 strokes are fire-breathing dragons built to race.
These are NOT good dirt bikes to learn on regardless of your size and weight. 
In conclusion, getting the wrong dirt bike can ruin your riding experience and even get you hurt. I have had friends ignore my advice and go out and buy a 450F for their first bike and they all ended up selling their bikes and getting an easier-to-ride bike. It almost ruined dirt biking for them. 
See you guys out on the trail!