In this article, we talk about the Rekluse Auto Clutch.
No matter what type of dirt bike you ride being able to get traction on your bike is probably the most important aspect of dirt biking. One of the major components of getting traction is your clutch. 
Most dirt bikes come with a "manual clutch" with the exception of the smaller youth trail bikes like a Honda CRF110 which come with a semi-automatic clutch. 
So, what if you want to make your manual clutch dirt bike into a semi-automatic dirt bike?
Is that even possible?
YES, it is. 
It's crazy to ride a full-size dirt bike that all you have to do is shift gears. You can stop in any gear and the bike will just idle. 
Rekluse (yes it's spelled that way) has been making auto clutches for dirt bikes for a very long time. These Rekluse auto clutches actually fit in the same clutch case which means you do not have to do any major modifications to your dirt bike in order to use a semi-automatic clutch.
Built-in the USA, Rekluse is headquartered in Boise Idaho.
How does a Rekluse Auto Clutch work?
An auto clutch from Rekluse works on force. This rotating force is called centrifugal force. 
Rekluse has special clutch plates that use rotating centrifugal force to push the clutch plates together when they are under a load. Rekluse uses an EXP disk that has friction on it that when under centrifugal force the EXP friction plates push so hard against each other as the bike engine revs higher. As the bike engine revs slower these friction plates start to release the tension on the clutch plates. 
Once the dirt bike is at idle the instead of a manual clutch lever having to be pulled to get the bike out of gear the Rekluse clutch plates are disengaged so you can still be in gear and the bike will just idle.
Twist the throttle and the centrifugal force will push the plates back together moving the dirt bike forward.
Who is the Rekluse Auto Clutch for?
Beginner Dirt Bike Riders
Anyone that wants a semi-automatic transmission on their dirt bike.
Let's dive a bit deeper into this question. Having a semi-automatic transmission on your dirt bike can have some advantages.
NO STALLING Your Dirt Bike will stay running without the Clutch lever being pulled in.
For example,
The Rekluse auto Clutch allows you to start the bike without pulling and letting out the clutch. You can start the bike, put it in 1st gear and then roll the throttle back but not have to worry about letting the clutch out.
This feature is REALLY nice for beginner dirt bike riders. Having to twist the throttle and let the clutch out to get the bike moving can be a challenge for new dirt bike riders.
You can also STOP the dirt bike without having to pull in the clutch lever. Also, a nice feature when you are getting started.
From personal experience when teaching others how to ride a dirt bike I have had many of them whiskey throttle the bike and then they don't want to get on the bike and learn.
Having a Rekluse auto clutch will help eliminate the dropped clutch with too much throttle twist. They can just focus on easing on the throttle to get the bike to move forward.
If the technical slow single track is your jam and you don't have a background in riding trial bikes then getting a Rekluse auto clutch might be something you are interested in.
Rekluse Auto Clutch for gnarly single track
When out on the trails riding your dirt bike you sometimes can get into sketchy situations where if you kill the bike it would be a beast to get started again. Even worse If you don't have E-Start.
No stalling the bike and you don't have to cover the clutch if you can't.
Also, because you are not worried about stalling your dirt bike this means you can carefully use the power to pick your way through technical sections.
This really helps your mental state and physical fatigue.
When out riding technical terrain it is both physically and mentally draining. The more tired I get the harder it is for me to not crash. Having proper dirt bike riding technique is really important but no matter what you will get tired mentally and physically.
Having a Rekluse auto-clutch on your dirt bike can help reduce the mental and physical drain that comes from dirt biking.
It's a great dirt bike tool to keep you out on the trail for longer.
Riders with Disabilities
Dirt biking should be for everyone but there are some people among us that have a disability that makes it hard or impossible to work a manual clutch. Having a dirt bike that does not stall and you don't have to operate the clutch to get the bike moving is really helpful.
For example, I have talked to other dirt bike riders that have crushed their left hands in various accidents that make it tough to pull in a clutch lever all day.
If you need the bike to always stay running and cannot operate the clutch the Rekluse auto clutch is for you.
Rekluse Automatic Clutch Advantages
No stalling steep hills
No stalling on downhills
No stalling on log crossings
No stalling on slow sections
No stalling in corners
No stalling in the air
No stalling on starts
No stalling on hard braking
Adjustable
So YES, you can use the Rekluse Auto Clutch just like a normal manual clutch on your dirt bike!
Does the Rekluse Auto Clutch affect Engine Braking?
No, when you slow down the centrifugal motion also slows down and starts releasing the clutch plates. You do not have any "extra" drag on the motor to slow you down.
Does a Rekluse Automatic Clutch work on any dirt bike?
The auto clutches from Rekluse are machine-specific. 
You will need to make sure the auto clutch works with your year, make, and model of dirt bike. Over the years Rekluse has really tried to build an auto clutch for every dirt bike out there but there are going to be some dirt bikes that have been left off the list. 
Below is a list of all the automatic clutches that Rekluse makes. We are going to be starting with the more advanced down to the more basic auto clutches. 
Basically, you have 2 main auto clutches from Rekluse. The Radius and the EXP 3.0. You can get these 2 auto clutches with different options like with a core or without a core. Some will replace your entire OEM clutch while others will work with your OEM clutch.
1. Rekluse Radius CX Auto Clutch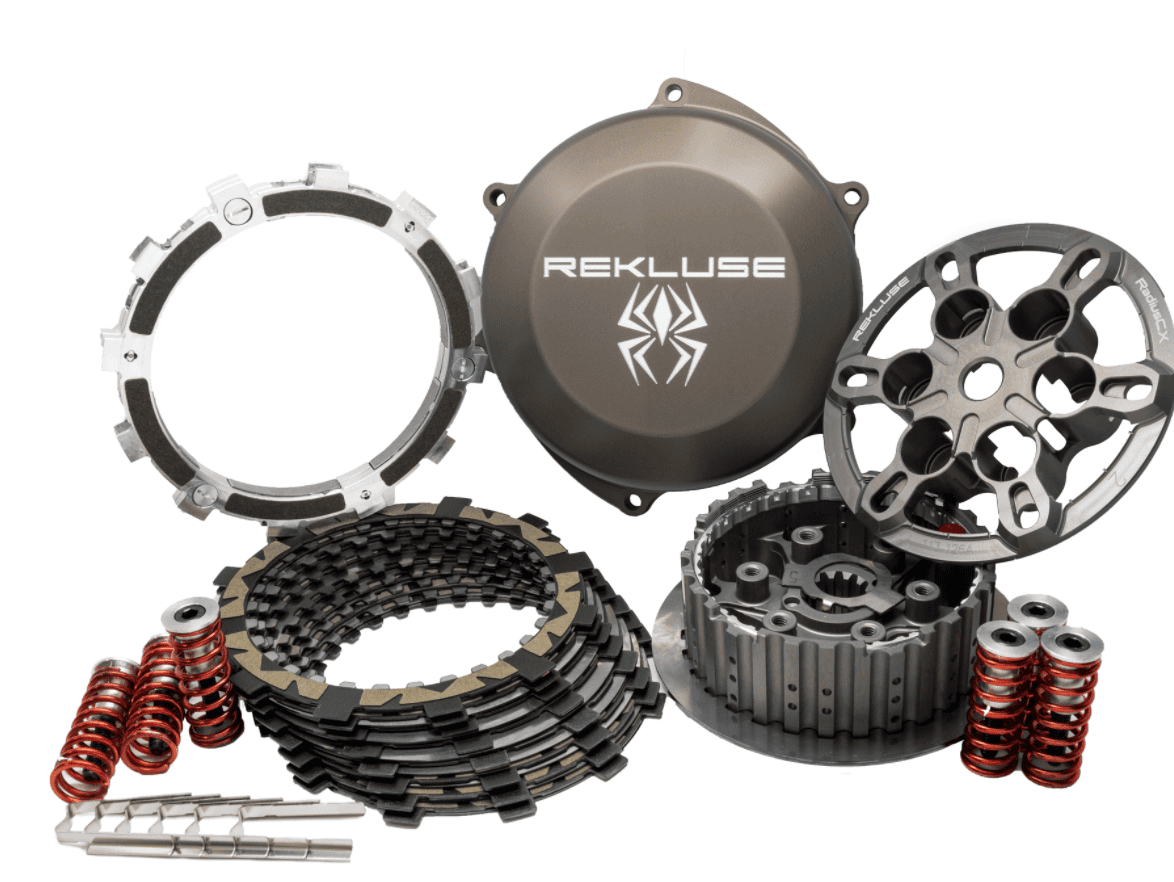 The RadiusCX auto clutch is Rekluses top of the line auto clutch for dirt bikes. If you want the very best auto clutch in the world the RadiusCX is it. It comes with all the bells and whistles that the industry has to offer. With the latest TorqDrive friction disks along with the tried and true EXP clutch disks, the performance of this RadiusCX auto clutch is the best on the market.
RadiusCX Tech Specs:
EXP plates
TorqDrive
Rekluse Clutch cover
Rekluse Core with adjustment
Better starts
More power delivered
Increased power vs manual clutch
Consistent clutch lever pull
Light clutch feel
Longer life
Fully adjustable
2. Rekluse RadiusX Auto Clutch
Just like its big brother (RadiusCX auto clutch), Rekluse has provided the RadiusX clutch that is a more plug-and-play clutch. This RadiusX auto clutch will fit in place of your OEM clutch. The RadiusX clutch comes with the EXP disk TorqDrive technology. This is ideal for the track and trail riders that need high-quality auto clutch components but don't want to pay for the RadiusCX. 
The RadiusX from Rekluse provides the dirt biker with consistent performance no matter the conditions. 
RadiusX Tech Specs:
EXP plates
TorqDrive
Better starts
More power delivered
Increased power vs manual clutch
Standard clutch lever pull
Adjustable
3. Rekluse Core EXP 3.0 Auto Clutch
The Core EXP 3.0 clutch is probably the most popular automatic dirt bike clutch that Rekluse makes. With all the latest technology and updates the Rekluse clutch is a serious auto clutch for the dirt bike rider that needs performance but does need all the bells and whistles of the more expensive Radius auto clutch. Newly re-designed the Core EXP 3.0 runs cooler than older Rekluse models. Its also designed to not fade on those long days and also provide more traction than a standard manual clutch
Core EXP 3.0 Tech Specs:
3.0 Clutch Hub
EXP
Steel drive plates
Rekluse Clutch Cover
Improved Traction
Increased power vs manual clutch
Lightweight
Adjustable
Cooler Op temps
Durable
4. Rekluse EXP 3.0 Auto Clutch
The Rekluse EXP 3.0 clutch is designed to work with your stock or OEM components. Comes with the tired and true EXP system and seamlessly will integrate with your stock clutch (machine-specific). Designed to be high quality but also affordable. 
EXP 3.0 Tech Specs:
EXP 3.0
7075 aluminum alloy
Improved Traction
Increased power vs manual clutch
Lightweight
Adjustable
Works with OEM Clutch
Durable
5. Rekluse Z-Start Pro Automatic Clutch
The Rekluse Z Start auto clutch has been around for a long time. This means it's a tried and true system that won't let you down. It comes with reliable performance and top-grade construction. You can adjust the Rekluse Z-Start clutch to suit your riding style. 
Z-Start Tech Specs:
Great for novice and experienced riders
Smooth clutch engagement
Easy to install
No stalling
Adjustable
No modification to your clutch
Durable
Conclusion
If you don't want to stall your dirt bike…..then the Rekluse auto clutch is the only way to go. Rekluse makes the highest quality automatic dirt bike clutches on the market today!
See you out on the trails.