Let's be honest……WE NEVER seem to have enough time to get that dirt bike riding in.
This means after-work rides sometimes turn into night rides and every stock headlight I have ever had flat-out stinks. Yes, it's good enough to get you home in a pinch but let me tell you some of those dark nights in the mountains I was ALWAYS wishing for more light to see further down the trail.
Sound Familiar?
Yes, you can buy much better headlights for your dirt bike and typically I do this on my enduro bikes. 
BUT….
There is still one issue…..
The headlight does not look where I look. So this is really important for being able to see whats ahead of you and absolutely crucial is you are racing dirt bikes at night.
The Oxbow Helmet Light can attach to the top or side of your helmet. 
Hell, you really can mount it anywhere and in fact, I have mounted the Oxbow Voyager light to my front number plate and used it as a headlight.
Why you need a Dirt Bike Helmet Light
The biggest reason is so you can have more fun. 
Oh wait ok so really its so you can be safe. Being able to see where your eyes are looking is crucial and to be honest, when I started really riding at night I thought it would not really be a big deal but turns out its a HUGE deal to be able to light up where you are looking.
I am able to ride WAY faster almost at the same clip as in the daytime.
This also allows me to look ahead down the trail and around corners much better as single track is not the same as Red Bull Straight Rythm. 
Safer than a normal headlight
WAY brighter than stock headlights
See further down the trail
See around Corners
Light goes with you if you get separated from your bike
Use as a back up or Spare Light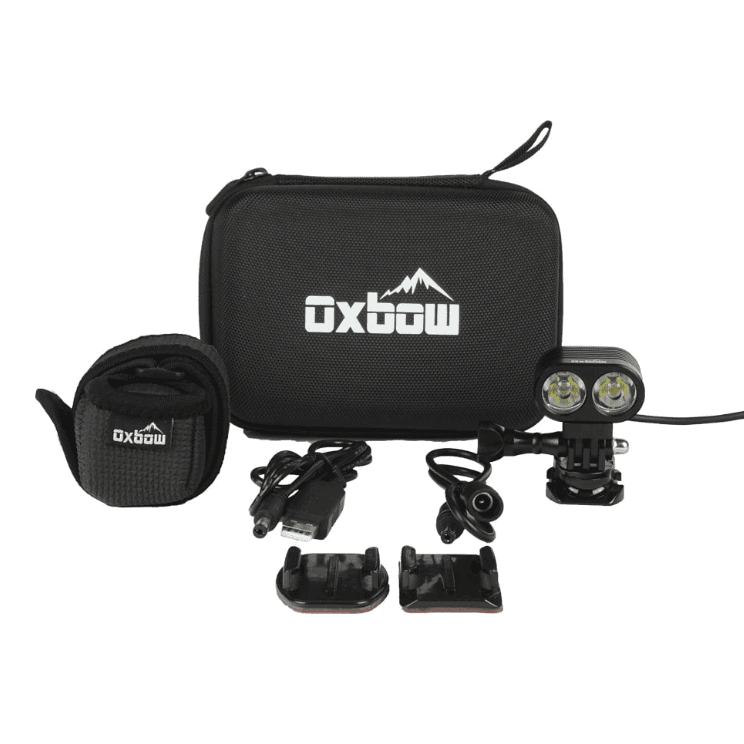 Oxbow Voyager Helmet Light Review
Alright, now that we have talked about why you need a helmet light for riding dirt bikes at night lets now talk about why you need to get an Oxbow Gear Helmet Light.
Below are the all the bells and whistles that come with the Oxbow Voyager Light.
Oxbow Voyager Light Specifications :
2100 Lumen CREE L2 LED Tech
GoPro Mount Compatible
Super Light
Long Lasting Lithium Ion Rechargeable Battery
3+ Hours on High Beam
12+ hours on Low Beam
Nice Storage Case
Really great specs but that's not the only reason why you should buy an Oxbow Voyager Helmet Light.
The Crew over at Oxbow Gear have the best customer service and have been making dirt bike helmet lights for over a decade. The entire company's crew from the owner all the way down to the warehouse crew all love dirt biking and power sports. In fact, I found out that Oxbow Gear donates to different organizations that help keep our riding areas open.
I support local small businesses that share the same vision and passion for dirt biking that we do.
The Oxbow Voyager Dirt Bike Helmet Light Kit comes with everything you need out of the box to plug and play. Easy to use and comes with extra GOPRO mounts that you can stick where you would like.
The Voyager Helmet light is designed specifically for dirt biking and has an extremely bright light that does not give you that tunneling effect that other headlights do.
Built to withstand any conditions and I use my Oxbow Voyager helmet light in the rain, dirt, mud, cold, snow and heat and I have NEVER had one fail.
Oxbow also makes Radios – Check them out here – https://dirtbikesam.com/oxbow-renegade-two-way-radio-for-dirt-bikers/
Oxbow Voyager Dirt Bike Helmet Light Kit (My Opinion)
If you can't already tell….I really love my Oxbow Voyager helmet light.
I cannot tell you how much it change night riding for me. In fact, we now actively ride at night because the light does so well and it feels like you are riding in the daytime.
This is such a fun and cool experience. Especially in the summer when it's too hot to ride during the daytime.
The ability to light up the entire trail and also light up where my head goes is a really awesome feature.
Also, for emergencies, it's a must-have as a backup or to use as a flashlight. 
Many times when we have a bike break down or issue we break out the Oxbow light.
For the price, It's a no-brainer to always have one in your riding pack or truck. Typically I have one in my truck and then one already in my riding vest or pack. 
Get one. 
Help support the Oxbow Gear brand and trust me they have the best customer service and stand by there gear.