If you own a dirt bike, you probably spend hours and hours conquering new trails and discovering new terrains in the middle of nowhere. Off-the-grid riding is an exciting experience until the unexpected happens – You suddenly have a blowout or a minor crash that requires an emergency repair on the pit lane.
One of the best decisions any dirt bike rider can end up making is looking for well-thought-out, portable, and compact dirt bike tool kits. If you have a decently stocked-up tool kit that has all the essential dirt bike tools needed for general maintenance, you'll be back on the tracks in no time. This can save you vast amounts of money and time, ensuring that your day of riding goes uninterrupted.
Having essential tools such as pliers, screwdrivers, pressure gauges, and a few hex keys in your toolset will often be enough to overcome most minor dirt bike problems. But there is more!
In this review, we will look at some highly recommended dirt bike tool kits for 2023. But first, let's find out which tools are essential for a good tool kit.
Here is a checklist of the Essential Dirt Bike Tools:
Spoke Wrenches
Inner tube
Pump
Tire Levers
Plug Wrenches
Stem Nut/Axle Nut Wrench
Chain Tools
Wire Pliers
LED torch or strip light
Valve removers
Allen Key/T handle set
Chain Breaker
Spark plug
Screwdriver bits for socket
Zip-ties
Spare nuts and bolts
Or better yet find a dirt bike tool kit that has most of these tools.
---
Here are the best dirt bike tool kits for 2023:
---
CruzTools DMX Fanny Pack Metric Tool Kit
The CruzTools DMX dirt bike tool kits are specially assembled for off-road motorcycles and ATVs. This tool kit has all the essential tools necessary to handle minor repairs to ensure that you don't spend a night in the woods.
The CruzTools DMX dirt bike tool kit forms an excellent foundation that you can use to build a complete toolset for your dirt bike.
This American-grade, mechanic grade toolkit contains:
Hex keys (4mm-6mm)
8″ adjustable wrench
Combination wrenches (10mm, 12mm)
Locking pliers
2-in-1 spark plug socket
4-in-1 screwdriver
Tire Levers
Tire pressure gauge
Mechanics wire
Electrical tape and Cable ties.
---
Pit Posse Off-Road Tool Kits
The Pit Posse Off-Road Tool Kits is a uniquely assembled and one of the most popular dirt bike tool kits that comes with a set of high-quality dirt bike tools and accessories. This tool kit has all the essential tools to handle any off-road bike emergency, giving you the confidence to blaze new trails like a pro.
This tool kit comes with the following dirt bike tools:
Three-way T-handle with 8, 10 & 12mm sockets
Zip Ties
Spring Puller
Tire repair kit
Adjustable wrench
6-in-1 spoke wrench
6-in-1 screwdriver
2-in-1 Spark plug socket
Assortment metric bolts
8, 10, 12, 13, 14mm wrenches
Locking pliers
9pc Metric hex set
Pair of tire irons
Tool pack
---
BikeMaster 17-Piece Tool Kit
The BikeMaster 17-Piece Tool Kit is specially made for trail dirt bikes with a poor or no tool kit. It has everything that a dirt biker would need to get back on the trails. This tool kit has a heavy-duty roll-up bag with perfectly placed pockets and fully adjustable hook-and-loop cinch straps. However, it is designed for metric machines.
The BikeMaster 17-Piece Tool Kit has the following dirt bike tools:
Pen-type tire gauge.
6 Open-ended wrenches
10 mm combination wrench
Locking pliers
Flashlight
Mechanic's safety wire
Electrical wire
Ten piece metric hex key set
18mm spark plug socket
21mm spark plug socket
Spark plug gap gauge
Electrical tape
Heavy-duty tool bag
---
Apollo Tools Kit 56 Piece
The Apollo Tools Kit 56 Piece is a small dirt bike tool kit in a compact, high-quality zipper case for easy packaging in a backpack, a motorcycle saddlebag. The dirt bike tools in this toolset have been expertly crafted using advanced technologies and are optimized for performance and functionality. In addition, tools are heat treated and chrome plated to resist corrosion and come with a lifetime warranty as a sure sign of their quality.
This tool kit includes:
Bit Driver
Ten Cable Ties
Tire Gauge
3/8″ Drive Ratchet Handle
3/8″ x 1/4″ Adapter
6″ Slip Joint Pliers
Ratchet Handle
7 Drive Sockets with Holder
Sparkplug Socket
8 Metric Hex Keys
Carrying Case
---
Motohansa Pro Compact 38 Piece Tool Kit for KTM, BMW and Japanese Motorcycles
The Motohansa Pro Compact, 38 Piece Dirt Bike Tool Kits are uniquely designed with specific fitments for BMW, KTM, Honda, and other motorcycles. Designed by Simon Pavey (Renown Paris Dakar Ride), this toolset contains a comprehensive selection of tools that are a perfect fit for the rider looking for a more compact, lightweight kit.
The Pro Compact Kit contains the following dirt bike tools:
1/4″ to S2 Bit adaptor
Motohansa Multi-Tool
9 x 1/4″ Chrome-vanadium, Flank-traction system sockets
1/4″ Drive Flexi Head Ratchet
1/4″ 100mm Extension bar
24 x Quality Sandblasted S2 bits
Heavy-duty, water-resistant tool roll
---
CruzTools RoadTech KT1 – Best for KTM and Husqvarna dirt bikes
The CruzTools H2 Economical Tool Kit is a bike-specific tool kit specially made for KTM and Husqvarna dirt bikes. So if you own any of those brands, this tool kit has everything you need to solve pesky trailside problems.
Some of the dirt bike tools in this toolset include:
8″ adjustable wrench
8, 10, 13mm wrenches
27x32mm combo axle wrench
Mini ratchet and extension
Tire pressure gauge
Blue thread locker
6-in-1 screwdriver
Mini ratchet and extension
Locking pliers
Zip-ties
Mechanics wire
A tool roll
---
Kincrome Dirt Bike Tool Kit – Favorite among motocross riders
The Kincrome Dirt Bike Tool Kit is a must-have for dirt bike owners. This trusty tool set comes in a tough and durable polypropylene & polyester, with a PVC lining bum-bag with enough spaces and pockets to hold all tools and accessories that you need to conquer the most challenging trails.
This tool kit contains:
Pen Type Tyre Gauge
Roll Tie Wire
One 6-in-1 Screwdriver
2 Tyre Levers
5 Sockets 1/4″ Drive
3 Bundles Cable Ties
1 Hex Key Set 7Pce Metric Sizes
1 Long Nose Plier
1 Long Nose Locking Pliers
4 Combination Spanners
1 3 Way T-Bar
Bum Bag
---
RIFTWILD Metric Motorcycle ATV UTV Tool Kit – Lightweight
The RIFTWILD Metric Motorcycle ATV UTV Tool Kit is a lightweight tool kit made for Japanese bikes. The RIFTWILD dirt bike tools are perfect for Honda, Yamaha, Kawasaki, Suzuki, and KTM bike owners looking to build a complete off-road set. This toolset is small and compact enough to take on your trail rides and has high-quality tools, including:
Slip-joint Pliers
Pin Wrench with Tappet Slot
Reversible Phillips/Flat Screwdriver
Spoke Wrench
Open-Ended Wrench set
Box Wrench
23mm Socket
16/17mm Socket Including Sparkplug
Tool Bag
---
Motion Pro 08-0135 Jumbo Chain Tool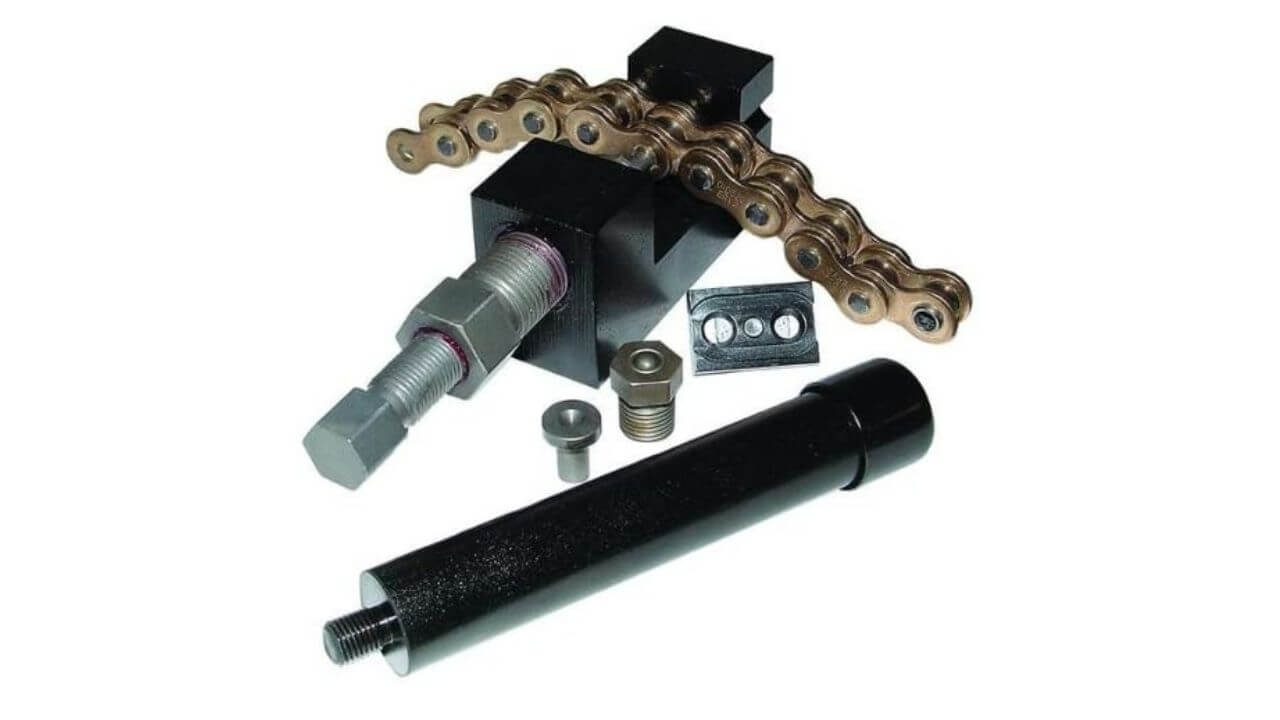 The Motion Pro Jumbo Chain Tool is designed to break roller chain 520 up to 630 and can rivet chain up to 530. Made from chrome-moly steel, Motion Pro's attachment and screws are heat-treated for strength and durability. In addition, the extra size of these sturdy tools and the handle make them incredibly simple to use. This tool is a must-have in your toolbox if you often take your bike out in the woods.
---
Motion Pro TiProlight Titanium 4 Piece Wrench Set
Motion Pro TiProlight dirt bike tool kits are made of tool-grade, rust-resistant titanium alloy that ensures that the wrenches are superlight than other standard spanners. The Motion Pro wrenches are designed for strength and performance. Their ergonomic handle and laser-etched markings make these wrenches a perfect choice for trail tool packs. This dirt bike tool kit contains four ultra-premium wrenches (8mm, 10mm, 12 mm, and 14 mm) recommended for trail and road tool pack use. However, they are perfect for off-road riding as well.
---
FAQ
How much should I spend on a new dirt bike tool kit?
The best tool kit will include the most important tools for your bike and also allow you to be prepared for any repairs that may come up. You can expect to spend between $40 and $160 on a dirt bike tool kit. The most expensive kits usually contain all of the essential tools.
What tools do you use the most on your bike?
The essential tools are wrenches, chain tools, and tire levers. However, if you want to be prepared for anything that may come up during your riding season or have a complete set of wrenching tools, you can go all out with one of the essential dirt bike tool kits.
How much maintenance do dirt bikes require?
Depending on the type of dirt bike you own, maintenance can vary. If your bike is for trail riding, then it will require less maintenance than if you are racing off-road. Just to be safe, inspect your dirt bike. You should clean and lube your chain at least once every ride to prevent rust and wear.
---
Conclusion
Many things can go wrong with a dirt bike. When you ride, you risk breaking something. If your dirt bike breaks down in the middle of nowhere, you may be stranded. You also need to know how to maintain and fix your dirt bike, so it's always ready for the next ride. If you buy the right tools and kits, you'll never have to worry about anything again! These items will allow you to do everything from changing a flat dirt bike tire to fixing a broken chain. Having the right dirt bike tools and tool kits is essential. They will ensure that your dirt bike is always ready for any adventure!