In this article, we talk about the best chainsaw mounts for dirt bikes
Alright, so you ended up here because you are interested in carrying a chainsaw while you are out riding singletrack. A chainsaw mount typically mounts to the front of your dirt bike where your number plate is and straps onto your forks.
There are a few solid options that allow you to carry a chainsaw into the backcountry for clearing out those chest-high logs that cannot be crossed.
Spring trail cleanup!
We have used our chainsaw dirt bike mount for all sorts of things other than a chainsaw. 
Gas Can hauler
Water hauler
Tool hauler
Antler Shed hauler
kid hauler kidding…
What type of chainsaw works best for carrying on your dirt bike?
An arborist chainsaw….
Stihl
Echo
Husqvarna
Ryobi
Dewalt
An arborist chainsaw is a more compact, lighter saw that still packs a pretty good punch in order to cut through some of the bigger logs you encounter. The Echo Arborist chainsaws are a favorite among the trail cutting crews.
Don't forget to pack extra gas and bar oil for your chainsaw!
Finally, there are also some pretty good battery-powered chainsaws that work well.
No matter what your trail system is like or where you ride being able to keep your trails clean and clear of brush and fallen trees allows a better single track or riding experience. 
Every spring once the trails are not wet we head out into the mountains to start clearing all the trees that fell during the winter storms.
We also use our chainsaw mounts to help us open up new trails on our cabin property.
Having a chainsaw makes for quick work versus a standard handsaw like the silky big boy saw.
Chainsaw Mounts for your Dirt Bike
Below is a list of all the chainsaw mounts for dirt bikes that I am aware of. If I have missed any please email me a sam @dirtbikesam.com
The list is not in any order.
Enduro Engineering Dirt Bike Chainsaw Mount
Enduro Engineering makes some of the best bolt-on dirt bike parts on the market. The Chainsaw mount is not different. Built from high-quality aluminum this is a saw mount that is built to last and you can easily move it from dirt bike to dirt bike.
Built to fit on most dirt bikes and with chainsaws with a 16″ bar, you can use most chainsaws with this mount. A plastic sleeve that protects the bar of your chains and you have straps that help secure it and keep it in place while you are riding.
Enduro Engineering Chainsaw Mount Specs
Non-Scuffing Fork Leg Mounting Blocks
Fits chainsaws up to a 16″ Bar.
Fits Most Dirt bikes
Easy Installation
Adjustable Mounting straps
Trailcutters Chainsaw Number Plate Rack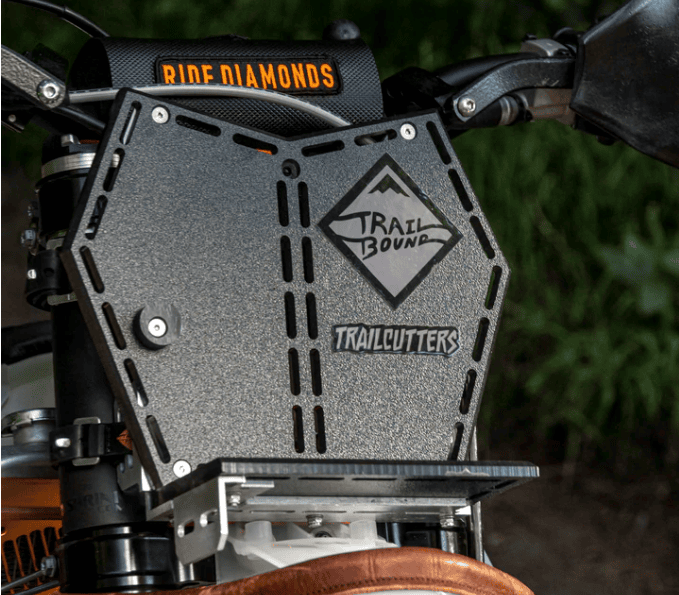 This Trailcutters chainsaw mount was developed and built by hardcore dirt bikers and trailcutters.
Built to last and also fit all sorts of different dirtbikes and chainsaws. There is an XL Trailcutter as well for the top handle chainsaws and larger bars. Included with the chainsaw mount kit you get the mounting straps to hold the mount to the forks and also for securing the chainsaw to the mount.
Trailcutter chainsaw mount
Machined aluminum frame

Adjustable rubber straps

Quick to install

Multiple mounting points for different saws or cargo

Included sheath bracket mount that bolts into your existing sheath  
Bill Dart Dirt Bike Chainsaw Mount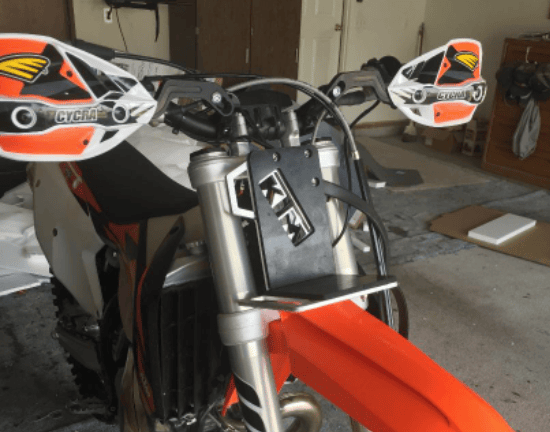 Bill Dart is a legend when it comes to trail-cutting knowledge and time behind the saw. His chainsaw is no expectation and is compact, and lightweight but effective.
Bill builts chainsaw mounts for all the major hard enduro dirt bike brands
Beta
Sherco
Husqvarna
KTM
Husaberg
Conclusion
We love our chainsaw mount and typically have it mounted to one of our dirt bikes all riding season. Right now it's mounted to our 2020 Beta 200RR and we use it almost weekly. We have a Stihl arborist saw and Ryobi battery-powered chainsaw that we use for cutting trails.