Riding boots…
Are probably one of the most crucial parts of your riding safety gear while dirt biking.
I DO NOT RECOMMEND RIDING DIRT BIKES WITHOUT PROPER DIRT BIKE BOOTS OR GEAR.
Lots of people out there think that they can skip the riding boots….because hey I have those old leather army hiking boots that are tough. Right?
I cannot tell you how my dirt bike riding boots saved my feet, ankles, and shins many times.
No matter if its motocross or simple trail riding having a quality set of riding boots is a MUST.
Why is it important to have protective dirt bike boots?
Riding dirt bikes is exhilarating, and the reason for that is it can be more dangerous than other sports. That doesn't mean you can't take the proper steps to protect yourself.
Dirt Bike Riding boots are an essential piece of the safe pie!
Dirt bike foot and toe protection
Dirt bike riding boots are designed to protect your entire foot, ankle, and lower leg.
What do dirt bike riding boots protect your foot and toes from?
I can tell you that I personally have kicked rocks, trees, tree stumps, and all sorts of things. When riding dirt bikes your feet and lower legs are exposed to all sorts of things. The last thing you want is to bust up your foot.
I once kicked a boulder while riding singletrack that I didn't see as it was hidden under a bush. This resulted in my toenails jamming back and up and my riding boot filled up with blood. While it hurt like hell…if I had been riding "heavy-duty hiking boots" my toes would have been shattered.
Dirt Bike Ankle protection and Support
Dirt bike riding boots have built-in ankle support. In fact, some of the more expensive higher-end dirt bike riding boots even come with an ankle brace.
Why do you need ankle support when riding dirt bikes you ask?
G-OUTS
Bottom outs
Casing
Foot plants
Get-offs
If you have ever experienced a "G-OUT" or "Engine CASE" you will know why you need ankle support.
Basically, a G-OUT is when you go from a quick transition from downhill to uphill which results in the entire dirt bikes suspension bottom out. This puts a ton of pressure on your ankles as you slam into the uphill side. Without a proper dirt bike riding boot, this could result in a sprained or broken ankle.
Engine casing is when you hit a jump and smack into the other side of a jump resulting in compressed suspension like a G-OUT.
This also can result in a broken or sprained ankle.
Motocross riders do not tend to plant their feet as much as the enduro trail riding dirt bikers do. When out riding a technical single track, you tend to "plant" your feet when pivot turns or catch yourself and the dirt bike from falling.
Same story here….dirt bike riding boots help protect your ankle.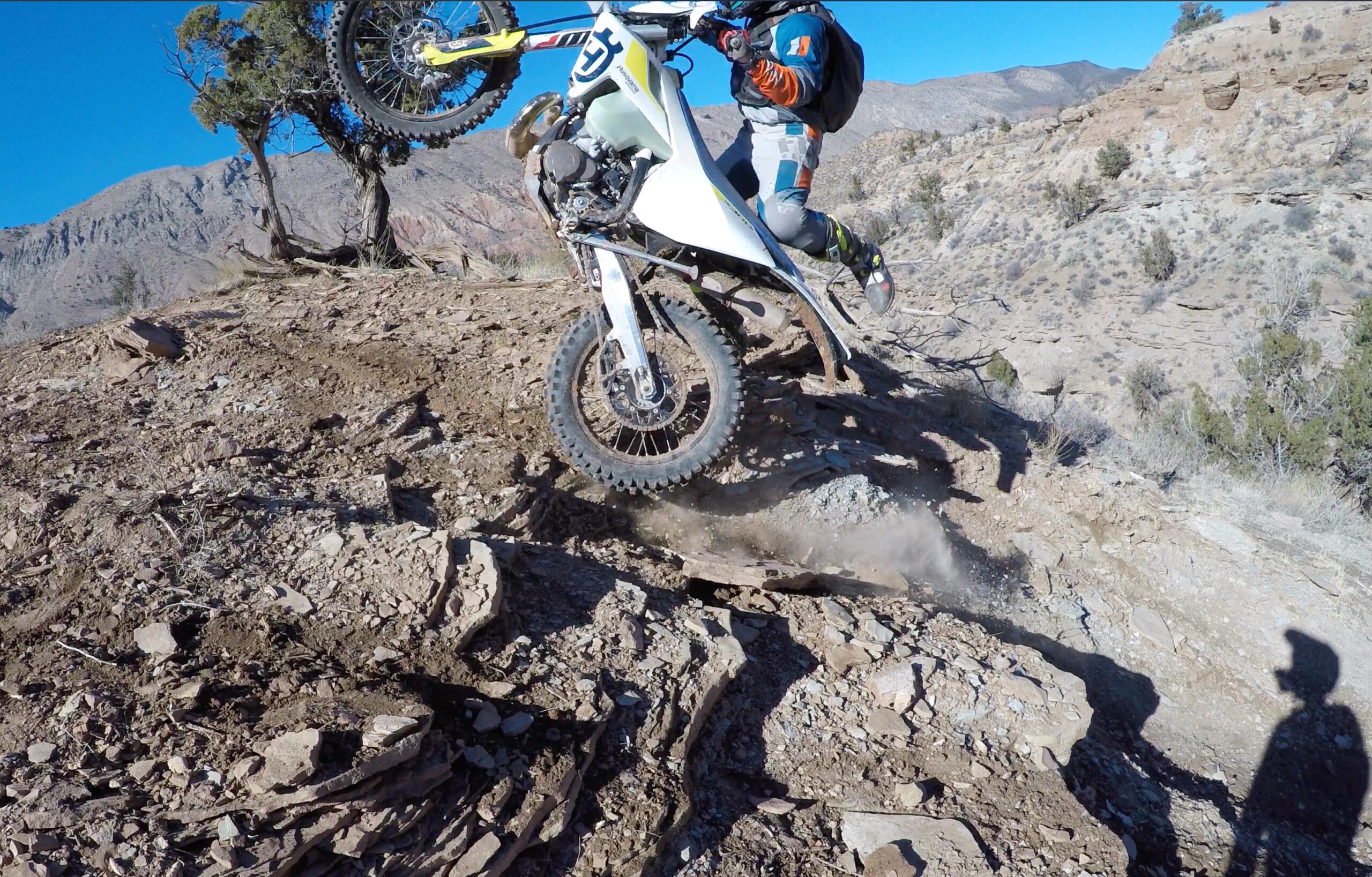 Why do you need dirt bike riding boots to protect your lower leg?
Riding boots also protect your lower leg and shin.
Protect them from what you ask?
Have you seen the teeth on those dirt bike pegs??
Here is a list of what dirt bike riding boots protect you from:
Your Pegs
Heat/burns
Sticks
Rocks
Now that we have discussed why you cannot ride without dirt bike boots…. let's dive into how to select the right dirt bike riding boot for you. 
How to select the right dirt bike riding boot for you
My #1 rule of thumb with it comes to riding boots is to buy the best ones you can afford.
Just like shoes its important to remember that EVERYONE's feet are different. That means a dirt bike riding boot that your buddy has doesn't actually mean it would be a good fit for you.
What does this mean for you?
You need to try on lots of different dirt bike boots to make sure that they fit well. Keep mind most dirt bike boots have some sort of break-in period.  The stiffer the boot the more break in it typically takes.
Who makes the best dirt bike riding boots?
Below is a list of all the major dirt bike riding boot manufacturing players. These are the companies that build high-quality dirt bike boots. Some are better than others but this list is just a list of all the boots.
You can spend anywhere from $100 – $700 on a pair of dirt bike riding boots. They are an investment for sure that's why it's important to try on a bunch of different pairs of riding boots.
List of the dirt bike boot companies:
Alpinestars
SIDI
Fox Racing
Gaerne
Answer Racing
A.R.C
Fly Racing
Forma
Leatt
Moose Racing
O'Neal Racing
Shift
Thor
Next, I am going to list out all the companies that make dirt bike riding boots and this list will have their top dirt bike boots first and go from there. 
ALPINESTARS DIRT BIKE RIDING BOOTS
Alpinestar TECH 10 Boots
When it comes to dominating the motocross track, you need boots that can handle the abuse. That's where the Tech 10 comes in – an all-new boot design that sets a new standard for performance and protection. This boot is perfect for both experienced riders and beginners with lightweight and durable construction. Plus, thanks to a redesigned fit that gives you superior flexibility and comfort, you'll be able to take on any terrain with ease. With Alpinestars TECH 10 BOOTS, you get boots designed to provide you with the utmost performance. Thanks to the Frontal Flexion Control Frame, which helps to stabilize your ankle, the Asymmetrical Dual-pivot Arms, and the patented Dynamic Heel Compression Protection Shock Absorber, you can trust that your feet are being taken care of.
Alpinestar Tech 8RS
With Alpinestars Tech 8 RS, you can rest assured that you're getting the best possible performance. The boot's full inner bootie ensures a great fit and comfort, while the innovative buckle closure system makes it easy to get on and off. Plus, the boot's new tread pattern provides superior grip and stability when performing at your best. These boots are designed with premium materials and protection technology to help you tackle the toughest tracks. Featuring a dual-density, high grip sole, this boot is sure to provide you with unbeatable levels of safety and performance. Whether you're riding dirt or pavement, this boot is perfect for riders who want the best protection and performance.
Alpinestars Tech 7 Enduro
Enduro riders demand performance, which is why Alpinestars has designed the Tech 7 Enduro boot with a compound sole to provide superior durability and grip. The boot promotes core stability and flexes via a biomechanical pivot while offering excellent ankle protection. If you buy Alpinestars Tech 7 Enduro you will experience the progressiveness of Alpinestars technology in the dirt. The boot chassis has been designed to give a complete feel and optimized interaction with bike controls, while the innovative buckle system allows easy, precise closure.
Alpinestars TECH 7
With the Alpinestars Tech 7, you get a boot that is designed to be as light as possible while still providing excellent protection for your feet. The boot is made from a combination of aerodynamic and protective materials, allowing you to ride with confidence knowing that you are safe. Additionally, the biomechanical pivot provides excellent ankle protection, ensuring that you are never left vulnerable on the ground. This boot chassis was specifically designed to give a complete feel and optimized interaction with bike controls, while the innovative buckle system allows easy, precise closure. With its aerodynamic design and high-quality materials, this boot will help you ride faster, easier, and with more control.
Alpinestars Tech 5
The Alpinestars Tech 5 is the next step in motocross and off-road boot design, combining the highest level of rigidity with the latest materials and construction technologies. This boot is made of a composite body and panels made from two different materials to provide extreme strength and durability. With its advanced multi-material construction, this boot is also flexible enough to handle any terrain. The Alpinestars designed the Tech 5, incorporating an innovative microfiber chassis and medial biomechanical pivot system for excellent levels of support and stability. The extended accordion flex zones ensure that you have a perfect fit no matter what your riding style.
Alpinestars Tech 3
The Alpinestars Tech 3 is the latest innovation in motocross and off-road boots, incorporating track-proven performance technologies into an anatomically profiled performer that features protection and comfort. The Tech 3 is a durable yet lightweight main shell that is constructed from TPU for impact protection and a hardwearing finish. Additionally, the boot features a new anatomical toe design that allows for unrestricted movement and an integrated air chamber that provides superior breathability and heat regulation.
SIDI DIRT BIKE RIDING BOOTS
Sidi Crossfire 3 SRS
Sidi Crossfire 3 SRS are now with a thermoplastic front shin plate, with innovative graphic designs that are anatomically shaped and replaceable, also utilizes four micro adjustable buckle closures, with indented memory-regulation straps. Sidi Crossfire 3 SRS has 2 articulated joints that eliminate road fatigue for a more natural movement. You'll love the responsive handling and smooth ride on your adventure.
Sidi Crossfire 3 TA
Say goodbye to aches and pains in the ankle with Sidi's Crossfire 3 TA. This revolutionary ankle pivot system is designed to have a "hard" limit of foot/ankle hyperextension, making it the perfect choice for anyone who wants to enjoy activewear without worry. The laminated Techno-micro is used as the base material in all areas for an ultra-sleek and cool design. The calf plate system features an inner double adjustment that expands to fit even the largest calf or knee brace, providing extra stability and support. With its nylon insole and TA sole, this shoe is made to provide superior comfort and performance. The TA sole is made of anti-skid rubber and can be replaced by a cobbler, making it suitable for riders who may walk in their boots.
Sidi Crossfire Atojo SRS
The Sidi Crossfire Atojo SR comes with a PU shin plate that is anatomically shaped, ensuring maximum protection for your shins. It also features a replaceable buckle system that makes it easy to get the perfect fit. Atojo SRS has two flex points: the first is under the ankle and the second is above the ankle, ensuring a natural and secure movement while riding. The Sidi Crossfire Atojo SRS boot is designed with three anti-hyperextension systems to ensure your feet stay firmly in place. Located on the first hinge, the back of the boot, and the frontal system, this boot ensures you don't have to bend backward or risk further injury. For riders who want a boot that is both comfortable and secure, the Sidi Crossfire Atojo SRS is the perfect option.
Sidi Crossfire 2 SRS
The Crossfire 2 SRS is a premium off-road boot from Sidi that brings significant technical capabilities in addition to improvements over the original Crossfire. The Crossfire 2 SRS is created to keep your foot down and safe with firm materials while still allowing you a sufficient range of movement and mobility, including a more rigid feel and somewhat narrow fit than other typical boot varieties.
This Sidi Crossfire model has this features:
Replaceable shin plate

Replaceable metatarsus insert

Micro-adjustable and replaceable buckle system

Adjustable calf system

Dual flex system upper
Sidi Crossfire X-3 Enduro
Like all dirt bike boots from Sidi, this model X-3 Enduro has Micro-Adjustable and Replaceable Buckle System that utilizes four micro adjustable buckle closures, with indented memory-regulation straps. This boot is equipped with a system like Verterbra System that is used on Sidi's Road Racing boots to make it more flexible and a joint, the Flex System, where the plastic heal ends. This makes the boot more resistant to bending and provides a better riding experience overall. Sidi's Crossfire X-3 Enduro provides incomparable protection with its rigid, shock-resistant, anatomically shaped heel cup and toe area covered with plastic reinforcement. So whether you're a beginner or an experienced rider, this boot is made for you! Ride in comfort and safety knowing that you have the best possible protection on your ride.
Sidi Agueda
As I said before, all Sidi dirt bike boots have the Micro-Adjustable and Replaceable Buckle System that utilizes four micro adjustable buckle closures, with indented memory-regulation straps. This model is surprising light wear and protective at the same time. Constructed from tough, abrasion-resistant leather with a textile overlay for extra protection, the heel cup, and toe area are both covered with a plastic reinforcement that provides rigidity and shock resistance. Even in its lightwear state, this Sidi Agueda gives supreme comfort and protection when on your dirt bike.
FOX RACING DIRT BIKE RIDING BOOTS
Fox Racing Instinct Boots
The Fox Racing Instinct boots are perfect for riders who demand the best in protection and comfort. Constructed with lightweight, durable leather that provides superior abrasion and impact resistance and textile overlays on both heel cup and toe area to provide even more protection, these boots are made to be worn all day long. In addition to the Buckle System that allows for great flexibility when putting them on or taking them off, these boots are also outfitted with Fox's Air-Cushion Fit System, which provides unprecedented comfort and stability. Whether you're cruising around the track or just spending a day on the trails, these boots will bring you years of enjoyment.
Fox Racing Comp R
The Fox Racing Comp R boots are made to provide maximum protection while standing up to whatever your riding may bring. They are constructed with rugged, abrasion-resistant leather reinforced on the heel cup and toe area by Q-Flex technology and feature Air Cushion Rubber foams that prevent arch fatigue and offer extreme comfort along the entire length of each boot. Their outsole provides excellent traction even in soft terrain or when extra cushioning is needed for standing or squatting. When standing, they provide security, stability, and built-in arch support with the stiff construction of their heel cup that keeps it securely held on your foot during challenging riding conditions.
Fox Racing Comp
With all of the features offered in the Fox Racing Comp boots, these are perfect for riders who demand top-level protection and comfort. Constructed with a tough, abrasion-resistant leather reinforced on the heel cup and toe area by Q-Flex technology and textile overlays on both heel cup and toe area to provide even more impact resistance, these boots are made to be worn all day long. In addition to their Air Cushion Rubber foams that offer a great deal of arch protection, these boots are available in one up to two sizes larger than everyday footwear. Even on a soft footing or when extra cushioning is required for standing or squatting, the outsole provides excellent traction. Their stiff construction of the heel cup that holds it securely against your foot during complex riding conditions includes security, stability, and built-in arch support when you start riding your bike. 
GAERNE DIRT BIKE RIDING BOOTS
Gaerne SG-12
Gaerne SG-12 is a perfect combination of protection and comfort. A dual-stage pivot system for more aggressive riders, an anti-shock composite sole for greater connection to the pegs, slimline inner grip guard panels for better control and grip of the bike, and a memory foam interior for a precise fit are all features of the SG-12. Because their buckle system makes getting in and riding simpler, riders can concentrate more on the experience. SG-12 boots offer you the utmost assurance that every aspect has been considered to provide you with the finest experience. Experienced hands make the boots in Italy layer by layer as they build support, security, and comfort into each boot.
Gaerne SG-10
Gaerne dirt bike riding boots are designed for riders that demand the best. Offering a tried and proven product perfect for those who require a premium fit, these boots will help you take your riding to the next level. With features like a durable leather construction and an unforgettable fit, these boots will be a part of your motocross gear. Whether racing or just out for a fun ride, Gaerne SG-10 dirt bike boots will help you stay on the track and in the game!
Gaerne Fastback
Gaerne Fastback dirt bike boots are made with a sleek new look and a lightweight ankle pivot system, and these boots are sure to turn heads. They come with an exclusive Gaerne "wrap around" ankle pivot system that provides you with more ankle support while being comfortable to wear. This boot is perfect for any weather condition with its alloy buckles, heavy-duty burn guard, toe bumper, and fashionable design.
Gaerne GX-1
The anti-torsion structural support features two lugs that slide inside designed pockets by allowing flex in both directions and reducing front and rear overextension. Suede stamps were added to the upper side to enhance grip and heat resistance. The closure system consists of four light-alloy replaceable buckles that make it simple, quick, and accurate to close. By removing the first two buckles on top, you may increase the aperture to fit a larger leg or knee brace. The shoe's high grip rubber compound sole provides toughness, sure grip, and exceptional feel while riding. As I previously said, all Gaerne dirt bike boots are manufactured with superior materials in Italy. As a result, you will not make a mistake when choosing a Gaerne model.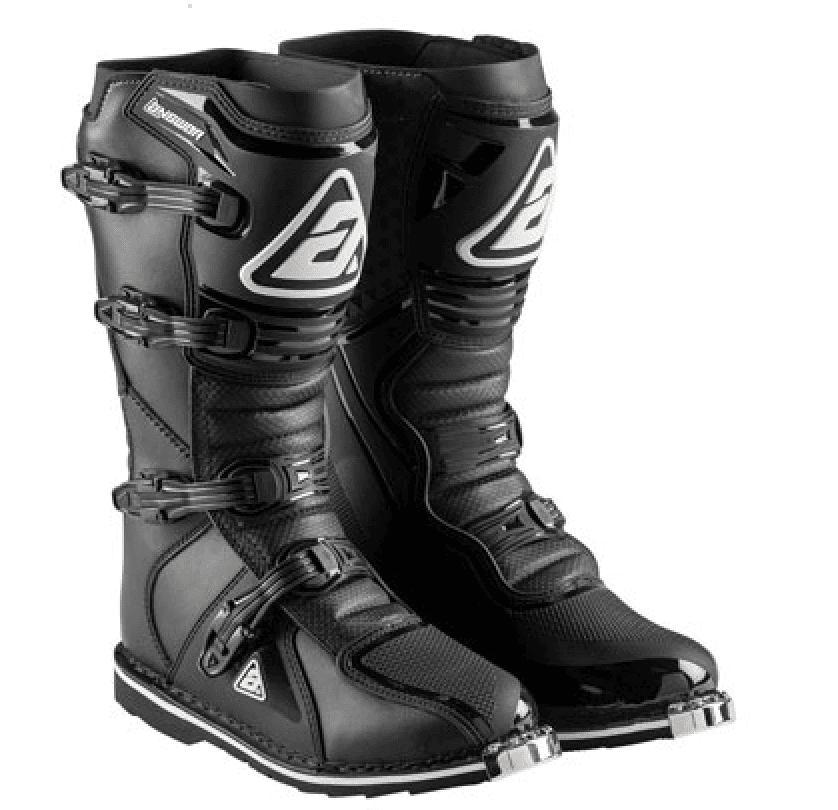 ANSWER RACING DIRT BIKE RIDING BOOTS
Answer Racing A22 AR-1
Answer Racing's unique boots design is made to provide superior protection and durability for you while riding your dirt bike. Their boots are made with a synthetic and plastic combination, making them lightweight and durable. The upper is also four-layer and has a seamless construction for a foolproof and long lifespan. The sole system is easy to re-sole when the time comes, making it easy for you to keep your boots for many years. Also, I have to mention that these dirt bike boots are one of the cheapest that you can find on the market, yet very protective and comfortable.
A.R.C DIRT BIKE RIDING BOOTS
A.R.C Motocross
A.R.C Motocross are dirt bike riding boots that you can find at an affordable price. The micro-fiber construction and reinforced molded soles of A.R.C Motocross boots provide excellent grip on or off the bike, no matter where you ride. Even with gloves on, fully adjustable positive-lock buckles are tough and simple to use, securing a perfect fit every time. The boot is comfortable and durable thanks to its inner padded ankle and integrated flex panels.
FLY RACING DIRT BIKE RIDING BOOTS
Fly Racing FR5
Fly Racing FR5 dirt bike riding boots has impressive features. This shift panel offers a softer inside that protects the boots from premature wear, and it is made of 3D molded plastic with added grooves and texture. The ankle and collar are also adjustable for a snug and comfortable fit. This shift is ideal for people concerned about their driving experience because of its open design that keeps dirt from clogging the function. The enhanced stability and support and decreased "break-in" time are all achieved with this revolutionary one-piece plastic injected midsole. The rubber heat shield is durable, won't melt, and has an excellent grip. So, whether you're aiming to win big or just have a good time while doing it, Fly Racing FR5 is a perfect choice!
Fly Racing Maverik
Fly Racing Maverik boots are also made with a 3D molded plastic shift panel with added grooves and texture that saves the boot from premature wear. The articulated rear ankle provides subtle flexibility to bend the foot however remains supportive. The inner ankle panel made of durable and flexible plastic ensures that the boot stays in place while you're cornering at high speeds. The outsole rubber compound provides good levels of grip while remaining durable, making it perfect for slippery tracks. Have to mention that the molded outsole offers a modern, stylish look and helps keep the weight down.
FORMA DIRT BIKE RIDING BOOTS
Forma Terra Pilot FX
This rugged dirt bike riding boot is meticulously constructed with injection-molded protection and a steel Shank, perfect for those days when you need to brave the elements. The 4 strap + Pro alloy buckle system ensures a secure and snug fit, while the locking strap keeps your boot secured when you're out on your adventure. And because it's made in Europe, you can be sure that this boot is up to the task of standing up to the harshest conditions.
LEATT DIRT BIKE RIDING BOOTS
Leatt 5.5 FlexLock V22
Leatt 5.5 FflerxLock is made of quality materials, and it's so comfortable that it gives you a feel like you are wearing your home slippers.
Leatt did an excellent job with this boot, giving the riders both comfort and protection. The adjustable FlexLock system reduced forces to the knee up to 35% and the ankle up to 37%, and with this, riders have complete protection and security.
The design is also very stylish.
MOOSE RACING DIRT BIKE RIDING BOOTS
Moose Racing M1.3
The Moose Racing M1.3 boots are the perfect choice for anyone who wants superior performance and stability in a lightweight, affordable boot. With an adjustable boot width system, an integrated internal lace loop system, and a low-profile foot box, these boots provide maximum control while racing or commuting. Constructed with flexible and abrasion-resistant synthetic leather, they are tough enough to handle any terrain. The Moose Racing M1.3 are made of heavyweight suede leather inner calf guard that improves abrasion and heat resistance, while the rigid steel shank reinforces the sole for superior foot support. The polyurethane plastic closure strap with a metal buckle is adjustable and secure, while the internal soft EVA foam strengthens in impact areas and improves comfort. Lastly, the multi-layer synthetic rubber outsole is long-lasting and provides a superior grip.
O'NEAL RACING DIRT BIKE RIDING BOOTS
O'Neal Racing RMX 
The O'Neal Racing RMX boot is constructed with the utmost precision and detail, and these boots are built to provide you with the perfect balance of flexibility and stability while protecting your ankle, front of underfoot, and gear shift zone. The anatomically shaped heel cup and ankle padding offer a perfect fit and superior protection, while the molded inner ankle padding prevents impacts and offers superb comfort. The high grip rubber outsole provides maximum grip for MX-specific use, while the four metal buckle closure system and micrometric adjustable closure ensure a custom fit. With its technical microfiber upper and internal reinforcement, the O'Neal Racing RMX is ready for anything!
O'Neal Racing Element 
This injection-molded boot is designed with a metal shank insert that strengthens the boot and adds support, as well as an easy-to-operate Snap-Lock adjustable four-buckle closure system. The durable Goodyear welt sole is properly balanced to prevent unstable rocking and features a metal toe guard to protect the sole against delaminating. This boot is designed with generous heel support and a cushioned insole, making it a great choice for all-day wear. Additionally, the synthetic leather heat shield prevents heat damage, making it a great choice for those hot summer days. Plus, the rear pull tab makes it easy to get your shoes on and off.
O'Neal Racing Rider 
The recipe for success, fit, and function of the previous RIDER boot is followed by this newly developed and perfect all-around MX boot. Thanks to metal and nylon reinforcements throughout the sole, great balance at the foot end are ensured. The strong and sewn sole construction provides perfect stability on the footrests. Thanks to the air mesh interior and substantial heel reinforcement, this shoe is ideal for all uses, including MX, Enduro, Trail, and ATV.
SHIFT DIRT BIKE RIDING BOOTS
Shift White Label
The Shift White Label boots' main body is made with synthetic leather, and it is designed for all-day comfort, while our injection molded TPU shin plate guards and ankle and heel TPU molds increase support and stability. Thanks to our two buckle closures that secure your ankle and foot for optimal fit, you'll never have to worry about falling off your bike again. Plus, the silicone strap provides fluid mobility while riding. With all these features, you can ride in style with complete assurance that you're safe and sound!
THOR DIRT BIKE RIDING BOOTS
Thor Radial MX
Thor has everything you need to take your riding experience to the next level. With a low-profile toe box and an unobstructed shifting experience, you can focus on the ride and not on your feet. The in-mold design guarantees a perfect fit every time, and the synthetic calf overlays deliver premium durability and optimal grip. The adjustable straps and integrated shift protection ensure that the plate hugs your body snugly, while the positive-lock buckle system ensures that it doesn't come undone in the middle of a tough ride. In addition to its protection capabilities, the Radial hinge component makes this product lightweight and durable, so you can easily take it on your adventures.
Thor Blitz XP
With its pre-curved design, it offers a rider-specific fit that is guaranteed to be comfortable and protect your shin bone. The four fully adjustable straps provide a perfect, snug fit that will not loosen throughout the ride. The Integrated Shift Protection and medial abrasion plate provide maximum protection against abrasion and injury. The Uni-directional outsole with steel shank insert and toe cap ensures lasting durability. 
Remember you get what you pay for. While the lower-end boots are still WAY better than shoes they won't offer as much support and safety as the higher-end boots.
That doesn't mean you need to run out and buy the most expensive boot to get started with. There is even an "enduro" style of boots for those that are trail riding. Typically all these means is that the sole and tread are different.
Find a middle-of-the-road dirt bike boot for trail riding or motocross. 
It's also worth noting that typically the higher-end boots can take more wear and tear. Some of the dirt bike riding boot companies will replace the sole for you.
Remember….you can save a TON of money and pain if you buy the proper riding gear. Hospital bills are not cheap.
Here you can read about The Best Dirt Bike Helmets for 2022.