Dirt biking is one of the most fun adventure sports out there and for good reason. The speed of dirt bikes combines with the joy of exploration to provide an experience that is fun, full of adrenaline, and quite simply scenic. But like every sport, the first step to dirt biking is to do so responsibly, and this starts with getting the riding proper gear.
Safety is always key when riding a dirt bike, but this is only more present when dirt biking since you won't be going through paved roads. So to make sure you are as safe as you can be you'll need to invest in, specifically some dirt bike knee pads and elbow pads.
Even if you never crash some friction with the ground is enough to sprain a knee, and in such a fast sport it's important to be prepared for everything. That's why today we'll be taking a look at the best dirt bike protection gear, that way you'll be able to stay protected and rest assured that you are using quality gear when you go out into the roads.
Leatt 3DF 5.0. Elbow and Knee Pads
Named after the company's 3DF impact foam technology, Leatt's 3DF 5.0. pads offer a very competitive alternative in the world of dirt biking that isn't lacking when it comes to comfort either.
The impact foam in these pads is designed to deflect and absorb energy from the impact and return to its shape almost immediately. The principle is not unlike that of airbags, but Leatt's 3DF foam is designed in such a way that the speed of the reaction is directly tied to the speed of the impact. In short, these pads are designed to counter each impact differently and they are useful both in high-speed collisions and occasional bumps.
Another major advantage to the lineup and one that has made them a favorite of bikers in humid climates is their ventilation. The pads have been carefully perforated in the factory to ensure they keep a constant flow of air without impacting their general performance. These pads are some of the best ventilated in the market and they provide a comfortable option for anybody who bikes in a hot climate.
With a great combination of comfort and function, Leatt's offering of elbow and knee pads is a great option for any dirt biker and one of our strongest recommendations for any bikers in warm climates.
Troy Lee Design Raid Knee Guard and Elbow Sleeves
Troy Lee Design has been in the sports business for over 30 years, and the quality of their offerings shows how they've been able to stay in business for so long. The Raid Knee Guard is a fascinating accessory that combines modern technology with a classic design to offer the highest level of protection possible without sacrificing range of motion or comfort.
The Raid Knee Guard uses D3O technology for its impact protection, D3O is a foam that remains soft and pliable most of the time, but when any force is applied against it the foam immediately reacts and seizes on a molecular level. In short, as soon as there's an impact the foam hardens and this means that you'll be able to enjoy a pliable pad for basic use and a hard brace in case of impact. It's the best of both worlds and the level of impact the Raid Knee Guard can protect its user from is nothing to scoff at.
On top of that Troy Lee Design has made sure to keep fit and comfort a priority when designing these pads. The pads firmly stay in place in the leg without being overly constraining or causing any irritation. Once they go in they stay in and they aren't as noticeable as you would assume from heavy-duty pads. The Raid is also flexible enough to allow for natural motion so you can easily keep these pads for hours without issue.
The one issue depending on your region lies in the simple fact that these pads are hot. While ventilated the material used across the pads construction is very thick meaning that they don't let the air pass through them as smoothly as other brands. Nonetheless, this is their sole issue, and given the amount of comfort and protection, they offer they remain a great option for dirt biking.
EVS TP199 Elbow and Knee Guards
EVS holds a firm belief that the best dirt bike elbow pads are ones that don't restrain your range of movement and you don't notice most of the time, and the EVS TP199 are their signature product when it comes to this philosophy of comfort.
The  Elbow Pads use what the company calls Reactive Memory Foam Technology, in short, it's their version of molecular foam technology. During regular use, the foam in these pads remains completely flexible and light, but once an impact happens the pads harden and as such can resit heavier blows and offer superior protection to your elbow.
Aside from the moments when the pads harden the TP199 live up to their promise. These pads are as light and un-intrusive as they can get. To begin with, they are very light, most of the weight is found on the back of the elbow which has an additional layer of protection. But aside from that, the mesh itself feels light and it's barely noticeable. The range of motion is similar unimpeded and if you are looking for comfort it's hard not to recommend the EVS guards.
As a whole, the EVS TP 199 Elbow Pads are a solid option for riders that want to stay protected but don't require the highest level of impact protection. These pads are great for light cruising and more relaxing rides, but if you expect a nasty impact in your future it might be a good idea to pick a sturdier set to stay on the safe side.
Fox Racing Launch D3O Knee Guards
With a notorious reputation behind them, Fox Racing has become a major household name in the world of dirt biking, and their Launch D3O Knee Guards are some of the most impressive pads the company has put out during their entire tenure.
Like most of the options in this list, these pads use molecular foam technology to ensure the protection of its user. D3O, in particular, is designed to harden upon impact meaning that it offers bikers a very flexible feeling most of the time, but if an impact does happen it immediately hardens and braces for impact. In short, it only hardens when it needs to, and this means the pads are comfortable to wear but remain incredibly safe.
On top of the foam technology, it's important to note that the design itself maximizes protection. These pads have longer sleeves than average which means the protected area is generally longer. On top of that, there's additional padding on the sides of the pad which protects from collisions with your bike and any other external sources of impact.
Despite the additional length, the Launch D3O pads remain comfortable and easy to wear, and the fit is generally spotless. The sleeve offers a consistent fit that remains firmly in place, but it's not tight enough to make wearing them an issue, and once they are firmly in place they are comfortable enough to use almost constantly. Coupled with a slight cut towards the back of the knee that maximizes motion there are no complaints to be had when it comes to the fit of these guards.
Last but not least while these aren't the most ventilated pads on the list, they still offer much more breathability than their sturdiness would make you believe. the D3O padding and mesh are light enough to allow some air in, and while the cut on the back of the knee is there for the sake of improving motion, it helps with breathability as well, meaning that these pads are much more ventilated than you might think at first glance.
LEATT AIRFLEX ELBOW and KNEE GUARDS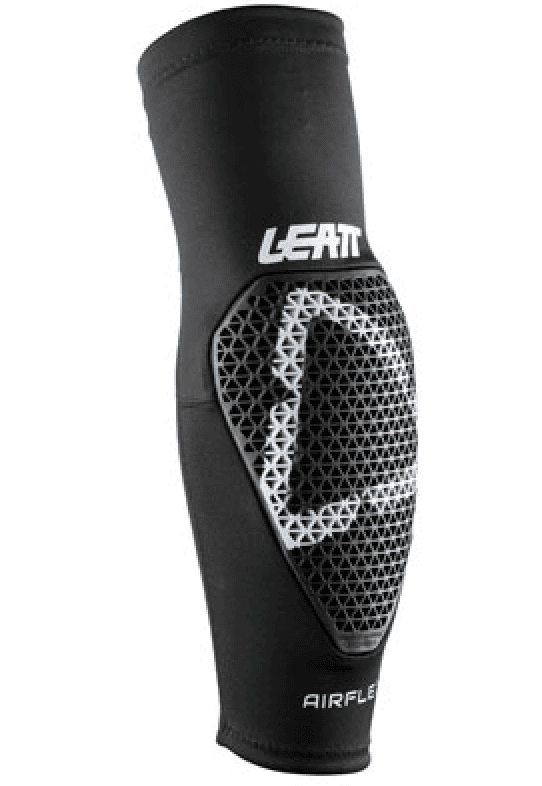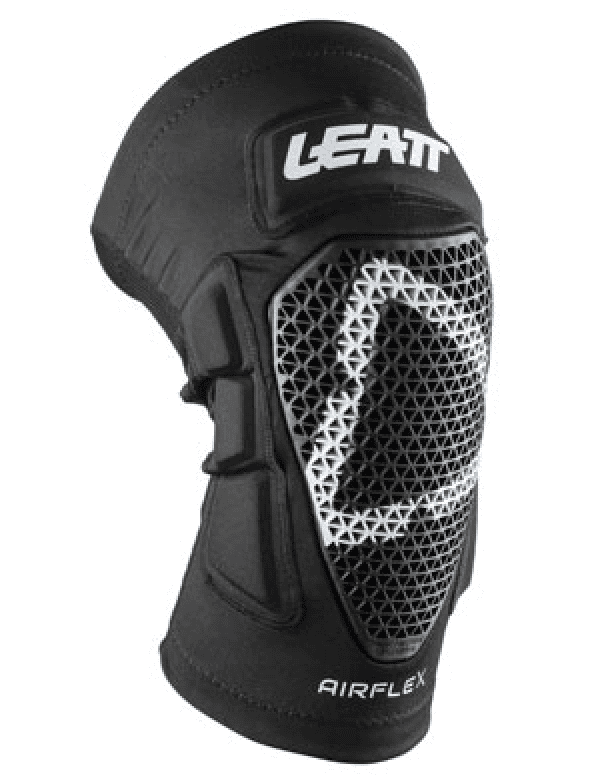 If you are looking for the top dirt bike elbow pads for long rides there's no need to look further than the Leatt Airflex Air Sleeves. The Air Sleeves offer a rather traditional silicone grip design that makes each pair a perfect fit and very easy to put on and off. Since there are no straps and most of the protection comes from the elastic padding you must find your perfect size, but once you have the right size on your arms they will feel like an extension of you.
Due to this light build, the Air Sleeves are not the sturdiest option in the market but they are by far the most comfortable. They are light enough to breathe properly during hot seasons, but the long design also makes them a good option for colder and rainy seasons. These pads are barely noticeable with no slip, no overheating and no straps or stitching to dig into your skin. If you are just looking for light padding to complete your protection set and aren't the kind of biker that falls often then these are the perfect pick for any leisure rides with your bike.
See you guys out on trails!